Freddie Gray: US government will not bring charges against police officers over death of unarmed black man
The death of the 25-year-old while in police custody triggered national protests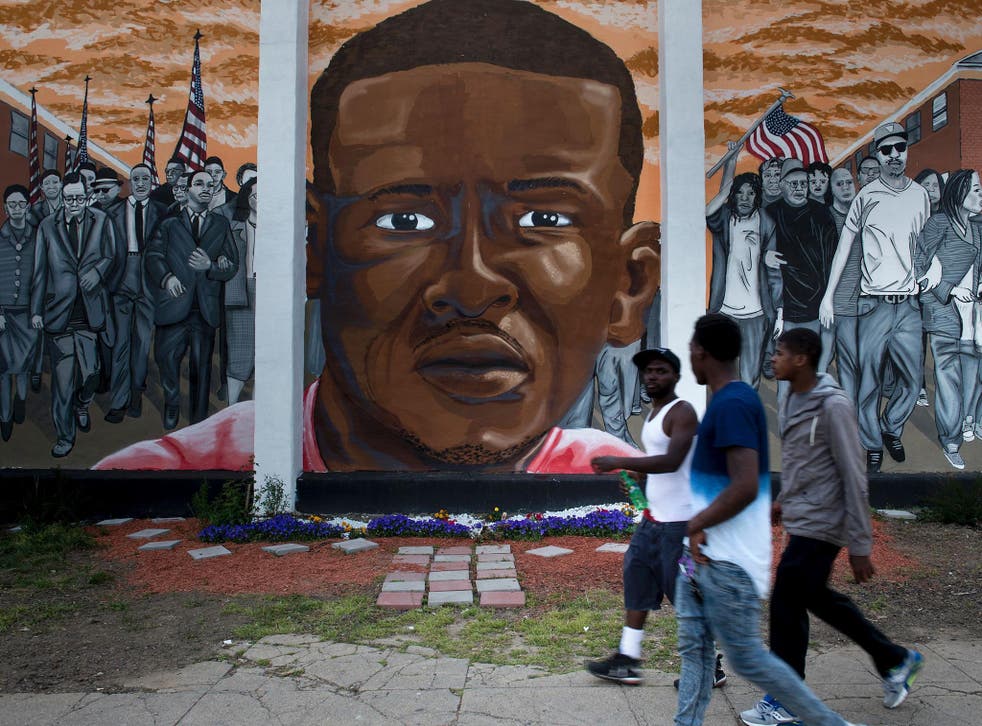 The US government has said it will not bring charges against the police officers involved in the death of Freddie Gray - the latest set-back for the family of the young black man who died while in the custody of Baltimore police two years ago.
The US Department of Justice told a lawyer for the family of the 25-year-old, that a decision had been naken not to bring federal charges against the six officers who detained Mr Gray in April 2015.
Mr Gray suffered a devastating spinal injury and died about a week after he was arrested and placed into a prisoner van.
Protests over Freddie Gray
Six officers were charged by local prosecutors after it emerged that his neck had been broken while being transported in the back of a Baltimore Police Department vehicle.
Yet all six were cleared or else the charges against them were dropped, including officer Caesar Goodson, who had been driving the vehicle in which Mr Gray was being transported without being properly restrained.
After Freddie Gray: Baltimore unrest in pictures

Show all 22
Three officers were acquitted at trial. Baltimore State's Attorney Marilyn Mosby dropped the remaining state cases.
The Associated Press said the Gray family's lawyer, Billy Murphy, said the Justice Department informed him on Tuesday that no charges would be filed.
Five officers face internal disciplinary trials, and these are scheduled to begin on October 30. The news was first reported by the Baltimore Sun.
Those officers are Lt Brian Rice, Sgt Alicia White and officers Caesar Goodson, Edward Nero and Garrett Miller. The sixth officer, William Porter, was not charged administratively.
The death of Mr Gray, one of a series of black suspects to die at the hands of police, touched off weeks of protests and unrest in Baltimore. Most of the protests were peaceful but some turned violent.
Last year, the Justice Department released a report detailing widespread patterns of abuse and misconduct within the Baltimore Police Department.
In September 2015, Baltimore Mayor Stephanie Rawlings-Blake announced the city had reached a $6.4m settlement with Mr Gray's family. She said said the settlement "should not be interpreted as a judgment on the guilt or innocence of the officers facing trial".
Register for free to continue reading
Registration is a free and easy way to support our truly independent journalism
By registering, you will also enjoy limited access to Premium articles, exclusive newsletters, commenting, and virtual events with our leading journalists
Already have an account? sign in
Register for free to continue reading
Registration is a free and easy way to support our truly independent journalism
By registering, you will also enjoy limited access to Premium articles, exclusive newsletters, commenting, and virtual events with our leading journalists
Already have an account? sign in
Join our new commenting forum
Join thought-provoking conversations, follow other Independent readers and see their replies