Police imposters pulled off the world's biggest art heist 33 years ago. Can a haunted man and $10m reward solve it?
Two thieves dressed as Boston cops made off with $500m in stolen art from the Isabella Stewart Gardner Museum more than three decades ago. No arrests have ever been made, the case remains unsolved, and the museum's chief investigator is still actively searching for the art — as a $10m reward goes unclaimed, writes Sheila Flynn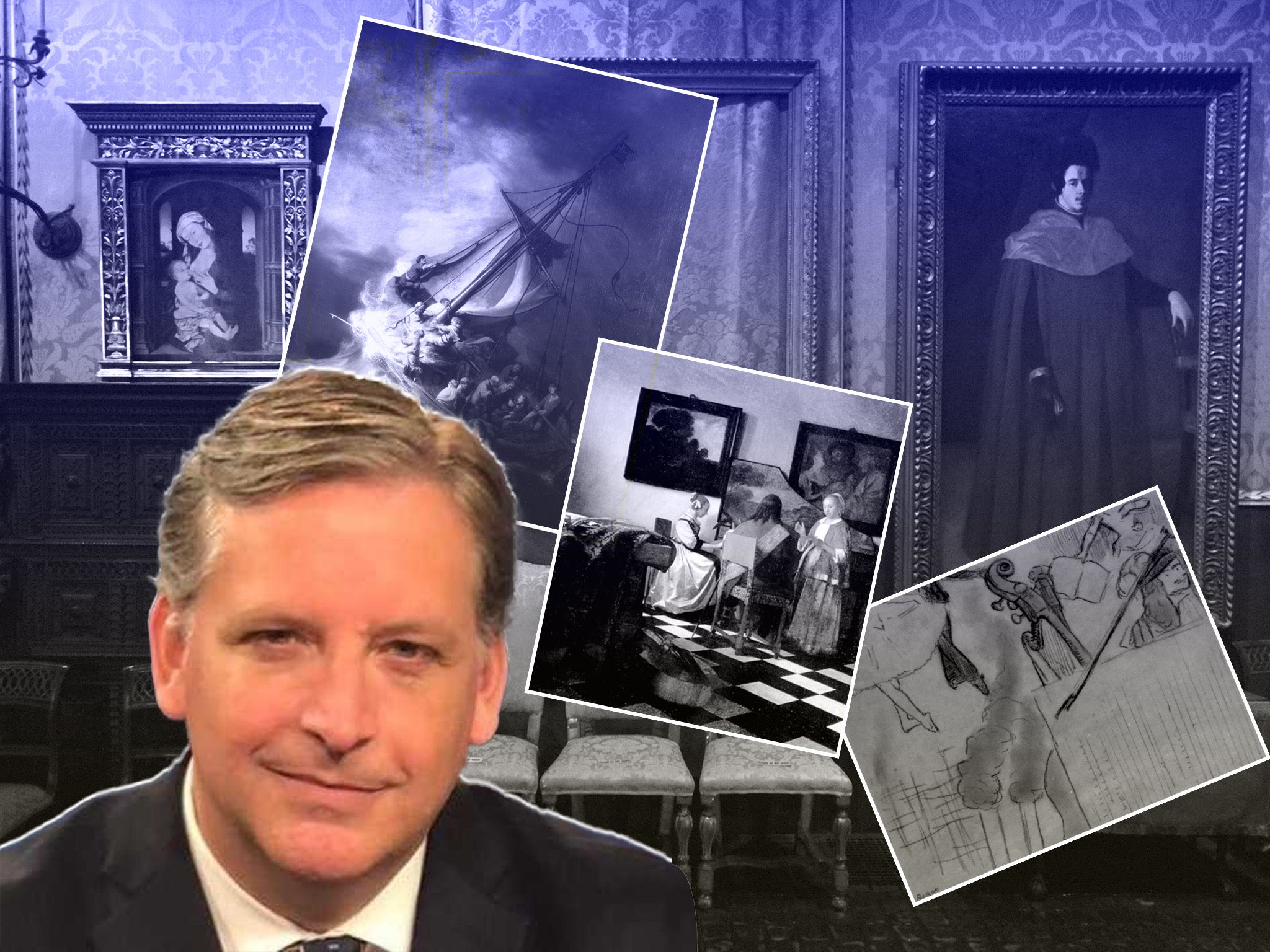 At night, when Anthony Amore isn't at his office in the palace building of Boston's Isabella Stewart Gardner Museum — a magnificent Venetian-style mansion opened 120 years ago — the security director sometimes has nightmares about being grilled by the institution's eponymous founder, who has been dead for almost a century.
It's not hard to imagine a personal dressing-down by the museum's late wealthy patron. A creative and arguably before-her-time eccentric, Gardner infamously dictated in her will that, if anything should be permanently changed in the museum built from her vision, all of its contents should be crated, shipped to Paris and auctioned, the money donated to Harvard University.
There has been only one major long-standing change at the museum since Gardner's 1924 death, but its very nature precludes the fulfilment of her wishes — because 13 valuable pieces of art were stolen in an audacious unsolved heist exactly 33 years ago.
And it's Mr Amore's job to hunt them down.
"I can tell you that I have had multiple dreams where Mrs Gardner herself asked me why I haven't found the paintings yet," Mr Amore tells The Independent, just days before the anniversary of the robbery on 18 March 1990.
The director of security and chief investigator for the museum, Mr Amore also teaches a Harvard graduate course about art crime and has written several books. He turned 56 last weekend and points out that he's been searching for the Gardner paintings since his 30s, when he took on the job in 2005 after a security career with the FAA and the US Department of Homeland Security.
"Every single night, without a doubt, it ranges from the contents of my prayers to the thoughts that are in my mind to the paintings that I hang in my home," he says.
The stolen artwork is valued at $500m and includes prized pieces by some of the most acclaimed painters in history — including "The Concert" by Johannes Vermeer; "Christ in the Storm on the Sea of Galilee by Rembrandt van Rijn;" five works on paper by Edgar Degas; "Chez Tortoni" by Edouard Manet; and "Landcape With Obelisk" by Govaert Flinck.
In the wake of the 1990 robbery, the museum quickly offered a $1m reward; that was raised to $5m seven years later. Now a whopping $10m is on the table for information leading to the recovery of the artwork — but even without the money, the unsolved heist was already particularly tantalising for conspiracy theorists, armchair detectives and the curious general public.
"It really does have a lot of great elements for people to be interested," Mr Amore tells The Independent. "No one was killed or injured during the commission of this stuff, so it doesn't seem as ugly to be interested in it. The paintings are some of the world's greatest masterpieces, so it's interesting and beautiful to look at these images and wonder where they are now, and then the enormous dollar value attributed to them ... all those things, in an age where I think podcasts have proven just how popular true crime is for people, you can understand why there's so much public interest."
Calls and emails keep pouring in to Mr Amore's office; he estimates that more than two dozen had been received this month before even mid-March. But most people are simply armchair theorists, not tipsters with useful information, he laments.
"We're looking for leads," says Mr Amore, who's in daily contact with FBI lead investigator Geoff Kelly. "We're looking for facts. We've heard all the theories, we've dreamt up all the theories, we've examined every angle ... we discuss the case every single day; we actually teach in our crime course together. This is not something we do frivolously — so we really ask people not to call in theories.
"For instance, I'll tell you that I get lots and lots of calls from people who think they're the first person calling me in history to tell me that art is hidden inside the building ... and we tell them, 'No, it's not, this entire building has been searched. And we did a climate control project in this museum a few years after the heist, and all the walls were opened, but they still insist the art is hidden in the building. So that sort of stuff, it doesn't help us."
The building is, of course, where it all began back in 1990, in the early hours of Sunday, 18 March, when the museum was dark and quiet amidst Boston's raucous St Patrick's Day celebrations.
Two security guards were on duty; one had never worked the night shift before and brought his trombone, presumably to practice. Then two men wearing Boston police uniforms turned up, saying the needed to investigate a disturbance.
"They had hats, badges, they looked like cops, and I let them in," former guard Rick Abath said in 2017, describing his 1990 self as "just this hippie guy" who'd recently dropped out of music school. "They said, 'Are you here alone?' And I said, "I have a partner that's out on a round.' They said, 'Call him down.'
"And they said, 'Gentleman, this is a robbery.'"
The two fake cops then tied the guards up in the basement before spending a brazen 81 minutes inside the Gardner, seemingly cherry-picking items from the Blue Room, Dutch Room and Short Gallery. In addition to the paintings, they grabbed an ancient Chinese beaker and a 10-inch tall bronze eagle from the top of a flagpole; it appeared they'd abandoned an effort to remove the silk flag from Napoleon's First Regiment of Imperial Guard.
The thieves made two bold trips with artwork to their vehicle parked outside — which is believed to have been a blue or gray hatchback — then swiped the museum's security VHS tape and vanished. The crime wasn't discovered until around 7.30am, when guard Karen Sangregory arrived to relieve here nighttime counterparts. There was no response when she buzzed to be let in — an "unprecedented" development, she says in Netflix's 2021 documentary This Is a Robbery —so she eventually called the head of the security at the time.
"He took us around some kind of a back door," she says in the series. "As soon as we got in there, you just knew something is really, really wrong. The seurity cameras had been turned off; the office door had been busted; there was a frame in there ... and there was a crowbar leaning against the wall.
"The chief hands me the crowbar — he's like, "Here, hold this!" she says. "So I'm like holding this crowbar, and my mind is thinking, this is part of the crime scene, right? This is evidence. My handprints are on this crowbar! And then my next thought was, he gave me this so that I can pummel someone with it."
They crept through the museum, looking for the night guards, as Ms Sangregory worried: "Are the bad guys still here?"
She watched as the security chief notified authorities.
"He picked up the phone and called the Boston police," she says. "It seemed like all he could say was: 'I'm calling from the Gardner museum. We've got big trouble.'"
Pandemonium did indeed ensue. Suspicion immediately focused on the guards, despite their protestations of innocence; Mr Abath told StoryCorps that, only a few years ago, a lawman informed him that he'd never been ruled out as a suspect.
But the list of potential robbers was — and remains — long. At the time, both the Irish mob and Italian mafia were powerful forces in Boston, and it was believed by criminal elements that stolen fine art could potentially be used as a get-out-of-jail-free card. This stemmed from the antics of a career New England criminal and art thief named Myles Connor, who stole a Rembrandt in 1975 and used it to bargain for a lighter prison sentence.
Connor was in prison at the time of the crime and has denied any involvement, though his name has been a common theme over more than three decades of dogged investigation. He had ties to the Italian mob, claiming he'd previously cased the museum with Bobby Donati, who was associated with the Patriarca crime family and had previously pulled off art burglary with Connor. Donati was killed in 1991, but one theory posits that he participated in the crime to either get his boss, Vincent M. Ferrara, out of prison or guarantee the mob boss' safety.
Connor's other associate, though, William Youngworth — a caretaker of the thief's 40-foot trailer of "possessions" — told one reporter he'd seen the art and even tried to prove it, bringing him all the way to a Brooklyn warehouse. There Youngworth unveiled what he claimed to be Rembrandt's seascape.
"He took me into a storage locker and flashed his light on the painting, specifically at the master's signature, on the bottom right of the work, where it should have been, and abruptly ushered me out," former Boston Herald reporter Tom Mashberg wrote in The New York Times as the heist's 25th anniversary approached. He didn't name his guide then but revealed Youngworth's identity six years later in Netflix's four-part series.
Neither the reporter nor the experts who debriefed him could confirm the painting's authenticity.
But a plethora of other players were also considered prime suspects. Irish-American criminals were not just active in Boston, they were also often working with the IRA to smuggle arms; the Northern Ireland peace agreement was still eight years away.
Dick Ellis, who set up Scotland Yard's art and antique squad, says in the Netflix series that art is "easy to smuggle and use as an international currency."
"I was involved in the recovery of a painting by Yeats, which was commissioned by the IRA, and the artwork was to be used to raise money for arms," Mr Ellis says. "So, you know, there it is: 100 percent proof that stolen art is used to buy arms. The paintings really wouldn't have had trouble crossing the international borders into Northern Ireland."
Richard O'Rawe, a former IRA press officer, laughs off the allegation in the documentary.
"By 1990, the IRA had developed a whole sort of empire," he says. "They were raking in money hand over fist. Thirteen paintings wouldve been the last thing they would even bring up at an army council meeting."
There was, of course, also the possibility of a wealthy art collector or individual who simply wanted the art and hired criminals to procure it; countless other theories have also abounded.
But the FBI seems to have zeroed in on a crime ring operating out of a garage supervised by mid-level mob associate Carmello Merlino along with several associates. The sister-in-law of one of them, George Reissfelder, has claimed that she helped hang the Manet in his apartment, completely unaware not only of the painting's origin but that any heist had even taken place. Merlino, Reissfelder and most of the gang are now dead, though it's believed Reissfelder and one of the crew, Leonard DiMuzio, resembled police sketches of the fake officers who made off with the art.
One of the gang's main mob buddies, Bobby Guarante, is also dead — but became a key suspect after he passed away in 2004. His widow claimed he'd handed off some of the art, and investigators were led to a Connecticut criminal named Bobby Gentile. They were so convinced that they would find stolen pieces during the search of his home that they prematurely prepared for a press conference.
Then they left empty-handed, and Gentile died in 2021.
Another development seemed to crop up last year; a tipster told museum investigators that Boston criminal Jimmy Marks, who was gunned down in a believed mob hit 11 months after the heist, had bragged about owning or hiding some of the paintings.
"We got some contacts from that story, but nothing that has brought this to a conclusion," Mr Amore tells The Independent.
For his part, he believes the paintings are stashed probably not too far from the museum; 10 years ago, the FBI publicly said the same in a joint release with the Gardner and the US Attorney's Office.
"The FBI believes with a high degree of confidence that in the years after the theft, the art was transported to Connecticut and the Philadelphia region, and some of the art was taken to Philadelphia, where it was offered for sale by those responsible for the theft," Richard DesLauriers, special agent in charge of the FBI's Boston office, said on 18 March 2013.
But a decade has passed, and there's still no sign of any of the pieces.
"It's likely that the two men that entered the building and stole the paintings that evening are deceased," Mr Amore tells The Independent. But heists are notoriously collaborative, and, just because some main players are dead, it's not unlikely that some participants — dangerous ones, at that — may still be alive.
"It's very common for an art heist to happen, and the people who actually stole the art don't keep control of it, that it instantly goes into other hands," he says. "There are examples of art heists around the world of masterpieces where the thieves are arrested pretty quickly, but the paintings don't come back for a very long time, because the thieves cannot lead the authorities to the actual art."
He explains: "Typically, masterpieces like this are found either right after the heist or a generation later, because it takes that long for all the scariest bad guys to pass away and things like that.
"We had hoped, when the reward was $5m, that was the biggest private reward ever offered and we doubled it, and it didn't result in a recovery of the paintings. But we do think that eventually it will, that someone will come forward ... All of them are conjecture, but there's a lot of scenarios where you can imagine someone being afraid to come forward."
In the meantime, he dedicates every day to ferreting out the masterpieces. After checking every day that the museum is properly secure — empty frames hung where the famed pieces were displayed — Mr Amore goes through leads "we've received and developed," conducts interviews, pores over old files and a painstakingly maintained database, then strategizes with FBI agent Kelly about what to do next.
"My gut feeling is that they're not far away, that they are in the United States, and that they're in a condition that can easily be conserved and put back on the walls," Mr Amore says of the paintings. "And I believe that someone knows something that can bring this case for inclusion for us."
That being said, he also acknowledges that "there's always the possibility that the paintings are hidden, and a person doesn't realize what they have, or they don't understand what what that is up in their attic and a family member maybe left it, that sort of thing."
The hunt is mixed up with frustration, pressure, hope, and more than a bit of grief.
"There's this massive, incredible, highly-acclaimed Vermeer exhibition going on in in the Netherlands right now, and there's only one in the world that's missing," Mr Amore tells The Independent. "And that's ours."
He urges people to visit the museum's website, study and commit to memory the missing artworks.
"We want people to remember them and understand that the only place that they can ever hang is here," he says. "The only buyer in the world for these paintings is us."
Join our commenting forum
Join thought-provoking conversations, follow other Independent readers and see their replies