Just because George Floyd could talk, it doesn't mean he had enough air, police medic tells trial
During Mr Floyd's fatal arrest, one officer commented that his speech meant that he could breathe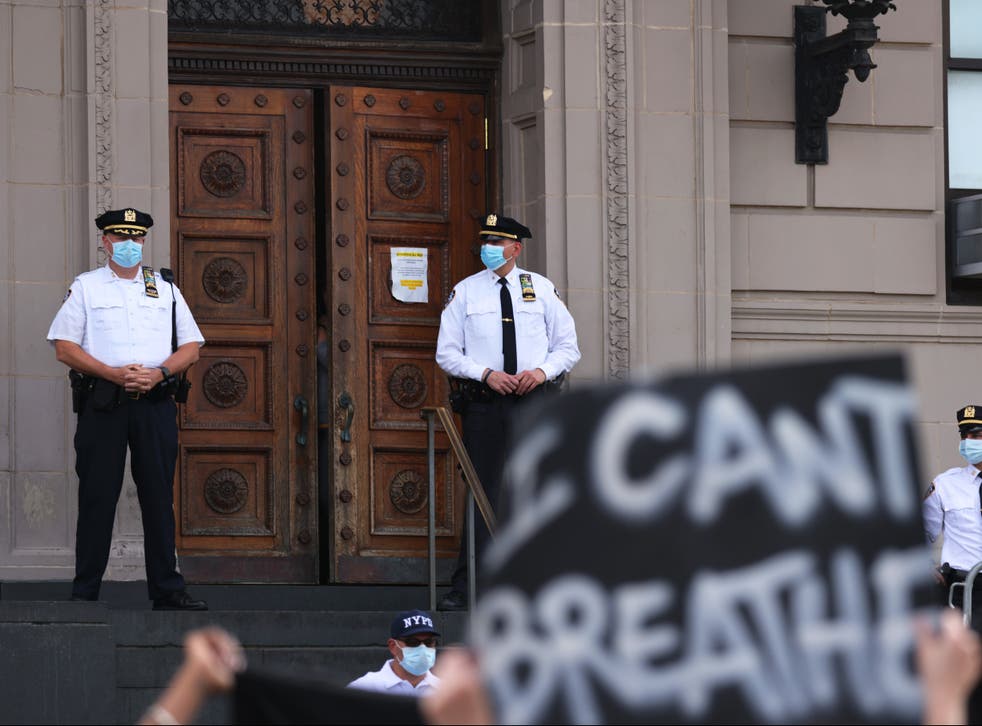 Leer en Español
Just because George Floyd was able to speak up to say he couldn't breathe, that doesn't mean he had a safe amount of air during his fatal arrest.
That's according to Nicole Mackenzie, a former EMT and the medical support coordinator for the Minneapolis Police Department, who testified in the Derek Chauvin murder trial on Tuesday. Mr Chauvin faces multiple murder charges after he was recorded on video kneeling on Mr Floyd's neck for more than nine minutes during an arrest last May over a counterfeit $20 bill.
"There is a possibility that somebody could be in respiratory distress and still be able to verbalise it," Ms Mackenzie said. "Just because they're speaking doesn't mean they're breathing adequately."
Bystander video of Mr Floyd last may showed former officer Tou Thao, who goes on trial later this summer for his role in Mr Floyd's fatal arrest, telling the crowd urging officers to provide medical care that, "He's talking, so he can breathe".
Ms Mackenzie said that the assumption by some that "if you can talk, you can breathe" is "incomplete".
Read more:
Two of the most important, related questions at the heart of this trial are what kind of medical aid Minneapolis police officers are trained to provide suspects in their custody, and what was the ultimate cause of George Floyd's death. Ms Mackenzie's testimony spoke to both of those questions.
She described how officers are trained and required to provide people in their care with life-saving medical interventions, as well as monitor their vital signs.
As part of Tuesday's court proceedings, records were presented showing Derek Chauvin was trained multiple times in techniques like CPR.
That duty to provide care continues even after officers call an ambulance, as they did in Mr Floyd's arrest, she said.
"If it's a critical situation, you have to do both," she said, call emergency services and render care in the meantime.
She also acknowledge, however, during questioning from defence attorney Eric Nelson, that factors like the presence of drugs or a hostile crowd, both of which occurred during Mr Floyd's arrest, could complicate offering medical aid.
"You would have to make sure your scene is safe before you render aid," she said.
One challenge could be if a suspect enters a state known as "excited delirium", a form of psychosis, where they can seem to have "superhuman" strength because they aren't aware of their surroundings or aren't feeling pain.
During Mr Floyd's arrest, officers remained on his back and neck for minutes after he stopped resisting arrest and even once he eventually fell unconscious, only moving off of him once officers loaded his limp body onto a stretcher.
Paramedics who arrived on the scene of Mr Floyd's arrest testified in court last week that the officers who arrested him did not provide medical care or check his vitals, even as crowd of bystanders, including an off-duty firefighter with medical training, urged them to do so.
"In lay terms, I thought he was dead," Hennepin County paramedic Derek Smith told the jury about arrived to help Mr Floyd. "When I arrived to the scene there were no medical services being provided to the patient," he added.
He also described how he thought that Minneapolis police officers could have started medical aid before he got there.
"Any layperson could do chest compressions," he testified. "There's no reason Minneapolis [police] couldn't start chest compressions."
Yesterday, Dr Bradford Langenfeld, the doctor who treated Mr Floyd at the hospital, said that after examining the evidence, "asphyxia, as it's commonly understood," a lack of oxygen to the body, seemed to him the most likely cause of death.
Mr Chauvin's defence has argued Mr Floyd's existing heart problems and drug use at the time of his arrest caused his death, no the knee on his neck.
Join our new commenting forum
Join thought-provoking conversations, follow other Independent readers and see their replies