George Floyd may get posthumous pardon for Houston drug charge
Mr Floyd's 2004 drug charge in Houston based on 'lone word' of 'police officer we could no longer trust', local officials say
Josh Marcus
San Francisco
Tuesday 27 April 2021 21:20 Comments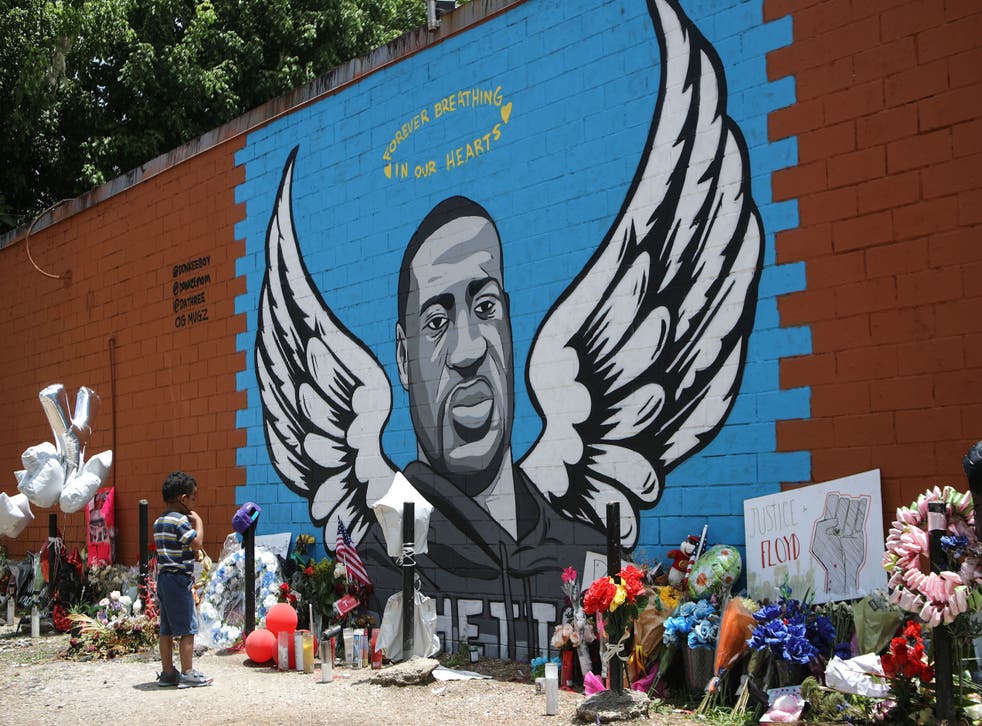 Leer en Español
Local officials in Houston, Texas, are petitioning the governor to award George Floyd a posthumous pardon for a low-level 2004 drug charge that was based on the "lone word" of a "police officer we could no longer trust", KPRC reported on Monday.
The pardon request comes the Harris County Public Defender's office, in regards to a February 2004 arrest, where Mr Floyd was charged with delivery of a controlled substance – $10 worth of crack cocaine – and sentenced to time in jail.
The arrest was based off information from an officer named Gerald Goines, who is now himself accused of drug trafficking, murder, and lying to obtain a search warrant.
"Prosecutors determined in 2019 that Floyd had been convicted on the lone word of Gerald Goines, a police officer we could no longer trust; we fully support a request that the Governor now pardon George Floyd from that drug conviction," Harris County district attorney Kim Ogg told KPRC.
In a 2019 incident, Officer Goines allegedly made up a confidential informant to justify a "no-knock" drug warrant to search a Houston house, where two people, Dennis Tuttle and Rhogena Nicholas, were killed. Prosecutors allege Mr Goines later said he lied about the informant and bought drugs there himself.
He's charged with felony murder and other crimes, to which he has pleaded not guilty.
More than 160 convictions that relied on Mr Goines' police work have been dismissed amid wider scrutiny of his record and how the city at large policed drug crime.
The Harris County DA is reviewing Mr Floyd's case among others, which it says "ensnared George Floyd in the criminal justice system so long ago".
"No one bothered to question the word of a veteran cop against that of a previously convicted Black man," assistant Harris County public defender Allison Mathis wrote in her pardon request. "Goines manufactured the existence of confidential informants to bolster his cases against innocent defendants, consistent with the unnamed, unidentified 'second suspect' he mentions in his offence report in his interaction with George Floyd," she added.
More than a decade-and-a-half after his 2004 drug charge, Mr Floyd became a household name due to the since-condemned actions of another local officer during another low-level arrest. Last week, a white former Minneapolis policeman Derek Chauvin was found guilty of murdering Mr Floyd, an unarmed Black man, when he knelt on the man's neck for more than nine minutes during an arrest for a counterfeit $20 bill last May.
Mr Floyd, like many Black men who grow up in poverty in America, was frequently in contact with law enforcement, who reportedly began questioning him from his days as a schoolboy on through his adult life.
He came of age in Houston at a time where multiple chiefs described trying unsuccessfully to reform a police department with a culture of bias and excessive use of force.
Mr Floyd was stopped or charged by police at least 19 times, according to the Washington Post, on charges ranging from low-level drug offences, to an armed robbery where a woman was pistol-whipped by a group of men while at home with her children.
By 2014, feeling like he'd lost a significant portion of his life to the criminal justice system and other, related challenges of homelessness and poverty, Mr Floyd sought to leave his Houston neighbourhood for a "new beginning" in Minneapolis, friends told the AP.
"He came home with his head on right," a friend named Travis Cains said.
Register for free to continue reading
Registration is a free and easy way to support our truly independent journalism
By registering, you will also enjoy limited access to Premium articles, exclusive newsletters, commenting, and virtual events with our leading journalists
Already have an account? sign in
Register for free to continue reading
Registration is a free and easy way to support our truly independent journalism
By registering, you will also enjoy limited access to Premium articles, exclusive newsletters, commenting, and virtual events with our leading journalists
Already have an account? sign in
Join our new commenting forum
Join thought-provoking conversations, follow other Independent readers and see their replies