Georgia could be ordered to use paper ballots over fears electronic voting machines vulnerable to hacking
State allowed its election system to grow 'way too old and archaic,' judge says
Chiara Giordano
Saturday 27 July 2019 21:34 Comments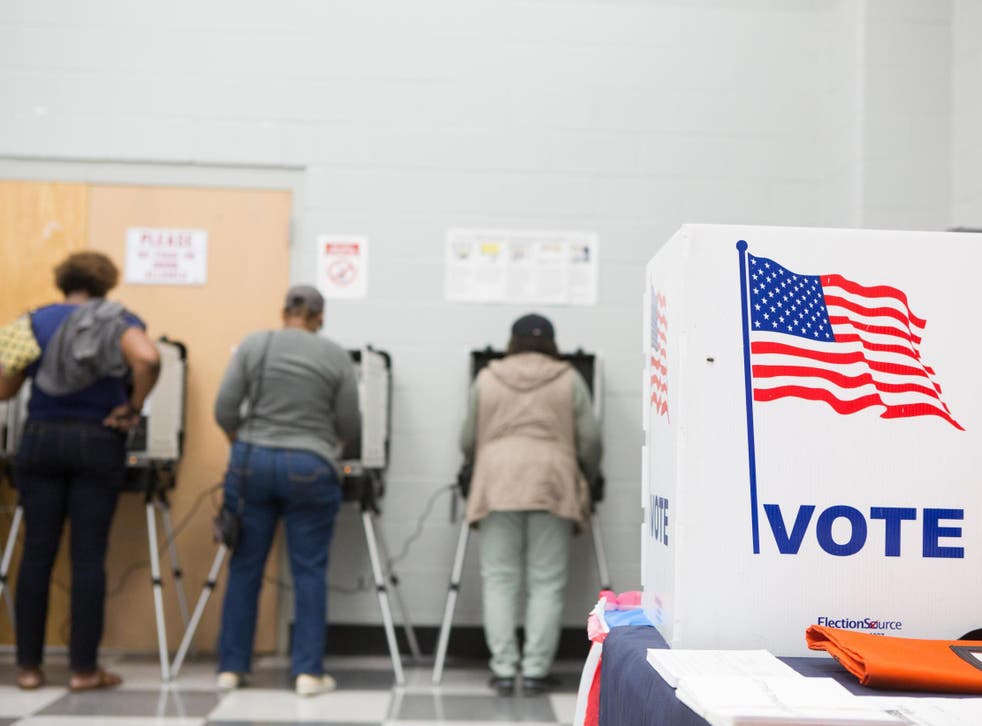 A US state could be forced to use paper ballots at its next election over fears its electronic voting machines are vulnerable to hacking.
According to district judge Amy Totenberg, Georgia allowed its election system to grow "way too old and archaic" and now has a deep hole to dig out of to ensure the constitutional right to vote is protected.
Ms Totenberg is in the difficult position of having to decide whether the state, which plans to implement a new voting system next year, must immediately abandon its outdated voting machines in favour of an interim solution for special and municipal elections to be held this autumn.
Election integrity advocates and individual voters sued Georgia election officials in 2017, alleging the touchscreen voting machines the state has used since 2002 are unsecure and vulnerable to hacking.
They have asked Totenberg to order the state to immediately switch to hand-marked paper ballots.
World news in pictures

Show all 50
But lawyers for election officials have argued that the state is in the process of implementing a new system, and it would be too costly, burdensome and chaotic to use an interim system for the upcoming elections and then switch to the new permanent system next year.
A law passed this year and signed by Georgia governor Brian Kemp details a new system in which voters make their selections on electronic machines which print out a paper record that is read and tallied by scanners.
State officials have said it will be in place for the 2020 presidential election.
But lawyer Bruce Brown, who represents the Coalition for Good Governance and a group of voters, said: "We can't sacrifice people's right to vote just because Georgia has left this system in place for 20 years and it's so far behind."
Lawyer David Cross, who represents another group of voters, urged the judge to force the state to take responsibility, adding: "You are the last resort."
Georgia's voting system drew national scrutiny during the closely-watched contest for governor last November in which Mr Kemp, a Republican who was the state's top election official at the time, narrowly defeated Democrat Stacey Abrams.
The complainants had asked Ms Totenberg in August to order Georgia to use hand-marked paper ballots for that election.
But while Ms Totenberg expressed grave concerns about vulnerabilities in the voting system and scolded state officials for being slow to respond to evidence of those problems, she said a switch to paper ballots so close to the midterm election would be too chaotic.
Support free-thinking journalism and attend Independent events
She warned state officials that further delay would be unacceptable.
However the judge seemed conflicted on Friday at the conclusion of a two-day hearing.
She said: "These are very difficult issues; I'm going to wrestle with them the best that I can, but these are not simple issues."
Ms Totenberg did not say when she would announce her ruling.
Associated Press contributed to this report.
Register for free to continue reading
Registration is a free and easy way to support our truly independent journalism
By registering, you will also enjoy limited access to Premium articles, exclusive newsletters, commenting, and virtual events with our leading journalists
Already have an account? sign in
Join our new commenting forum
Join thought-provoking conversations, follow other Independent readers and see their replies