86-year-old man teaches himself to knit so he can give 300 hats to premature babies
Retired engineer Ed Moseley donated the hats to Atlanta's Northside Hospital, which delivers more babies than any other hospital in the US - and where he had been undergoing chemotherapy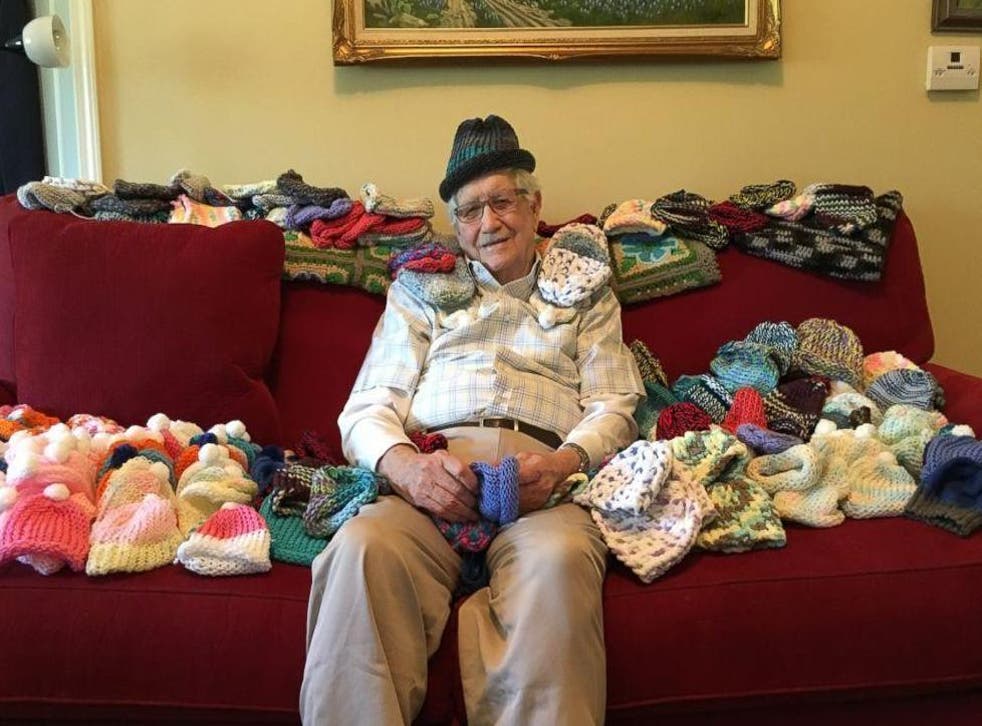 It's a story to warm the heart – and the head. An 86-year-old grandfather taught himself to knit, just so he could make dozens of woolly hats for premature babies at an Atlanta hospital.
Several months ago, the Dogwood Forest assisted living facility in Acworth, Georgia, set its residents the challenge of knitting hats for infants born early. Retired engineer Ed Moseley didn't know how to knit, but for reasons of his own, he felt compelled to take part.
"I told my daughter about it and I said, 'How can I knit? what do I need to do?'," Mr Moseley told the Atlanta Journal-Constitution. "Bless her heart, she went … and got a [starter loom] kit, yarn and instruction kit for me. So I started slowly and learned it just takes patience," he said.
Mr Moseley started knitted while watching TV, training himself to complete a hat in about an hour. Then he offered to teach his fellow residents and staff how to make the hats, too. Eventually the facility donated more than 300 hats, of which Mr Moseley himself made 55.
The hats went to the neonatal intensive care unit at Atlanta's Northside Hospital, which delivers more babies than any other hospital in the US – including some 2,000 premature babies per year. It is also where Mr Moseley had been undergoing chemotherapy treatment for cancer.
Doug Bunt, whose newborn son Matthew was born prematurely on 12 November, told ABC News it was "really nice to know" that someone was "thinking about the well-being of these babies... The fact this man is taking time out of his day to help the kids really means a lot to us."
Mr Moseley's achievement has even inspired children at the school where his granddaughter teaches to learn knitting. He is now making caps for friends and family. "I am taking orders right now," he said. "As they long as they furnish the yarn, I don't charge anything."
Join our new commenting forum
Join thought-provoking conversations, follow other Independent readers and see their replies