Georgia 'heartbeat' law: State passes bill banning abortions before many women know they are pregnant
Democrats bring in wire hangers to highlight risk of unsafe home terminations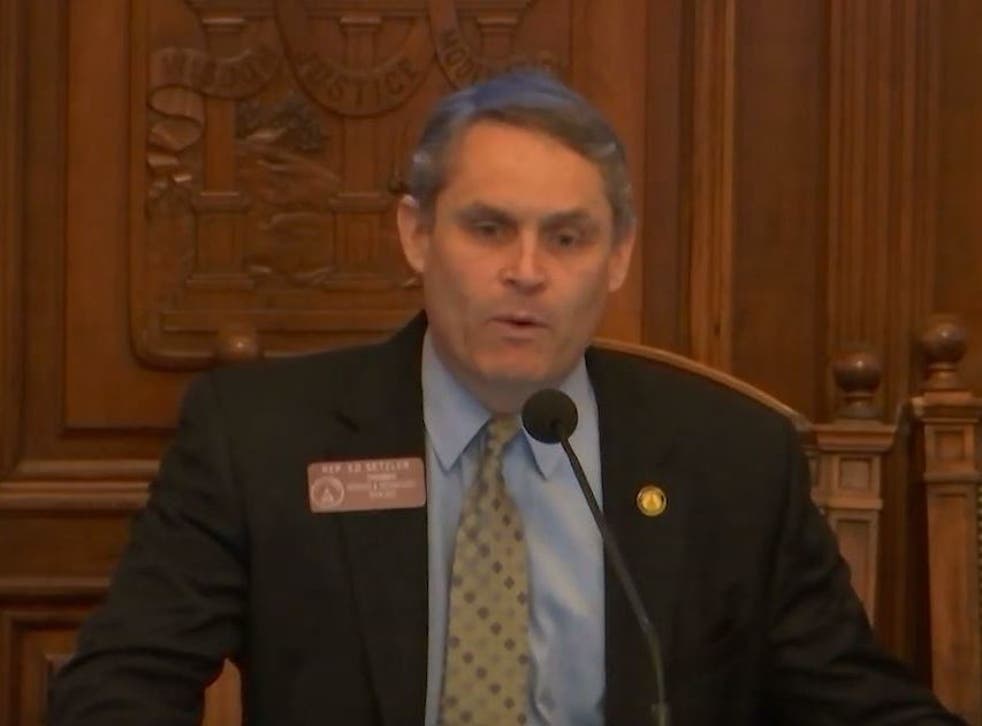 Legislators in Georgia's House of Representatives have passed a bill that could ban most abortions after six weeks of pregnancy.
The bill aims to outlaw terminations carried out after a foetal heartbeat is detected. Similar restrictions are under consideration in Mississippi, Florida, Kentucky, Ohio and South Carolina.
During a tense debate on Thursday several Democratic legislators, who oppose the restrictions, turned their back on the bill's Republican author, Ed Setzler.
Earlier in the day some Democrats had brought in wire coat hangers, in reference to unsafe home abortions.
Women in Georgia currently have the right to undergo an abortion up to 20 weeks into a pregnancy.
World news in pictures

Show all 50
But a foetal heartbeat is generally detected at around six weeks, before many women know they are pregnant.
Mr Setzler claimed that the bill sought "to recognise that the child in the womb, that is living distinct from their mother, has a right to life that is worthy of legal protection."
The Tennessee House of Representatives passed similar legislation earlier on Thursday after tense debate.
If the heartbeat bill is passed by Georgia's state Senate and signed into law, it will almost certainly trigger legal challenges.
But anti-abortion activists hope that such a challenge will lead to the US Supreme Court reversing Roe vs Wade, especially with new conservative justices Neil Gorsuch and Brett Kavanaugh sitting on the court.
Roe vs Wade, a 1973 court case, established a nationwide right to abortion in the US.
Renitta Shannon, a Democratic politician in Georgia, spoke against the bill and discussed her own abortion during Thursday's debate.
"Let's be clear, no matter what kind of law you pass to outlaw abortions, women will continue to seek and have abortions," she said.
Ms Shannon discussed the unsafe abortion options available before Roe vs Wade but was cut off for running over her allocated time.
Support free-thinking journalism and attend Independent events
She remained on the floor until colleagues surrounded her, imploring her to walk away.
Mike Wilensky, a Democrat, also spoke against the bill.
"We know that this bill is unconstitutional. We know that there are going to be huge costs to litigate this," he said.
The fast-tracked bill came to the floor in the final minutes before a legislative deadline by which bills must generally pass out of one house or the other to be considered.
After it was passed, Democrats and abortion rights activists said they would continue to fight the bill and for safe access to abortion in Georgia.
Additional reporting by agencies
Register for free to continue reading
Registration is a free and easy way to support our truly independent journalism
By registering, you will also enjoy limited access to Premium articles, exclusive newsletters, commenting, and virtual events with our leading journalists
Already have an account? sign in
Register for free to continue reading
Registration is a free and easy way to support our truly independent journalism
By registering, you will also enjoy limited access to Premium articles, exclusive newsletters, commenting, and virtual events with our leading journalists
Already have an account? sign in
Join our new commenting forum
Join thought-provoking conversations, follow other Independent readers and see their replies