Police officer filmed beating homeless woman with baton 'after she begs for money'
Police department investigating footage showing woman screaming as officer repeatedly strikes her with baton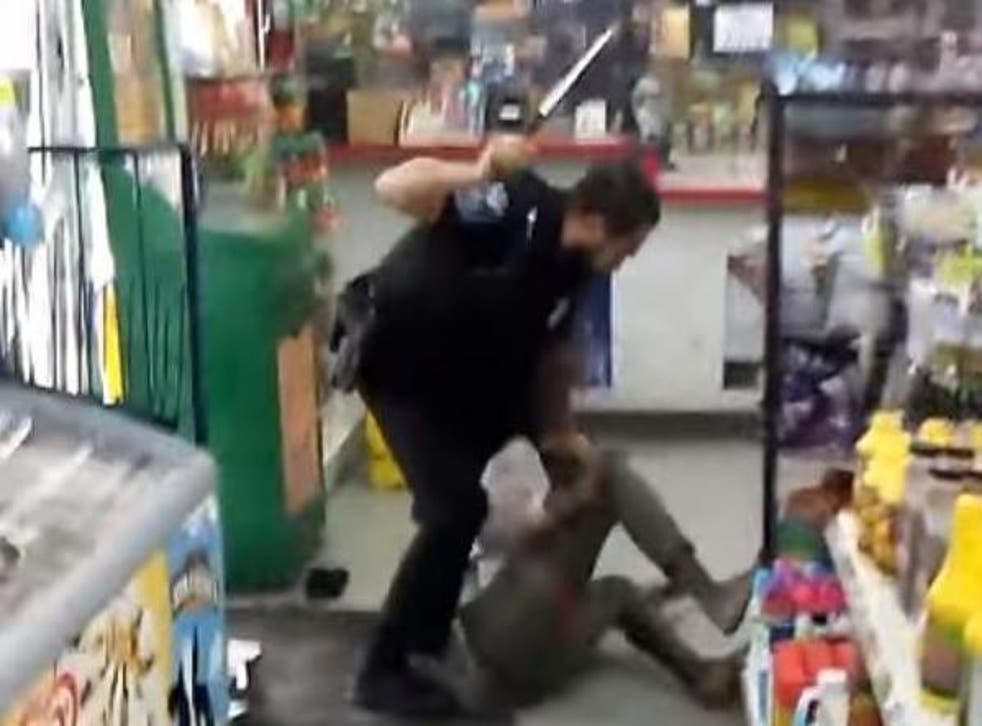 A police department has launched an investigation after an officer was filmed repeatedly beating a homeless woman with a baton as he arrested her.
The footage shows Katie McCrary screaming as she is struck 12 times within 30 seconds by the officer, who yells "put your hands behind your back" and threatens to shoot her.
Police had been called to reports of a woman begging for money from customers at a petrol station in Decatur, a city in the US state of Georgia.
The clip, filmed by an onlooker, does not show what led to the use of force.
The officer is seen repeatedly hitting the woman with the baton as he pins her down. He lands some of the blows as she struggles on the floor and others as she lies still.
At one point the officer places the baton on the back of Ms McCrary's neck and pins her down with his knee in her back.
He can be heard shouting "let go or I'll shoot you" as she grabs the baton, prompting bystanders to shout "no, please don't shoot her".
The video ends after the officer handcuffs the woman and marches her out of the shop. She repeatedly asks: "What did I do?"
The officer filed a Use of Force report following the June 4 incident and was cleared of any wrongdoing by an internal investigation, reported CNN.
But DeKalb County Police Department this week reopened the probe after the footage emerged.
A spokesman said: "Now that the Department has this new evidence we have reopened the investigation and will determine whether the incident is consistent with policy and the law."
In his incident report, filed the day after the arrest, the police officer said Ms McCrary "attempted to push me out of the way and walk out of the door" as she arrived at the petrol station.
They exchanged words before Ms McCrary "reached out and grabbed my badge" and then "grabbed my vest and radio," he added.
He said he used his baton on her legs, forearms and "one strike inadvertently struck the side of her head as she was moving around".
DeKalb County Police Department said in a statement: "The narrative in the officer's report appears to be consistent with the video."
Ms McCrary was taken to jail before being transferred to hospital for treatment to cuts to her arms and legs.
She was later charged with obstructing police and given a criminal trespass warning at the request of the shop's manager.
Register for free to continue reading
Registration is a free and easy way to support our truly independent journalism
By registering, you will also enjoy limited access to Premium articles, exclusive newsletters, commenting, and virtual events with our leading journalists
Already have an account? sign in
Register for free to continue reading
Registration is a free and easy way to support our truly independent journalism
By registering, you will also enjoy limited access to Premium articles, exclusive newsletters, commenting, and virtual events with our leading journalists
Already have an account? sign in
Join our new commenting forum
Join thought-provoking conversations, follow other Independent readers and see their replies