'Courageous and tough' Ghislaine Maxwell is looking forward to trial, her lawyers say
'She's looking forward to fighting, and she will fight,' attorney David Markus said after Ms Maxwell's arraignment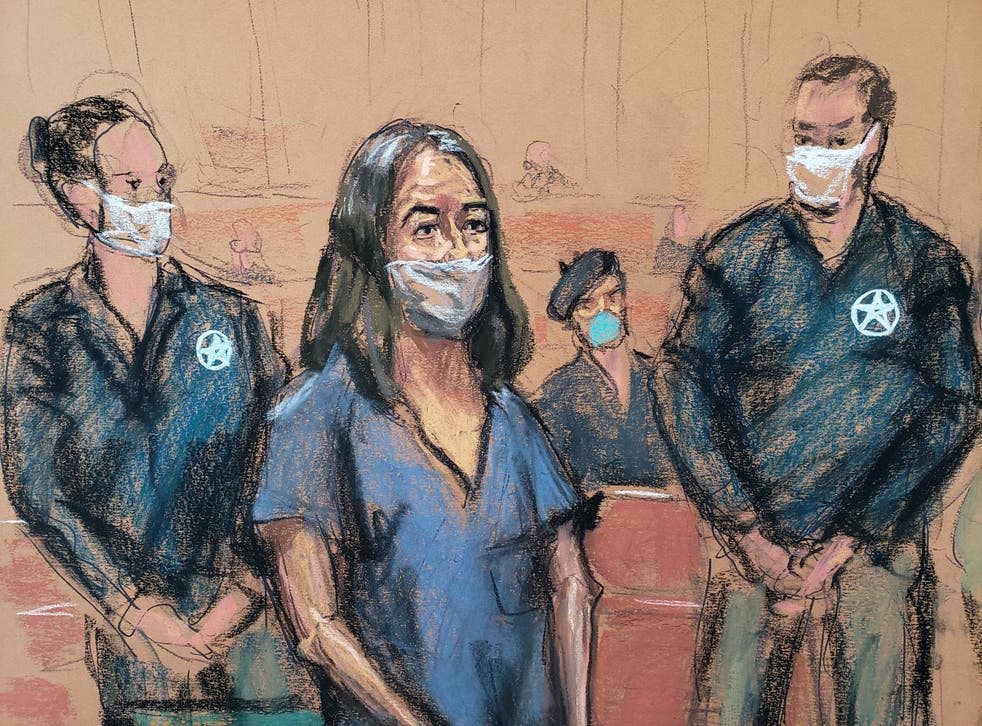 Leer en Español
A lawyer for accused Jeffrey Epstein enabler Ghislaine Maxwell called her "courageous and tough" during a hearing Friday and said she is looking forward to her trial.
"She's looking forward to fighting, and she will fight," attorney David Markus said outside federal court in Lower Manhattan.
Ms Maxwell, 59, was arraigned on Friday for new sex trafficking charges regarding an additional alleged victim. She has pleaded not guilty to all charges.
Prosecutors say Ms Maxwell "enticed and groomed" underage girls for Epstein, a convicted sex criminal, by normalising their abuse through "discussing sexual topics, undressing in front of the victim, being present when a minor victim was undressed, and/or being present for sex acts involving the minor victim and Epstein."
On Friday, however, Mr Markus portrayed Ms Maxwell as the victim, decrying her treatment at the Brooklyn jail where she is being held.
"Ghislaine is in very, very, very difficult conditions – conditions none of us would wish on our worst enemies," he said. "She shouldn't be treated like this, and it's not fair, and it's not right."
Mr Markus added that Ms Maxwell's sister was in court that day to support her, but her brothers couldn't make it because of Covid-19 restrictions.
"They are behind their sister 100 per cent," he said.
He did not mention Ms Maxwell's husband, Scott Borgerson, who was not present.
A lawyer for the prosecution, David Boies, said Ms Maxwell was not the one worthy of sympathy.
"I don't believe that there is any credible evidence on any basis whatsoever to assert that Ms Maxwell is the victim," Mr Boies said outside the courthouse, denouncing what he called a "media blitz" by the defence.
"I do not believe that that is productive for them, I do not believe that that is fair to the real victims here, and I think it is highly undesirable," Mr Boies added.
One of Epstein and Ms Maxwell's alleged victims, who did not identify herself, spoke as well.
"It's incredibly vindicating to see her sit there," the woman said, noting that she had been too afraid to attend Epstein's trial. "It's hard to sit through it, and it's painful, but it's good, too. It's healing."
The trial is set to begin on 12 July, but Ms Maxwell's lawyers are seeking a delay to the start of the hearing to review thousands of "highly confidential" photos submitted as evidence.
In the meantime, she has been held in jail, where her lawyers say she is being like "Hannibal Lecter."
"Though she is a model prisoner who poses no danger to society and has done literally nothing to prompt 'special' treatment," Ms Maxwell's attorneys wrote earlier this month, "she is kept in isolation – conditions fitting for Hannibal Lecter but not a 59-year-old woman who poses no threat to anyone."
The defence has requested three times to release Ms Maxwell on bail, and all three times, US District Judge Alison J Nathan has turned them down.