Giant Rubik's Cube floating on Hudson River to mark 40th anniversary of puzzle
Hungarian Ernő Rubik invented the puzzle in 1974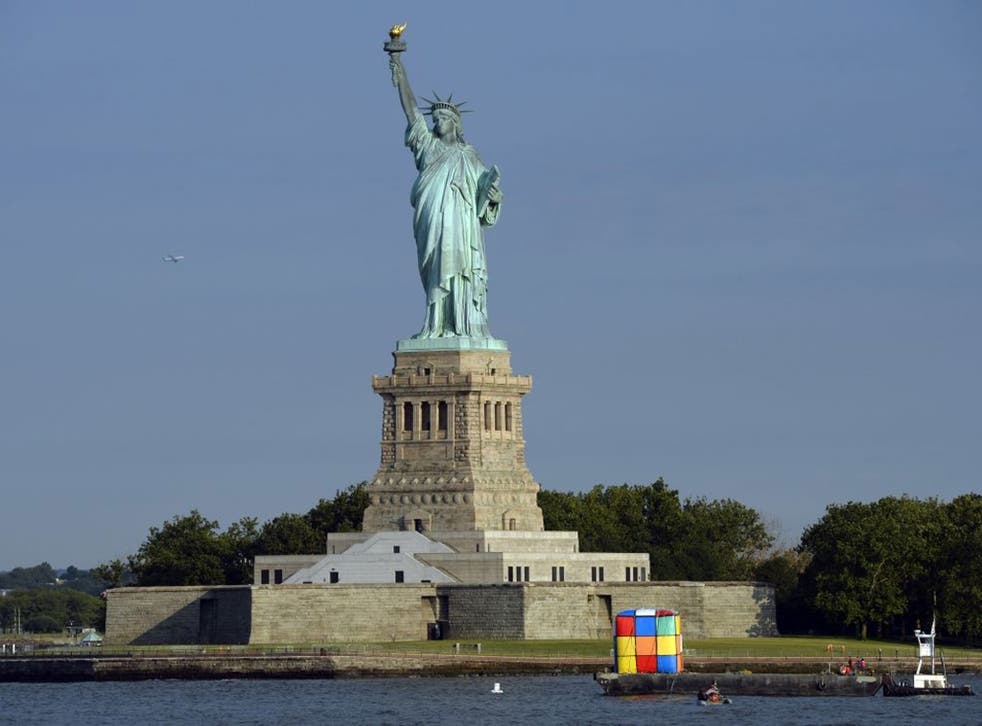 The Statue of Liberty is usually the most striking sight in the New York Harbour, but a giant Rubik's Cube bobbing in the Hudson River below her was distracting the attention of city dwellers and tourists alike on Friday.
The giant, inflatable Rubik's Cube was sitting on a huge barge under the iconic statue to advertise an exhibition at a science museum in the US state of New York, which aims to commemorate the puzzle's 40th birthday.
The Beyond the Rubik's Cube show runs until 30 November, and coincides with the 70th birthday of the toy's publicity-shy inventor and namesake, Ernő Rubik, which falls on Sunday 13 July.
Rubik's-cubed themed attractions at the Liberty Science Centre in Jersey City include early prototypes of the puzzle, and artwork inspired by the toy.
Rubik invented the toy in 1974. As a 29-year-old architecture professor in his native Hungary, he hoped the puzzle would give his students a new challenge.
"A good puzzle, it's a fair thing. Nobody is lying. It's very clear, and the problem depends just on you," he is quoted as having said.
Register for free to continue reading
Registration is a free and easy way to support our truly independent journalism
By registering, you will also enjoy limited access to Premium articles, exclusive newsletters, commenting, and virtual events with our leading journalists
Already have an account? sign in
Register for free to continue reading
Registration is a free and easy way to support our truly independent journalism
By registering, you will also enjoy limited access to Premium articles, exclusive newsletters, commenting, and virtual events with our leading journalists
Already have an account? sign in
Join our new commenting forum
Join thought-provoking conversations, follow other Independent readers and see their replies