Giuliani on slide ahead of crucial vote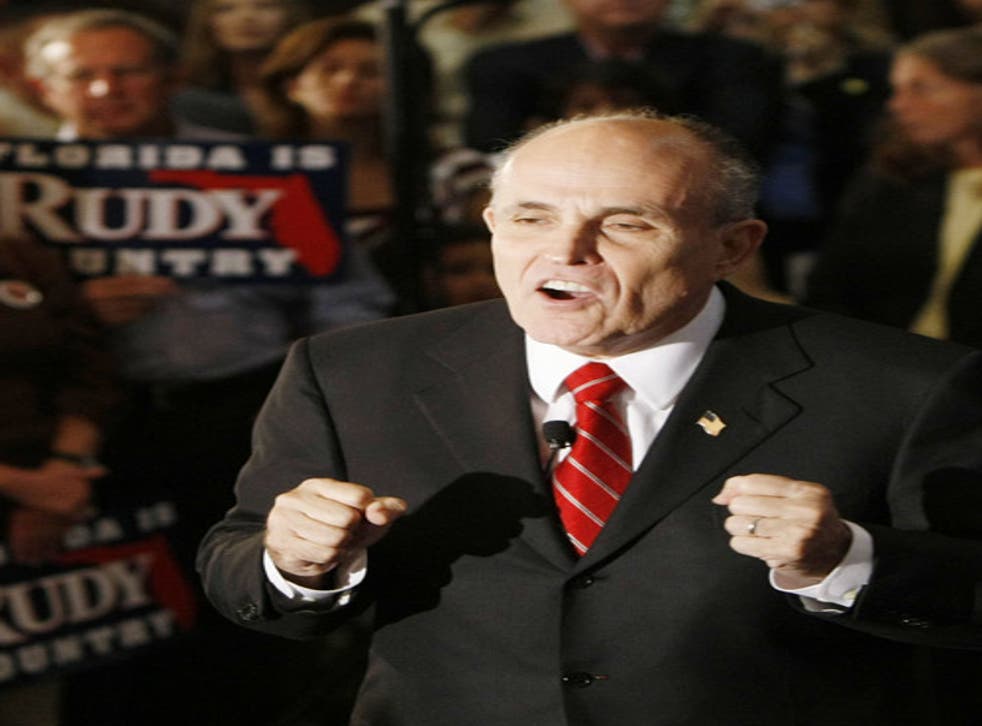 Less than a week ago Rudy Giuliani was happily taunting his rivals for the Republican presidential nomination to wrap up their campaigning in South Carolina and hurry up and join him in Florida, the state where he felt certain he would chalk up his first primary election win. "We're waiting for you," he jibed.
The cockiness is gone now, however, amid growing evidence that the much-debated "Fortress Florida" strategy espoused by the Giuliani camp – mostly ignore the early primary elections, but ensure a big victory in Florida – may be unravelling fast.
The alarm bells had become deafening yesterday with the release of a long-awaited poll by the Florida newspapers The Miami Herald and the St Petersburg Times which shows that Mr Giuliani's lead from November has vanished.
"Giuliani's decision to pull out of the early states is going to go down in history, if he finishes out of the money in Florida, as one of the worst political decisions," said Tom Eldon, one of the pollsters.
The numbers are certainly sobering for Team Giuliani, which earlier this week took their man and his campaign bus to the famous race track in Daytona and drove it in circles for photographers before empty stands. Not a few of those present remarked on the unfortunate metaphor.
Mr Giuliani has now slipped to a third-place tie with Mike Huckabee, the former Arkansas governor They each have a showing of 15 per cent, compared to 25 per cent for Senator John McCain and 23 per cent for Mitt Romney. In November, Mr Giuliani was leading the field by 17 per cent.
Even in south Florida, where his support was once strongest with large numbers of transplanted retirees from New York as well as Hispanics sympathetic to him, Mr Giuliani has faded. He dominated the region in November with 50 per cent support but now trails 10 points behind, the survey showed.
"He may be running for president, but with these numbers he wouldn't be elected governor of Florida," said Kellyanne Conway, another of the pollsters. "If he can't make it there in Florida, he can't make it anywhere," she added, reworking the lyrics of the famous Frank Sinatra song about New York.
Mr Giuliani has spent months lavishing attention and money on the state ($3m (£1.5m) in television advertising alone) on the assumption that an easy win here next Tuesday would give him unbeatable momentum ahead of "Super Tuesday" on 5 February when more than 20 states hold primaries.
With just five days to reverse his slide, Mr Giuliani gave no quarter to the ominous poll news during a lunchtime speech in a Boca Raton hotel yesterday. Later, he was due to attend a final televised debate in Florida with his rivals on the campus of Florida Atlantic University in Boca Raton, just south of Palm Beach.
One Giuliani supporter in the audience at the hotel, Annette Krobatsch, 42 said: "I don't know if I believe the polls. A lot of people wait until the last minute. I just pray we pick the right man."
Unsurprisingly, Mr Giuliani is urging voters to ignore the polls and prepare for a win. But his tone has clearly changed. "We're going to surprise everyone," he declared inside a Naples restaurant crammed with supporters late Wednesday night. "And we're going to win big here. Florida is going to catapult us to the nomination because Florida is going to vote in a way that I think people don't even realise."
A heavy loss here would probably kill Mr Giuliani's presidential hopes. It would be a remarkable reversal for a man who has been relying on the name recognition born of his handling of the September 11 attacks when he was Mayor of New York to take him forward and who for many months led all of his rivals in national polls. Polls from New York showing him slipping behind Mr McCain there too.
His best hope now is that the Florida pollsters are reading the state wrong. (It does happen.) A possible lifeline here may be Florida's early voting tradition. Large numbers of citizens have voted already and may have done so before the slide in Mr Giuliani's fortunes began to become visible. Moreover, the poll does indicate that about 13 per cent of voters remain undecided.
But Rob Schroth, another of the pollsters, warns that these may be straws not worth clutching. "Giuliani for all intents and purposes has virtually no chance to win in Florida," he said.
For rolling US election coverage visit: independent.co.uk/campaign08
Register for free to continue reading
Registration is a free and easy way to support our truly independent journalism
By registering, you will also enjoy limited access to Premium articles, exclusive newsletters, commenting, and virtual events with our leading journalists
Already have an account? sign in
Register for free to continue reading
Registration is a free and easy way to support our truly independent journalism
By registering, you will also enjoy limited access to Premium articles, exclusive newsletters, commenting, and virtual events with our leading journalists
Already have an account? sign in
Join our new commenting forum
Join thought-provoking conversations, follow other Independent readers and see their replies