Google cardboard saves a baby's life by helping doctors map out heart surgery
Doctors could use the device to see the baby's heart more clearly and figure out the best route of surgery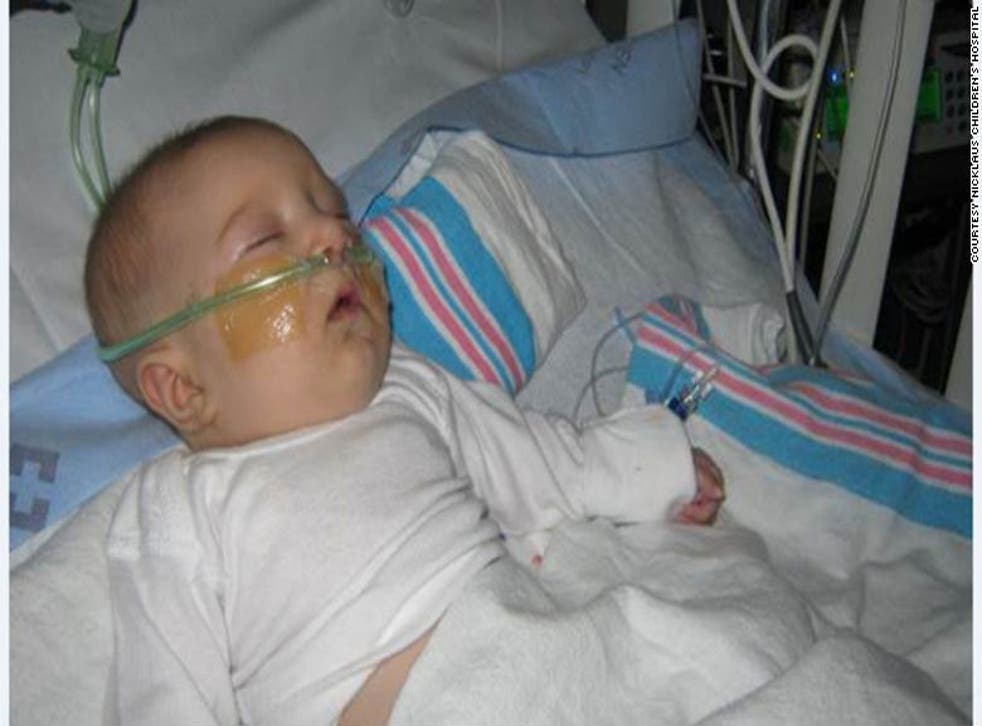 Google cardboard has saved a baby's life when doctors in Miami used the simple device combined with 3D imaging to map out intricate heart surgery.
Doctors at Nicklaus Children's Hospital in Florida said they used the contraption - which is made of cardboard and costs about $20 - to envision a surgical procedure that they couldn't have envisioned otherwise, according to CNN.
Baby Teegan Lexcen was born in August 2015 with one lung and half of her heart missing. Doctors in Minnesota told the parents there was nothing they could do and the baby was sent home to die with a hospice nurse.
Two months later baby Teegan was still alive, although her twin sister Riley was a healthier size.
After researching their options, the parents found an article called "The 20 Most Innovative Pediatric Surgeons Alive Today" and number three was Dr. Richard Burke, the chief of cardiovascular surgery at Nicklaus Children's Hospital in Miami.
The hospital's 3D printer, used to make models of organs that doctors can analyze before carrying out surgery, was broken. Instead, Dr. Juan Carlos Muniz, a pediatric cardiologist who specializes in imaging, used an app called Sketchfab to download images of Teegan's heart onto his iPhone and showed them to Dr Burke through the Google cardboard device.
With the goggles on, it was possible move around and see the heart from every angle and check its structure, preparing a map for surgery.
The 3D imaging also helped doctors to access the baby's heart, which was unusually placed in the far left of her chest, and also to "re-routing" her right heart ventricle so that it could do the job of both the left and the right ventricle over the longer term.
"It was mind-blowing," said mother Cassidy Lexcen. "To see this little cardboard box and a phone, and to think this is what saved our daughter's life."
The baby has been taken off a ventilator four weeks after surgery and is breathing on her own. Doctors expect her to return home within two weeks and make a full recovery.
Register for free to continue reading
Registration is a free and easy way to support our truly independent journalism
By registering, you will also enjoy limited access to Premium articles, exclusive newsletters, commenting, and virtual events with our leading journalists
Already have an account? sign in
Register for free to continue reading
Registration is a free and easy way to support our truly independent journalism
By registering, you will also enjoy limited access to Premium articles, exclusive newsletters, commenting, and virtual events with our leading journalists
Already have an account? sign in
Join our new commenting forum
Join thought-provoking conversations, follow other Independent readers and see their replies