Gored female matador says it's the sexism in bullfighting that makes her see red
After serious injuries last weekend, Karla de los Angeles vows to fight on to prove the sport's chauvinists wrong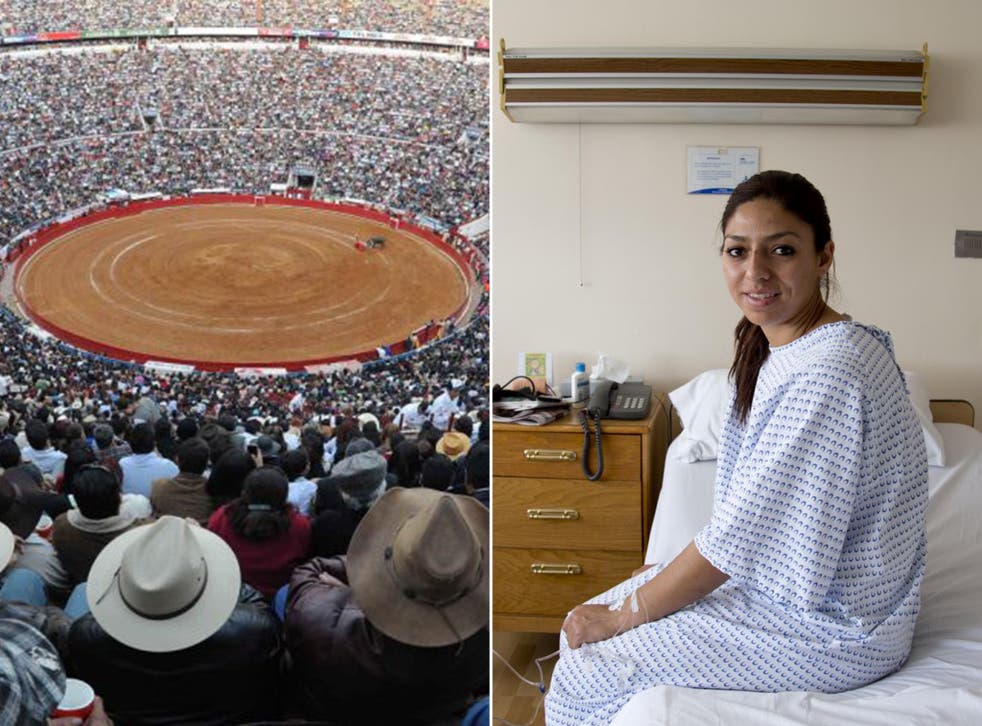 A female matador who was gored in a bullfight last weekend has vowed to return to the ring "as soon as possible", saying she wants to inspire girls to fight sexism wherever it occurs, as it is something she still faces in her chosen career.
Karla Sanchez San Martin and another female matador were gored, and seven other people were injured, as a bullfight in Mexico City descended into chaos last Sunday. At the event, the 26-year-old Ms San Martin, who fights under the stage name Karla de los Angeles, became one of only a handful of Mexican women to achieve the elite rank of matador.
Bullfighting, which often ends in the death of the animal, has a long history and has been condemned by animal rights organisations. Many people believe that it is not an acceptable sport in the modern age, or even a sport at all – although it still draws crowds in countries such as Spain and Mexico.
Footage from Plaza Mexico, the world's biggest bullring, shows Ms de los Angeles drawing her sword and preparing to deliver the killer thrust. But she misjudged it and the bull tossed her into the air and briefly impaled her with its horn, leaving her with a 24-centimetre gash in her thigh.
Although wincing from the pain, she returned to the ring after being briefly treated by medics and eventually landed the killer blow that she needed to become a matador. In doing so, she was caught again by the dying bull, this time suffering a 15-centimetre gash to the left buttock.
Fortunately, the cuts were clean and missed veins and arteries, said Ms de los Angeles, who was keen to resume training after spending four days in hospital. "I feel really well now and I have another bullfight on 18 January, so I hope to return as soon as possible."
Another female matador, Lupita Lopez, was gored in the right thigh that afternoon, and several bystanders and support staff were wounded when two other bulls leapt over the wooden parapet around the edge of the arena. "There hadn't been a bullfight with so many accidents in years," Ms de los Angeles said.
Gorings are an occupational hazard that many matadors suffer at some point in their careers, but Mexico's female bullfighters say the more constant challenge is dealing with the sexism inherent in this male-dominated sport.
"I think it's the most macho sport of all. There are still a lot of very chauvinist people who are against female bullfighters," said Ms de los Angeles, who returned to bullfighting in 2012 after taking three years out to care for her baby daughter.
"It's a very difficult career for a woman," she added. "Many promoters refuse to hire us just because we're women. They say that women aren't as strong, brave or capable as men but I think I've demonstrated that this is not the case."
Hilda Tenorio, another Mexican matador who topped the bill last Sunday, believes the highly publicised incident would have drawn less attention if her two injured colleagues had been men.
"Ninety-nine per cent of the time, if a bull gets you it's because you made a mistake," the 28-year-old said. "It's not a question of strength; it happens to everyone. But whenever I make a mistake people say it's because I'm a woman and I'm not strong enough."
Few women have stepped into the ring as bullfighters. In Spain they faced a ban, later lifted, which was indicative of the challenges faced by those who do want to take it up.
"To the best of my knowledge there have only ever been 14 female matadors in the worldwide history of bullfighting," said Ms Tenorio, who in 2010 became the third Mexican woman to obtain that rank.
Shifting the mentality of an entire industry remains a monumental challenge and Ms de los Angeles is under no illusions that change will come overnight. However, she does believe that the success she and her few female colleagues have enjoyed is beginning to have an impact.
"We've been fighting to change the way things are and I think we've made some progress in opening the door to more female bullfighters," she said.
"Some of the most chauvinist people I've met, who never used to believe in me, have changed their minds and are now starting to give us more opportunities."
Ms Tenorio believes that some have the "erroneous idea" that bullfighting is a man's profession. "It's not about gender," she says.
"In any field the people that excel are those with the discipline to train hard and the conviction to achieve their goals," she said.
That message struck a chord with Ms de los Angeles. "If she can do it then so can I," she thought to herself after watching Ms Tenorio achieve matador status five years ago.
And despite her recent mauling, she remains confident that she too can inspire younger girls to prevail against sexism in any walk of life.
Register for free to continue reading
Registration is a free and easy way to support our truly independent journalism
By registering, you will also enjoy limited access to Premium articles, exclusive newsletters, commenting, and virtual events with our leading journalists
Already have an account? sign in
Register for free to continue reading
Registration is a free and easy way to support our truly independent journalism
By registering, you will also enjoy limited access to Premium articles, exclusive newsletters, commenting, and virtual events with our leading journalists
Already have an account? sign in
Join our new commenting forum
Join thought-provoking conversations, follow other Independent readers and see their replies