Donald Trump pledges to keep Guantanamo Bay open at the State of the Union
Guantanamo Bay: Graphic drawings allege CIA's 'borderline torture' of Abu Zubaydah
Pakistani has never been charged with a crime, let alone convicted
New images have been published showing waterboarding and other abuse and torture carried by the CIA on an alleged al-qaeda prisoner- actions prohibited by UN agreements and the Geneva Conventions.
That hand sketches by Abu Zubaydah, a Pakistani arrested in 2002 and handed over to the US, show him being being beaten, forced to lie in a coffin-like box filled with water and water-boarded, a form of simulated drowning.
Zubaydah, who is of around 40 prisoners still being held at Guantanamo Bay, the controversial, secretive prison located on the tip of Cuba, says he been tortured at various locations, including at so-called "black sites", operated by the CIA in countries such as Poland and Thailand as part of the "war on terror".
The current head of the Central Intelligence Agency, Gina Haspel, oversaw one such site where torture was carried out.
"It's absolutely brutal," Charles Church, one of Zubaydah's lawyers, said of the treatment shown in images, published by CNN.
Guantanamo Bay detainee illustrates torture he faced at US black site

Show all 8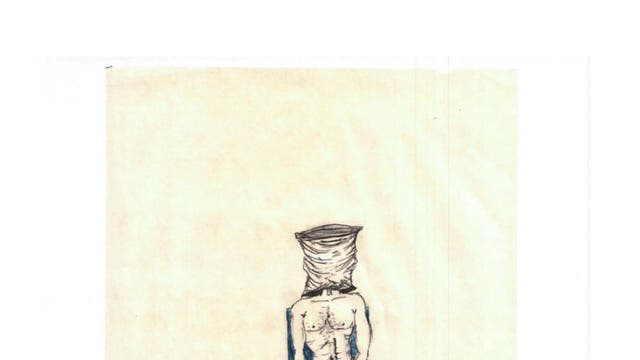 He told The Independent: "For the first four or so years, he was held in these black sites, and he was tortured for a lot of that time."
In 2014, the US Senate released a report on the years of torture carried out by CIA officers and civilian contractors, purportedly to extract information from the prisoners. It said officials had lied about what was being done, and its effectiveness.
"The use of the CIA's enhanced interrogation techniques was not an effective means of obtaining accurate information or gaining detainee cooperation," said the report, released amid opposition from the administration of Barack Obama.
"The interrogations of CIA detainees were brutal and far worse than the CIA represented to policymakers and others."
After Mr Obama was elected to the White House in 2008, he banned the use of such techniques.
By contrast, Donald Trump has defended the use of torture.
David Gauke: Britain may not challenge Trump decision to send ISIS 'Beatles' to Guantanamo Bay
"Don't tell me it doesn't work – torture works," MrTrump said while campaigning in 2016. "Okay, folks? You know, half these guys say 'Torture doesn't work'. Believe me, it works. Okay."
Mr Church said he met with Zubaydah last week at Guantanamo, where the prisoner was questioned by members of the periodic review board, a group of officials from the defence and intelligence agencies who determine whether a prisoner should remain at the jail.
Mr Church said he was prevented from describing what he said to the board, or the nature of his conversations with Zubaydah.
However, he said: "I can tell you this – if Zubayday were to be released today, I think he would do very well."
A number of prisoners produce art and drawings, some of which has made its way to the outside world. In 2017, the authorities were accused of censorship after they banned the transfer of such works, after a number were displayed in a New York gallery.
The images showed included scenes of torture, including a painting by Ahmed Rabbani, who says he is a Karachi taxi driver but whom the US authorities say was linked to al-qaeda.
He was held for 545 days at the notorious Dark Prison, or Salt Pit, in Kabul. Rabbani was tortured and interrogated, including by use of as medieval form of torture, known to the Inquisition as the "strappado".
"They took me to a room and hung me by my hand to an iron shackle where my toes hardly touched the ground," Rabbani told his lawyers. "They removed the mask away from my face and left me hanging from one hand, naked, thirsty, and hungry."
The CIA did mot respond to enquiries on Thursday. Pressed by senators during her confirmation hearing in May 2018, Ms Haspel said the torture programme she oversaw "did damage to our officers and our standing in the world".
This is not the first time that art work by Abu Zubaydah. considered a high-value prisoner by the authorities, has been seen by the public. Last year, the New York Times published a series of drawings that are to be part of a 61-page report, "How America Tortures," by lawyer, Mark Denbeaux, a professor at the Seton Hall University School of Law in Newark
The article noted: "He has never been charged with a crime, and documents released through the courts show that military prosecutors have no plans to do so."
Join our new commenting forum
Join thought-provoking conversations, follow other Independent readers and see their replies