Guatemala to move its embassy in Israel to Jerusalem after Trump's vow to do same
US is an important source of aid to the Central American country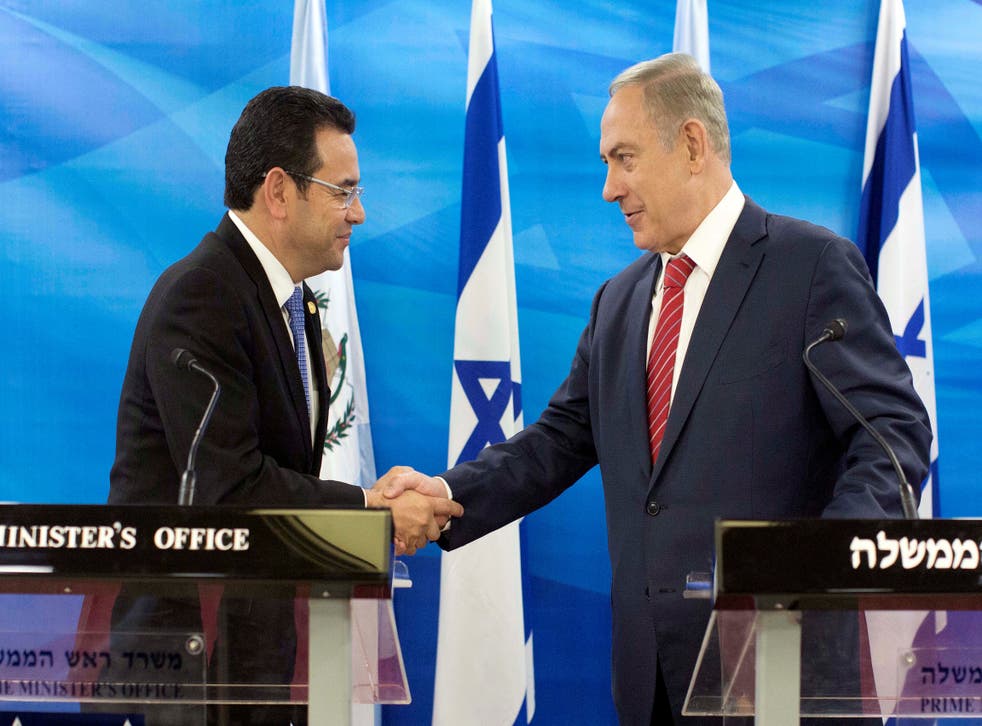 Guatemala will move its embassy in Israel to Jerusalem, the country's President has said, less than three weeks after Donald Trump announced the US would do the same.
The Central American country was one of nine nations that voted earlier this week with the US when the UN General Assembly overwhelmingly adopted a non-binding resolution denouncing Mr Trump's recognition of Jerusalem as Israel's capital.
President Jimmy Morales said on his official Facebook account that after talks with the Israeli Prime Minister Benjamin Netanyahu, he decided to instruct his foreign ministry to move the embassy from Tel Aviv to Jerusalem.
He wrote: "We spoke about the excellent relations that we have had as nations since Guatemala supported the creation of the state of Israel.
"One of the most important topics was the return of the embassy of Guatemala to Jerusalem.
"I have instructed the chancellor to initiate the respective coordination so that it may be."
The resolution passed at the UN declared the US action on Jerusalem "null and void".
The United Nations General Assembly votes 128-9 to declare the United States' Jerusalem capital recognition 'null and void'
The 128-9 vote was a victory for Palestinians, but fell short of the total they had predicted.
Thirty-five nations abstained and 21 stayed away from the vote.
The US is an important source of aid to Guatemala, and Mr Trump had threatened to cut off financial help for countries that voted in favour of the UN resolution.
No other country has their embassy for Israel in Jerusalem, though the Czech Republic has said it is considering such a move.
Mr Trump upended decades of US policy with his announcement on December 6 that he was recognising Jerusalem as Israel's capital.
Though Mr Trump said he was merely recognising reality and not prejudging negotiations on the future borders of the city, Palestinians saw the move as siding with Israel on the most sensitive issue in the Israel-Palestinian conflict.
Israel claims all of Jerusalem as its capital, while the Palestinians claim the city's eastern sector, which was captured by Israel in 1967 and is home to sensitive religious sites.
Many governments have long said that the fate of Jerusalem must be resolved through negotiations.
Mr Trump's announcement has set off weeks of clashes between Palestinians and Israeli security forces that have left 12 Palestinians dead.
Join our new commenting forum
Join thought-provoking conversations, follow other Independent readers and see their replies