Haiti: Health experts race to stop cholera outbreak in aftermath of Hurricane Matthew
The Caribbean nation fears a repeat of 2010, when 10,000 died from the water-borne disease
Andrew Buncombe
New York
Friday 14 October 2016 15:32 Comments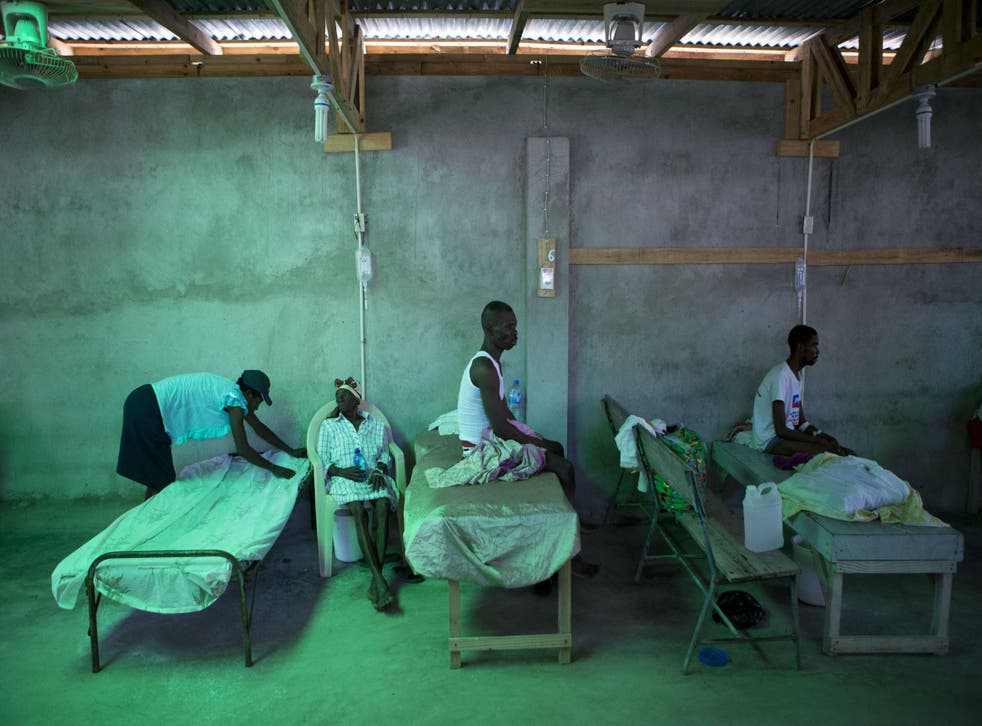 Health experts are racing to control an outbreak of cholera in Haiti, where more than 200 cases of the potentially fatal disease have been reported since Hurricane Matthew struck ten days ago.
The World Health Organisation (WHO) said it was sending a million doses of cholera vaccine, before the imminent rainy season intensifies the risk by spreading germs from overflowing lavatories. That high-risk period stretches from November to January.
"The top priority, clearly, for those people affected by the hurricane is to give them access to safe water. That's the only way we can control cholera," Dr Dominique Legros, a WHO expert, said earlier this week.
Reuters said Haiti is no stranger to the menace of cholera, a water-borne disease. Cholera killed around 10,000 people in Haiti after the devastating 2010 earthquake, when UN peacekeepers introduced it to the country by emptying toilet waste into the Meille River, a major water source.
Those already infected with cholera need treatment, but a quarter of the health centres in Haiti's hard-hit southern area have been destroyed or seriously damaged, said Mr Legros.
The powerful hurricane slammed into Haiti on 4 October, killing at least 1,000 people according to a tally of numbers from local officials.
Cholera causes severe diarrhea and can kill within hours if untreated. It is spread through contaminated water and has a short incubation period, which leads to rapid outbreaks.
Some 150 suspected cholera cases have been reported in Grande'Anse department and 50 in South department since the hurricane struck. A further 28 cholera cases have been reported in Artibonite and six cases in North West, the WHO said.
The WHO, which has deployed 80 staff to Haiti, was considering giving people a single dose of the vaccine rather than the classic double dose, to cover more people, albeit with a shorter protection period, said Mr Legros.
"So far we have one experience of a large-scale campaign with a single dose, it was done in Bangladesh two years ago. It proved effective for six months," he said. "After six months, you still have about 60 to 70 per cent efficacy [of the vaccine] for severe cases of cholera, those are the ones we're interested in."
Hurricane Mathew leaves Haiti orphans homeless
In total, the UN has said 1.4 million Haitians are in need of assistance out of 2.1 million affected by the hurricane.
US Marines are helping to distribute food aid, but doctors in the extreme southwestern tip of Haiti said they were still awaiting medicine a week after the hurricane struck.
Food, medicine and fresh water has been arriving at the main city in the area but is slow to reach increasingly desperate remote communities.
"There's no water, no antibiotics," Herby Jean told the Associated Press in the seaside village of Dame Marie. "Everything is depleted. We hear helicopters flying overhead, but we're not getting anything."
Register for free to continue reading
Registration is a free and easy way to support our truly independent journalism
By registering, you will also enjoy limited access to Premium articles, exclusive newsletters, commenting, and virtual events with our leading journalists
Already have an account? sign in
Join our new commenting forum
Join thought-provoking conversations, follow other Independent readers and see their replies