Jovenel Moise: President of Haiti assassinated in attack called 'heinous' by the White House
The president was gunned down at his home, say officials
Zoe Tidman
Wednesday 07 July 2021 11:25 Comments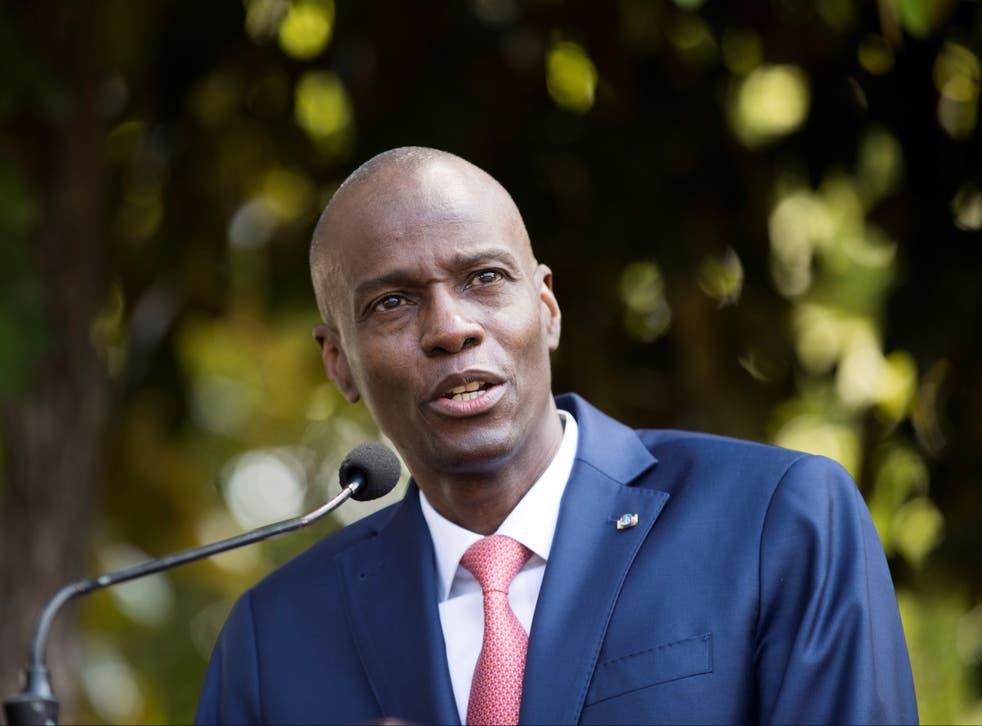 The president of Haiti has been killed in an attack at his home, an official has said.
The interim prime minister, Dr Claude Joseph, said Jovenel Moise had died in an assassination at his private home in the Caribbean country. He called it a "hateful, inhumane and barbaric act".
He added that the first lady, Martine Moise, was also injured and had been taken to hospital.
International reaction to the murder was swift. US President Joe Biden condemned the attack as "heinous" in a statement and said it was "very worrisome".
"The United States offers condolences to the people of Haiti and we stand ready to assist as we continue to work for a safe and secure Haiti," said President Biden.
The French Foreign Minister, Jean Yves Le Drian, called it a "cowardly assassination", while British Prime Minister Boris Johnson said he was "shocked and saddened".
The UN called for calm in Haiti.
Dr Joseph said the attack was carried out by a group of unidentified people during the night. Some of them spoke in Spanish, he added. Gunshots could be heard throughout the capital, Port-au-Prince, after the attack, which comes amid deepening political and economic instability as well as a spike in gang violence in Haiti.
With Haiti politically divided, and facing a growing humanitarian crisis and shortages of food, there are fears of widespread disorder in the impoverished country.
Haiti's economic, political and social woes have deepened recently, with inflation spiraling and food and fuel becoming scarcer at times in a country where 60 per cent of the population makes less than $2 (£1.45) a day. The country is still trying to recover from the devastating 2010 earthquake and Hurricane Matthew that struck in 2016.
The president had ruled by decree for more than two years after the country failed to hold elections and the opposition demanded he step down in recent months.
"The country's security situation is under the control of the National Police of Haiti and the Armed Forces of Haiti," Dr Joseph said in a statement from his office. "Democracy and the republic will win."
Dr Joseph said the group attacked the private residence of the president around 1am on Wednesday.
Mr Moise was killed in the attack, while his wife was shot and receiving treatment.
"The president was injured and succumbed to those injuries," Joseph said in an interview with Radio Caraibes.
Opposition leaders had accused Moise, 53, of seeking to increase his power, including by approving a decree that limited the powers of a court that audits government contracts and another that created an intelligence agency that answers only to the president.
In recent months, they have demanded he step down, arguing that his term legally ended in February 2021.
Mr Moise and supporters maintained that his term began when he took office in early 2017, following a chaotic election that forced the appointment of a provisional president to serve during a year-long gap.
Haiti was scheduled to hold general elections later this year.
The interim prime minister said Haiti's police and army were in control of the country's safety.
"All measures are taken to guarantee the continuation of the state and to protect the nation," he added.
Additional reporting by Associated Press
Register for free to continue reading
Registration is a free and easy way to support our truly independent journalism
By registering, you will also enjoy limited access to Premium articles, exclusive newsletters, commenting, and virtual events with our leading journalists
Already have an account? sign in
Join our new commenting forum
Join thought-provoking conversations, follow other Independent readers and see their replies