'Hamilton' creator Lin-Manuel Miranda announces multi-million dollar arts fund for Puerto Rico
'Artists entertain, inspire, heal ... So we're gonna have their backs,' Lin-Manuel Miranda says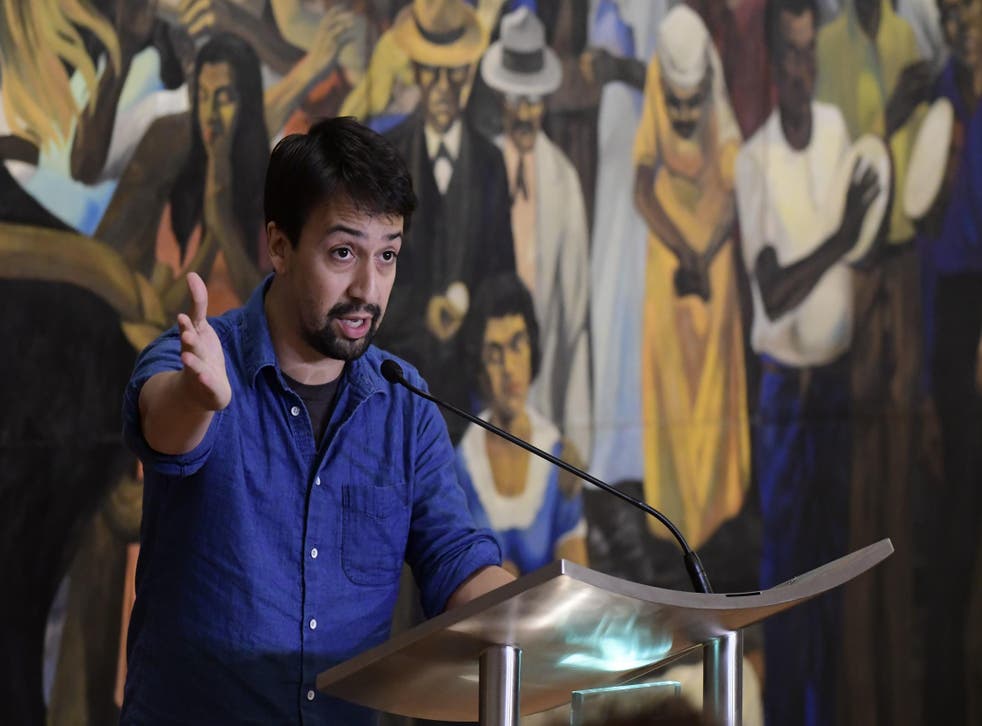 Lin-Manuel Miranda, the creator of the hit Broadway musical Hamilton, has created a multi-million dollar fund to support arts and culture in Puerto Rico, as the island recovers from a devastating hurricane that hit nearly a year ago.
Mr Miranda, whose parents are from Puerto Rico, is returning to the lead role in the show for its run at the University of Puerto Rico in January. He said he will donate all proceeds from the performance back to the community.
"As someone whose life has been transformed by the power of the arts, and who has witnessed the incredible healing, growth, stability and wellbeing that cultural institutions can bring to local communities, I cannot stand idly by and watch Puerto Rico's arts and culture scene suffer," he said.
Puerto Rico suffered an estimated $100bn in damages when Hurricane Maria hit in September. The Category 4 storm wiped out power to nearly all the island's 3.4m residents, and left many without food, drinking water, and medical supplies. While the official death toll was 64, a recent Harvard study found more than 4,600 people may have died as a result of the storm.
The federal government's response ignited criticism of President Donald Trump, who compared the effects of the storm to a "real catastrophe" like Hurricane Katrina during a visit in October.
Schoolkids scream with joy as electricity returns to their school in Puerto Rico
Records show the administration was significantly slower to respond to the disaster than to a hurricane that hit Houston, Texas, just weeks before. Last month – nine months after Hurricane Maria struck – thousands of the island's residents were still without power, according to the territory's electric power authority.
But Puerto Rico's art and cultural institutions have also suffered in the hurricane's aftermath, as nonprofit and government dollars were redirected to meet more immediate needs. Theatre company Y No Habia Luz, one of the first five recipients of Mr Miranda's fund, was forced to cancel events for several months after the hurricane.
"This will allow us to start dreaming again, to come up with new ideas, to visit more cities. This will allow us to breathe," said Julio Morales, the artistic co-director of the theatre company.
Bringing aid to Puerto Rico

Show all 20
The company will receive $180,000 from the fund, managed by the nonprofit Flamboyan Foundation. The Theatre of the University of Puerto Rico and the Puerto Rico Museum of Art will each receive $1m, while an art education program and a dance school will receive $900,000.
Mr Miranda said he hopes the fund will grow to $15m in coming years.
"Amidst all these essential [recovery] efforts, our arts and culture cannot be forgotten," he wrote in a tweet announcing the creation of the fund.
"Artists entertain, inspire, heal, give voice to the voiceless, call out injustice, and keep us in touch with our humanity," he added. "So we're gonna have their backs."
The Associated Press contributed to this report.
Register for free to continue reading
Registration is a free and easy way to support our truly independent journalism
By registering, you will also enjoy limited access to Premium articles, exclusive newsletters, commenting, and virtual events with our leading journalists
Already have an account? sign in
Register for free to continue reading
Registration is a free and easy way to support our truly independent journalism
By registering, you will also enjoy limited access to Premium articles, exclusive newsletters, commenting, and virtual events with our leading journalists
Already have an account? sign in
Join our new commenting forum
Join thought-provoking conversations, follow other Independent readers and see their replies