Harvey: Muslim youth group hits streets to help Houston residents during storm
More than 100 young men turned out to pass out food and water in their neighbourhoods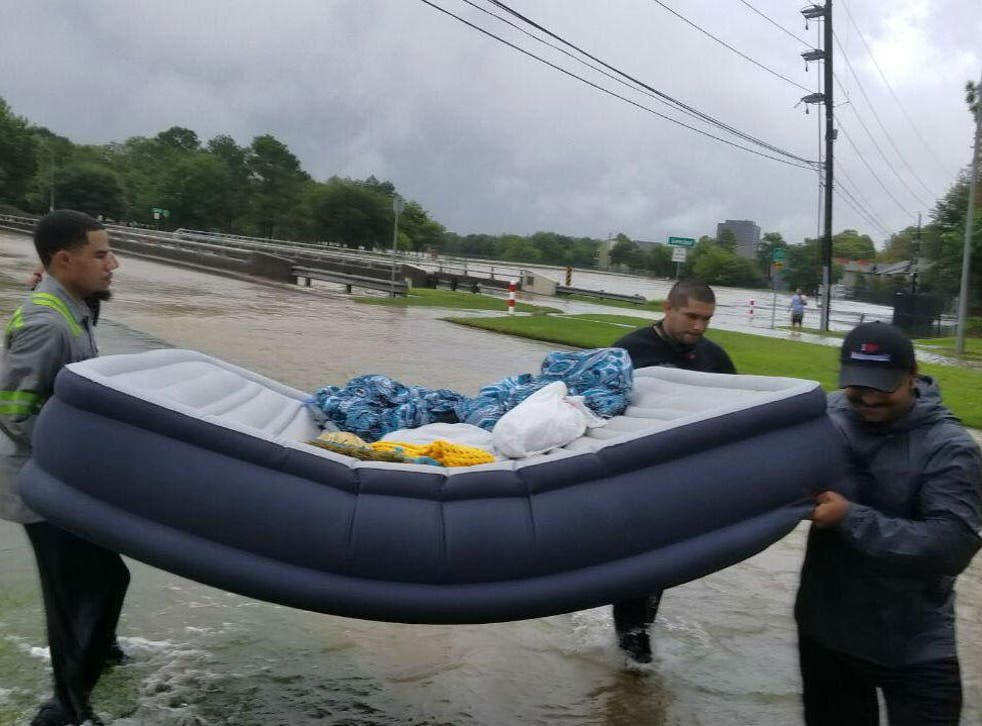 As tropical storm Harvey hit Texas with devastating floods, a group of young Muslim men hit the streets to help their neighbours.
More than 100 members of Muslim Youth USA, and 40 members of the Ahmadiyya Muslim Youth Association, passed out food, water, and other supplies in Houston, according to organisers. Both groups expect to gain more volunteers from surrounding cities when the roadways open up.
Madeel Abdullah, director of humanitarian affairs for the Ahmadiyya Muslim Youth Association, said more than 700 members of his organisation have been affected by the storm. But the volunteers, he said, are "helping anybody else that's in distress".
"We've already provided basic supplies such as food items and water bottles," Mr Abdullah told The Independent, "and we have a few members who have boats who are going around making sure everyone is safe."
Both youth groups were assisted by Humanity First, an Ahmadiyya Muslim charity dedicated to disaster relief. First founded in England, the charity has expanded to more than 40 countries in the last 25 years.
Ahmadiyya Muslim Community spokesman Qasim Rashid told The Independent the groups had mobilised both their local and national chapters before hurricane Harvey even began. They started sending volunteers into Houston neighbourhoods as early as Sunday – just two days after the storm first hit.
The aftermath of Hurricane Harvey

Show all 19
All three groups identify as Ahmadiyya Muslim – an embattled branch of Islam that originated in India in the 19th century.
According to Mr Rashid, the groups follow the teachings of Caliph Mirza Masroor Ahmad, who preaches empathy for their fellow Americans.
"Your faith as Muslims and your identity as Americans needs to hold you accountable," Mr Rashid said the Caliph told them. "Whenever your fellow Americans are in need, you need to be the first ones on the ground to help them."
To that end, Humanity First USA has aided recovery efforts in New Orleans after hurricane Katrina, in New York after hurricane Sandy, and in Texas after hurricane Rita. So far, they have raised more than $18,000 to benefit the victims of hurricane Harvey.
It's a notable feat for a Muslim charity, in a year in which anti-Muslim hate crimes have spiked 91 per cent and the President has proposed a so-called "Muslim travel ban". But Mr Rashid said he's seen no drop-off in enthusiasm.
"If anything, it has had the opposite effect that people might think," he said of the current political climate. "If anything it's emboldened our youth to work even harder to exemplify what Islam means."
Register for free to continue reading
Registration is a free and easy way to support our truly independent journalism
By registering, you will also enjoy limited access to Premium articles, exclusive newsletters, commenting, and virtual events with our leading journalists
Already have an account? sign in
Register for free to continue reading
Registration is a free and easy way to support our truly independent journalism
By registering, you will also enjoy limited access to Premium articles, exclusive newsletters, commenting, and virtual events with our leading journalists
Already have an account? sign in
Join our new commenting forum
Join thought-provoking conversations, follow other Independent readers and see their replies