Héctor Beltrán Leyva death: Mexican drug lord and 'El Chapo' rival dies
Authorities say drug lord was transferred to hospital after security guards noticed he was experiencing chest pains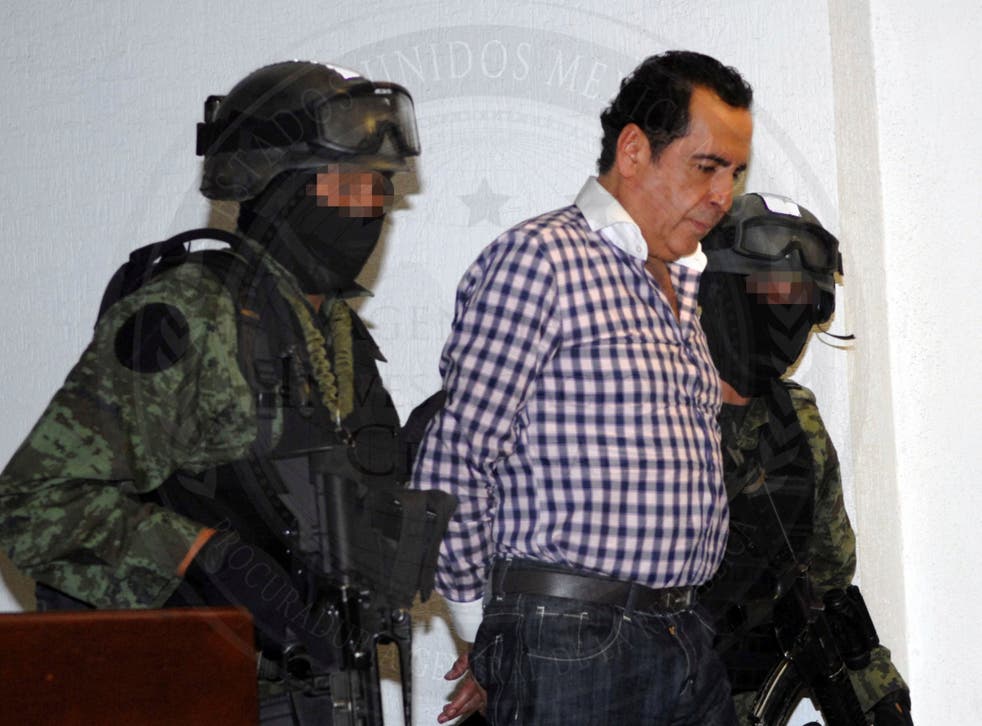 Héctor Beltrán Leyva, who cultivated a reputation as one of the most vengeful and ruthless Mexican drug lords, has died in a hospital after being transferred from maximum security prison with chest pains, aged 56.
Beltrán Leyva — nicknamed "the H" ​— became well known for bloody wars with rival organisations, including Joaquin "El Chapo" Guzman's Sinaloa cartel, although the pair were once allies. Mr Guzman is currently on trial for drug trafficking in a New York federal court.
At the time of his arrest in October 2014 Beltrán Leyva was pretending to be an art and real estate dealer, and his capture was seen as a major victory for Mexican authorities in their war against drug gangs. He was transferred to Federal Prison Number 1 in March of 2016.
He was later transferred to maximum security prison in Altiplano, one of Mexico's most secure facilities, with metre thick walls and restricted air space above it.
Mr Guzman, managed to escape Mexican prisons twice before being extradited to the United States where he is on trial for his alleged running of the Sinaloa cartel.
Beltrán Leyva's death was confirmed by Mexican authorities in a statement, which said that the drug lord had been transferred to a hospital minutes after security guards noticed he was experiencing chest pains.
Inside Mexico's top drug lord El Chapo's hideout

Show all 4
Emergency healthcare procedures conducted by prison doctors did not help the inmate, who later died in the hospital, it added.
The statement added "that, at all times", he "received the medical attention he required and that the staff of the hospital as well as the federal centre, exhausted all the clinical resources at its disposal".
Mr Guzman's trail has resulted in ramped up security in Brooklyn around the federal courthouse where the trial is being held.
Support free-thinking journalism and attend Independent events
He is being detained in the same building so that authorities will not be required to risk transporting the prisoner to and from the trial
Mr Guzman has pleaded not guilty to the charges he faces. His lawyer has indicated that Mr Guzman was unwilling to accept a plea deal.
Reuters contributed to this report
Register for free to continue reading
Registration is a free and easy way to support our truly independent journalism
By registering, you will also enjoy limited access to Premium articles, exclusive newsletters, commenting, and virtual events with our leading journalists
Already have an account? sign in
Register for free to continue reading
Registration is a free and easy way to support our truly independent journalism
By registering, you will also enjoy limited access to Premium articles, exclusive newsletters, commenting, and virtual events with our leading journalists
Already have an account? sign in
Join our new commenting forum
Join thought-provoking conversations, follow other Independent readers and see their replies