How one family is racing against the clock to raise $3m to cure toddler's ultra-rare 'human time bomb' condition
Henry Saladino suffers from Alternating Hemiplegia of Childhood (AHC), a neurological disorder that causes life-threatening seizures and paralysis, Graeme Massie writes
Wednesday 15 March 2023 23:43 GMT
Comments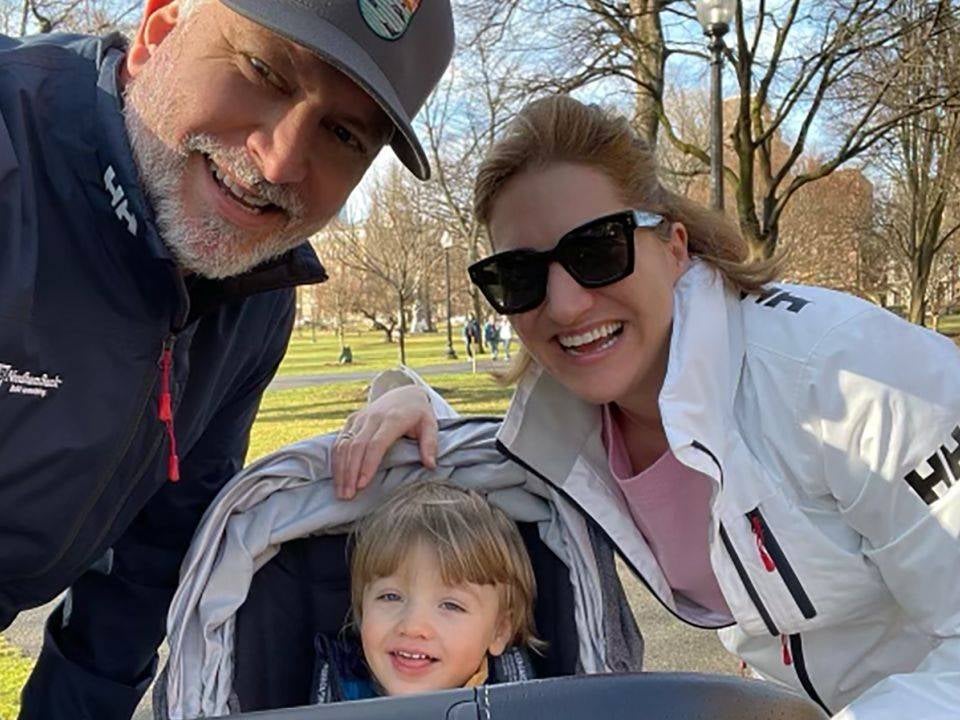 A good day for Mary Saladino is if her three-year-old son Henry does not experience a life-threatening seizure from his ultra-rare neurological disorder, sufferers of which have been called "human time bombs".
And she says that a great day for the family is as simple as the youngster staying seizure-free on a weekend with good weather so he can enjoy some sunshine outside in the fresh air.
When that doesn't happen she has to hold the youngster in her arms as he suffers violent seizures that can leave him temporarily paralysed as she works desperately to save his life.
For Henry suffers from alternating hemiplegia of childhood, or AHC, for which the 1,000 sufferers globally have no treatment or cure.
But Ms Saladino and her family are hoping to change that by discovering and funding a cure themselves.
In 2022 Mary and her husband Anthony, who split their time between Vermont and Boston, launched For Henry, a nonprofit foundation that aims to raise the $3m necessary to fund an individual genetic treatment for their son.
And if they are successful it could become the first treatment for AHC and give hope to other families fighting the brutal condition.
Ms Saladino told The Independent that the foundation has so far raised around $1m and that in May they will have established a "proof of concept" and settled on a treatment.
Through the foundation and a GoFundMe fundraiser, the couple hopes that they can reach their goal and Henry could receive the ASO (antisense oligonucleotide) treatment which can modify gene expression in the nervous system, within a year.
"We are doing it on our own, we almost have it and now money could hold us back, we need the money to pay people so we are not waiting. If we have the money it can be done in a year," she said.
Mary and her husband are racing to pay for the treatment before their son suffers permanent and irreversible brain damage caused by one of his regular seizures.
"It is a life-saving treatment. We have only had three days in the past 17 when he hasn't seized and every time he seizes he stops breathing and I have to rush oxygen on him, if his oxygen level goes too low we have to resuscitate him and call 911," she explained.
"So daily we have these life-threatening symptoms. And what always wounds is that there are very few seizures that he has, and he has them near daily, where I feel 'Okay, this is okay he will come out of it.'
"Every time he seizes, which could be any moment of any day and is usually once a day, I feel like he is not going to come out of it. It is so traumatic.
"We try and live a normal life and to try not to live in that emotion, because if we did how could we be somewhat put together, functioning adults to give him a delightful childhood when he is not having those events?"
Despite the trauma of her son's condition, Ms Saladino is still able to find some humour.
"I have joked that we will process this in therapy in five to 10 years when he is doing well and we have a treatment for Henry. We will process the trauma when all of our kids are treated but there isn't time now."
She says that she only knows of a couple of sufferers globally who have lived past their 35th birthday and that after the age of 10 many patients suffer permanent brain damage and regression before dying in their 20s.
"We are racing to save Henry's life so he does not have life-threatening symptoms and I don't feel like I am going to lose him daily," she said.
"We are racing to save his quality of life as maybe we can live a more full life if we are not in the triage state.
"We need to do this very quickly to treat him before one of these episodes happens that causes permanent brain damage. We need to save his life and we need to do it now before we cannot turn it around."
The family says that many different things can trigger an episode for Henry, from stress and excitement to simple things such as a bath or sunlight.
And it explains why patients have been nicknamed "human time bombs."
"It speaks to the terrifying part of this disease, where any symptom or all of them could happen at any time. They are all life-threatening and even if they don't take our children from us at that moment they hold the power to take pieces of our children that we never get back," she said.
In a quiet voice, she explained the impact of fighting for her son's future.
"This disease dictates every single moment of our day. Before Henry, and still in some ways since Henry, I am a Type A planner person. I know what I am doing every day the house is clean, but none of that happens in my life any more.
"We may have ambitious goals for a day, like I hope Henry doesn't have a seizure in the morning so that I can take him to preschool.
"Once he is at preschool I literally sit with my phone in my hand and hope I don't get the call from his nurse that he has seized and we have to pick him up.
"There is no such thing as planning. The best thing that happens to us is a full day without symptoms, if we are very lucky we get one or two of them in a row, and if we are absolutely lucky we get one of them on a weekend with beautiful weather so that we can enjoy it outside with the family."
Join our commenting forum
Join thought-provoking conversations, follow other Independent readers and see their replies