Hillary Clinton says fake news is a 'dangerous epidemic' that puts lives at risk
Her remarks come days after a man opened fire at a Washington, DC, pizza restaurant implicated in a massive conspiracy theory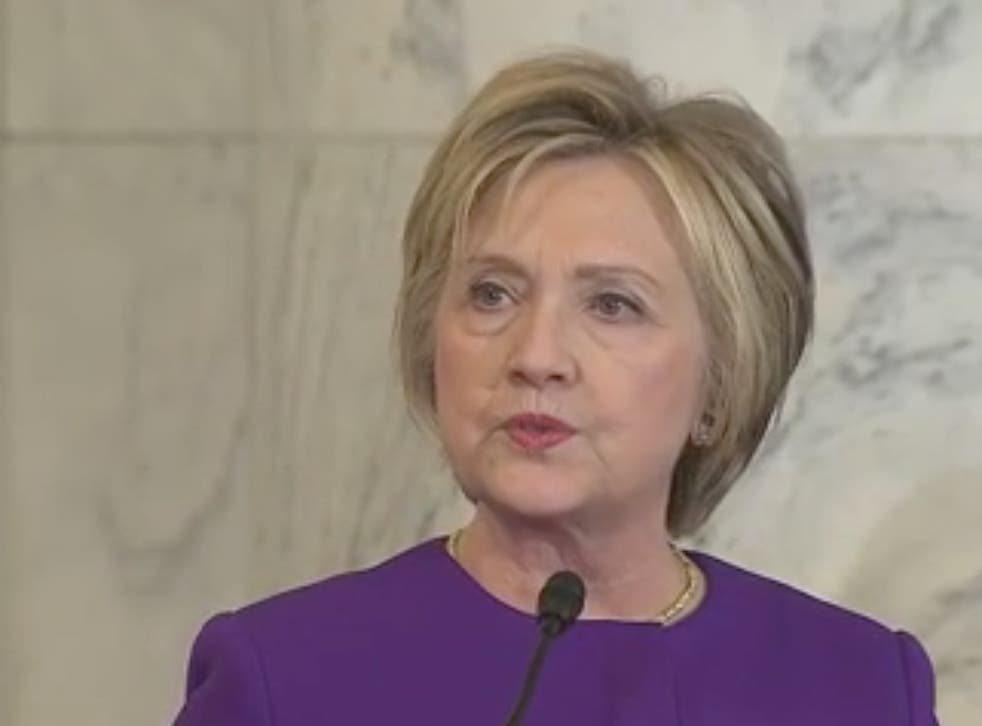 Hillary Clinton spoke out against the proliferation of "fake news and false propaganda", and called on leaders from all political parties to act that she says threatens American lives.
Speaking at a tribute in honour of Senate Minority Leader Harry Reid, who retired on Thursday, Ms Clinton took the opportunity to call on leaders in the public and private sectors to quell the "epidemic" of fake news.
"It's now clear that so-called 'fake news' can have real world consequences," she said. "This isn't about politics or partisanship. Lives are at risk. … It's a danger that must be addressed, and addressed quickly.
"It's imperative that leaders in both the private sector and the public sector step up to protect our democracy and innocent lives."
Many attribute some portion of Ms Clinton's electoral loss to the spread of fake news that leaned heavily to the right – often implicating her campaign in baseless conspiracy theories. In some cases, those who believe these stories have tried to take matters into their own hands.
Washington DC police arrested a man on Sunday who entered an area-pizza restaurant, Comet Ping Pong, carrying a rifle. He claimed he was there to investigate the false conspiracy theory, known as "Pizzagate". The theory wrongly claimed that Ms Clinton and her associates ran a child sex ring from the basement of the restaurant.
After finding no evidence at the restaurant – which does not have a basement – he fired off multiple rounds inside the family facility. Nobody was hurt.
The conspiracy theory had become so prevalent that Michael Flynn Jr, the son of incoming national security advisor Lr Gen Michael Flynn, claimed that Pizzagate would "remain a story" until "proven to be false".
The junior Flynn, who served as his father's chief of staff, was sacked from the Trump transition team following a massive uproar.
Vice President-elect Mike Pence confirmed that "Mike Flynn Jr is no longer associated with Gen Flynn's efforts or with the transition team".
He told CNN's Jake Tapper that Flynn had helped "a bit" with "scheduling and administrative items", while dodging questions regarding whether the transition team requested security clearance for the lieutenant general's son.
Register for free to continue reading
Registration is a free and easy way to support our truly independent journalism
By registering, you will also enjoy limited access to Premium articles, exclusive newsletters, commenting, and virtual events with our leading journalists
Already have an account? sign in
Register for free to continue reading
Registration is a free and easy way to support our truly independent journalism
By registering, you will also enjoy limited access to Premium articles, exclusive newsletters, commenting, and virtual events with our leading journalists
Already have an account? sign in