Hillary Clinton reveals favourite meme taking aim at Trump administration
Democrat candidate enjoyed the one showing the dogs sitting around the table, with the caption, 'Now we will discuss feline health'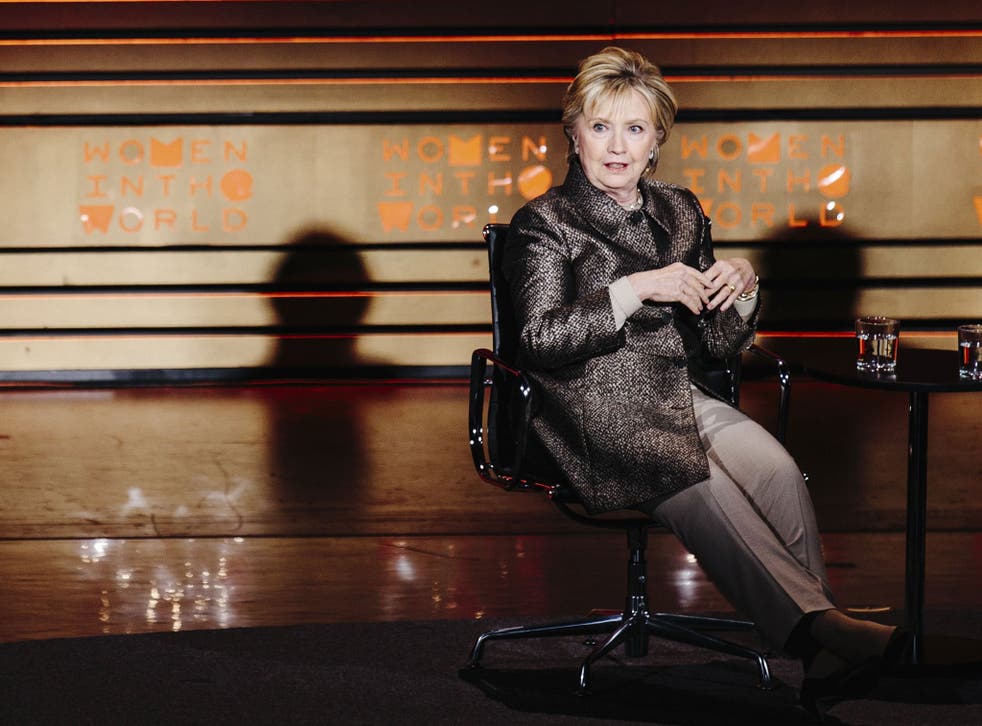 The obsession with memes has reached new heights in recent years. There is even a burgeoning cohort of researchers studying internet memes as a field of legitimate academic enquiry.
Hillary Clinton is among those with a penchant for the viral phenomena. The Democrat, who lost to Donald Trump in the presidential race, revealed her favourite meme at the Women in the World Summit in New York City last week.
In an interview with New York Times columnist Nicholas Kristof, the former Secretary of State said her preferred meme was one that sees a group of dogs sitting around a table at a board meeting.
"There is that classic picture of all of the men sitting around, deciding how they were going to defund Planned Parenthood and maternity care, and access to insurance for family planning and contraception," she told the audience.
"Looking at that picture, you just think it has got to be from a skit on Saturday Night Live. It can't possibly be true … My favourite GIF (aka meme) on the internet was showing the dogs sitting around the table, and the caption was, 'Now we will discuss feline health.'"
The sentiment being that a solely male group discussing female reproductive health is the equivalent of a bunch of dogs sitting around discussing the health of cats.
Ms Clinton also expressed her fondness for this particular meme during her speech in San Francisco last month. Justin Shanes, a comedian, created the original meme, but the actual photo was originally taken by Brian Eckert.
In her first interview since the election, Ms Clinton also discussed how she had been spending her days since Mr Trump entered the White House.
Hillary Clinton's life in pictures

Show all 10
"I am doing pretty well, all things considered," she told the audience. "The aftermath of the election was so devastating. Everything that has come to light in the days and weeks since have been all so troubling. I just had to make up my mind that yes, I was going to get out bed, and yes, I was going to go out for long walks in the woods, and spend time with my family."
"As a person, I'm OK," she assured the crowd, before adding: "As an American, I'm pretty worried."
Ms Clinton argued misogyny had played a role in her defeat against Mr Trump but also recognised that her Republican rival managed to win a high proportion of women's votes.
"I think in this election there was a very real struggle between what is viewed as change that is welcomed and exciting to so many Americans and change which is worrisome and threatening to so many others," she said. "And you layer on the first woman president on top of that, and I think some people, women included, had real problems."
"With men, success and ambition are correlated with likeability. With a woman, guess what? It's the exact opposite."
Register for free to continue reading
Registration is a free and easy way to support our truly independent journalism
By registering, you will also enjoy limited access to Premium articles, exclusive newsletters, commenting, and virtual events with our leading journalists
Already have an account? sign in
Register for free to continue reading
Registration is a free and easy way to support our truly independent journalism
By registering, you will also enjoy limited access to Premium articles, exclusive newsletters, commenting, and virtual events with our leading journalists
Already have an account? sign in
Join our new commenting forum
Join thought-provoking conversations, follow other Independent readers and see their replies