Hillary Clinton likens Donald Trump to Hitler at Jewish lobby group
The Democrat compared the 'dark chapters of history' of World War II to her rival's racist rhetoric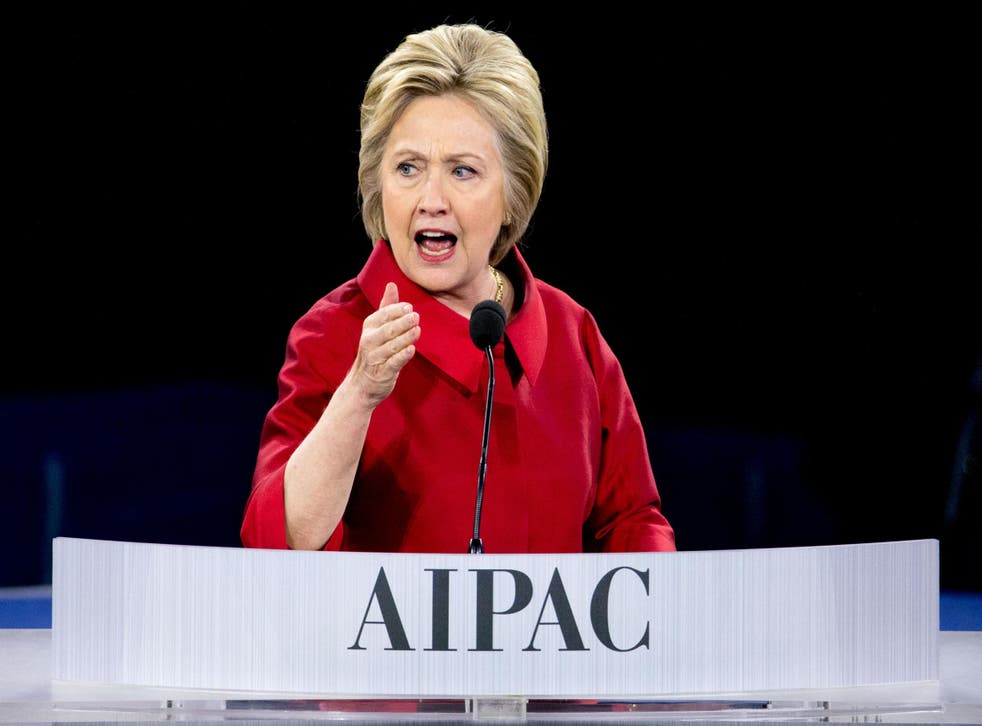 Hillary Clinton warned the audience at a powerful Jewish lobby group that Americans "must stand up to the bully" when it comes to improving relations with the Middle East, referring to her rival Donald Trump.
Ms Clinton, who was speaking at the American Israel Public Affairs Committee (AIPAC), the same day as her Republican counterparts, continued her hopeful narrative of a two-state solution for peace and said Israel's security is "non-negotiable".
"Candidates for President who think the United States can outsource Middle East security to dictators or that America no longer has vital national interests at stake in the region are dangerously wrong," she said.
Mr Trump has recently said that Saddam Hussein was "extremely good" at killing terrorists. The real estate mogul turned politcian has also advocated killing the families of terrorists.
Ms Clinton, referring to statements Mr Trump has made, said: "Playing coy with white supremacists, calling for 12 million immigrants to be rounded up and deported. Demanding we turn away refugees because of their religion and proposing a band on all Muslims entering the United States.
"Now, we've had dark chapters in our history before."
She pointed to examples of anti-seministim under Hitler's reign during World War II, when nearly 1,000 Jews were denied entry to St Louis and sent back to Europe.
"If you see bigotry oppose it. If you see violence condemn it. If you see a bully, stand up to him," she said.
The speech at AIPAC has become almost a rite of passage for the presidential hopefuls, with all four candidates speaking on Monday. Bernie Sanders, who was not able to attend, even sent his apologies to the lobbying group.
Ms Clinton played to the lobbyists herself by using the word "terrorist" nine times, mostly referring to brutality from the Palestinian side towards Israelis and not the other way around.
Matt Brooks, executive director of the Republican Jewish Coalition, said Ms Clinton's speech "rang hollow".
"Under Secretary Clinton, the US-Israel relationship reached its lowest point and she supported the United States-brokered, ill-conceived and disastrous nuclear deal with Iran," he said. "At every turn when her actions could achieve real results and speak louder than words, Secretary of State Clinton chose instead to sit and do nothing."
On the Iran nuclear deal, Ms Clinton said she did support it.
"Iran's enriched uranium is all but gone, thousands of centrifuges have stopped spinning, Iran's potential break-out time has increased, and new verification measures are in place to help us deter and detect any cheating. The United States, Israel, and the world are safer as a result."
Register for free to continue reading
Registration is a free and easy way to support our truly independent journalism
By registering, you will also enjoy limited access to Premium articles, exclusive newsletters, commenting, and virtual events with our leading journalists
Already have an account? sign in
Register for free to continue reading
Registration is a free and easy way to support our truly independent journalism
By registering, you will also enjoy limited access to Premium articles, exclusive newsletters, commenting, and virtual events with our leading journalists
Already have an account? sign in
Join our new commenting forum
Join thought-provoking conversations, follow other Independent readers and see their replies