Hillary Clinton says Russia hacked DNC computers and accuses Donald Trump of supporting Vladimir Putin
'We know that Donald Trump has shown a very troubling willingness to back up Putin'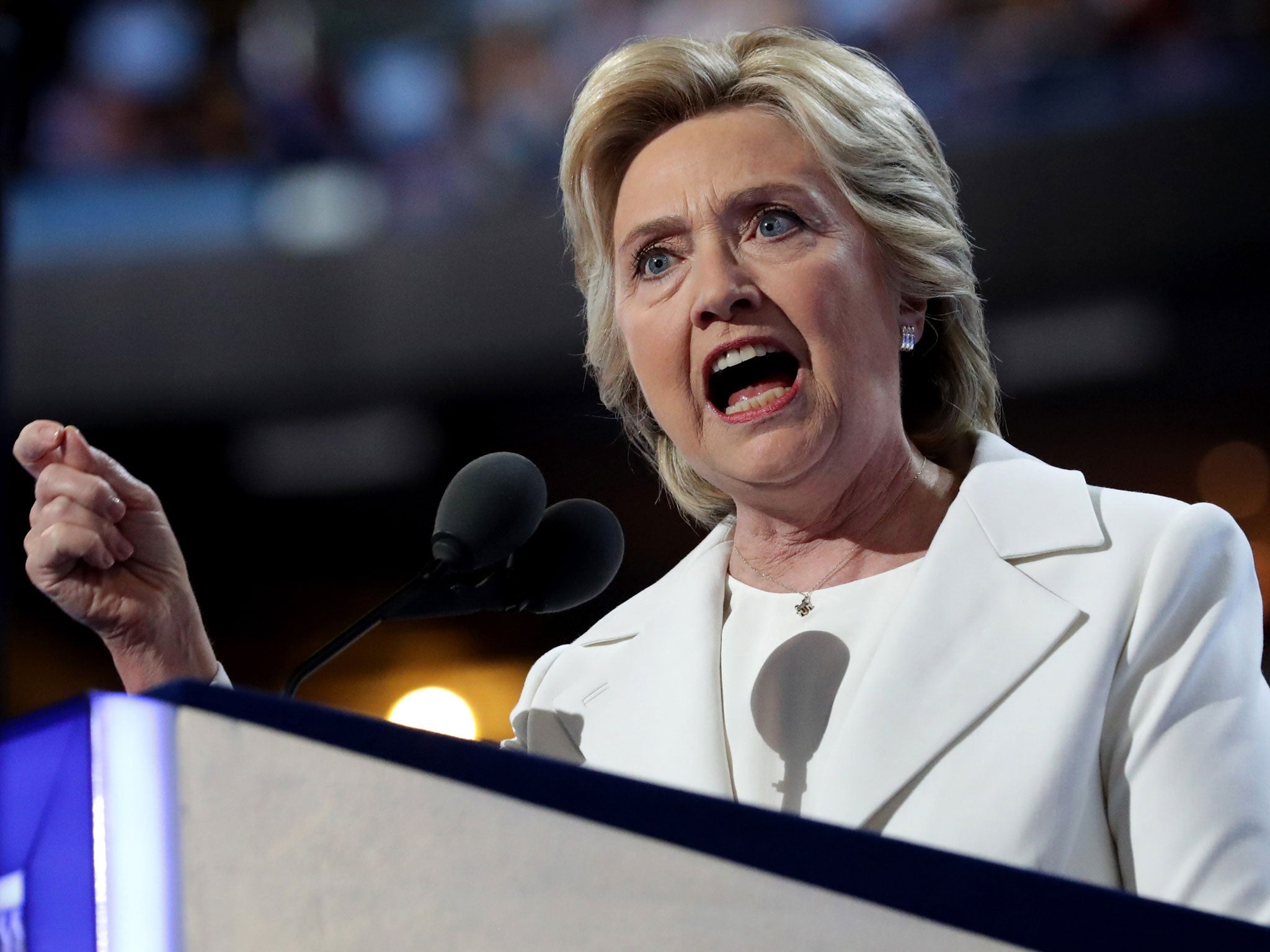 Hillary Clinton has accused Russian intelligence services of hacking into the Democratic National Committee computers and she said her Republican rival Donald Trump has shown support for Russian president Vladimir Putin.
"We know that Russian intelligence services hacked into the DNC and we know that they arranged for a lot of those emails to be released and we know that Donald Trump has shown a very troubling willingness to back up Putin, to support Putin," Ms Clinton said in an interview with Fox News, as reported by Reuters.
US officials and cyber security experts have previously said they believed Russia had something to do with the release of the emails in order to influence the election.
Russia has previously denied the allegations, saying they were nothing more than "horror stories".
Ms Clinton said she was not going to assume that Mr Putin wanted Mr Trump to become president.
"But I think laying out the facts raises serious issues about Russian interference in our elections, in our democracy," she responded.
"For Trump to both encourage that and to praise Putin despite what appears to be a deliberate effort to try to affect the election I think raises national security issues," she said.
Mr Trump invited Russia to search for the tens of thousands of "missing" emails sent and received by Ms Clinton's tenure as secretary of state.
"Russia, if you're listening, I hope you're able to find the 30,000 emails that are missing," the New York-based businessman told reporters.
House speaker Paul Ryan quickly released a statement to distance himself from Mr Trump's comments, and former CIA Director Leon Panetta said Mr Trump's remarks called into question his loyalty to the US.
Trump 'accused of treason' after urging Russia to hack Hillary Clinton's email
Brian Fallon, national press secretary for Hillary for America, responded that Mr Trump seems to be "openly inviting the Russian government to continue to sponsor acts of cyberterrorism and intrusions against US interests".
"It was certainly unprecedented in the history of American politics to see a major party presidential nominee engage in that type of rhetoric, openly suggesting that espionage be conducted against any US interest," he said.
Ms Clinton's campaign manager, Robby Mook, also said his comments were a "national security issue".
Democratic National Convention 2016 in pictures
Show all 15
The Republican nominee later said he was being "sarcastic" in his comments.
"Of course I was being sarcastic," Mr Trump told Fox News. "And frankly, they don't even know if it's Russia, if it's China, if it's someone else. Who knows who it is."
The controversy comes after around 20,000 emails from DNC computers were published last week by WikiLeaks, exposing the DNC's attempt to smear former presidential candidate Bernie Sanders. The former DNC chair, Debbie Wasserman Schultz, said Mr Sander's campaign manager, Jeff Weaver, was a "damn liar" and that they planned to call Mr Sanders an atheist to discredit him among voters in the southern states.
The furore resulted in Ms Schultz resigning from her position, and being shouted down at a speech on economy in Florida, where she is congresswoman, as people shouted "Shame!"
Ms Clinton's email scandal started when it was revealed she sent and received top secret and classified information on her personal email server for years, and she had deleted about half of her emails that contained personal information. Attorney General Loretta Lynch decided not to pursue criminal charges against the Democratic nominee.
Join our commenting forum
Join thought-provoking conversations, follow other Independent readers and see their replies