Hobby Lobby: Who is David Green? 9 facts telling you everything you need to know about the evangelical entrepreneur
The billionaire's Hobby Lobby business has just won a landmark ruling against Obamacare in the US Supreme Court
Adam Withnall
Tuesday 01 July 2014 16:31 Comments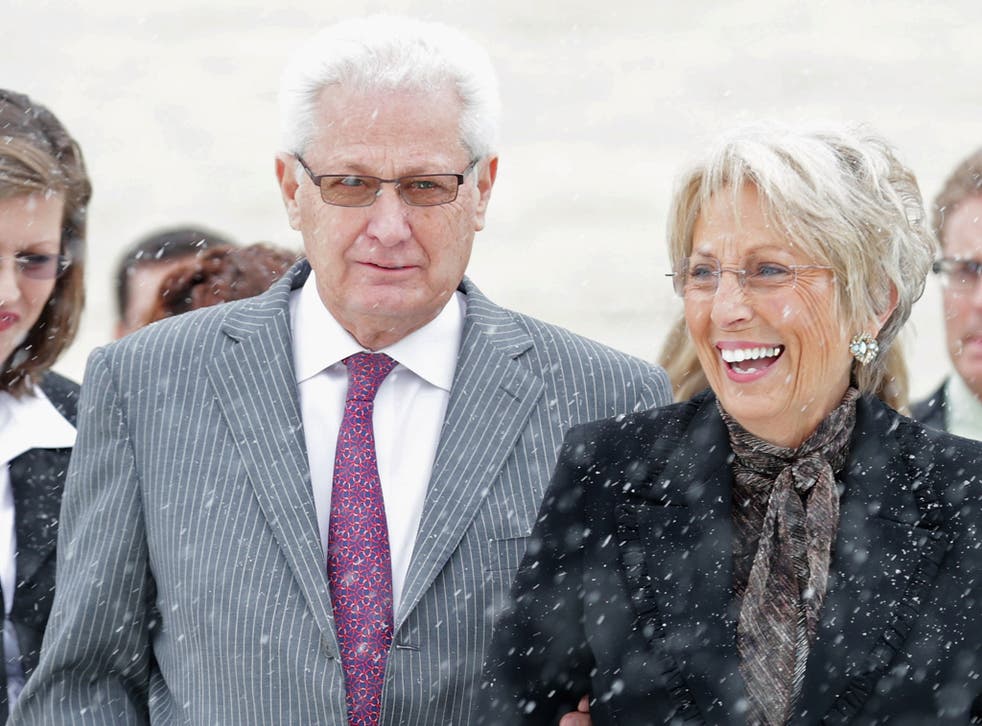 He is the billionaire evangelist behind a chain of arts-and-crafts shops that has triggered one of the most controversial US Supreme Court rulings on women's health ever seen.
David Green's Hobby Lobby company has won a case that means companies with religious objections can opt out of providing women with contraception coverage under Obamacare.
It also represents the first time the country's highest court has declared that businesses can hold religious views – in a decision which experts say could have implications far beyond the 2010 Affordable Care Act.
The decision, which saw the country split down conservative and liberal lines, was described by the White House as "jeopardising the health of women who are employed by these companies".
But after the Green family said they believed four of the 20 contraceptive methods offered had "the potential to terminate human life", the Supreme Court ruled 5-4 in Hobby Lobby's favour.
Little is known about Green himself, the man whose "family-run business" the court said must not be made to choose between "violating their sincerely held religious beliefs or making all of their employees lose their existing healthcare plans".
Here we take a look at the facts behind the mysterious business giant who started out 45 years ago with a $600 business loan to sell picture frames from his family home.
1 David Green is an evangelical Christian
Hobby Lobby owner David Green has been described by Forbes magazine as "the largest evangelical benefactor in the world", and says that his entire $5.1 billion (£3 billion) empire belongs to God.
He told Forbes: "If you have anything or if I have anything, it's because it's been given to us by our Creator. So I have learned to say, 'Look, this is yours, God. It's all yours. I'm going to give it to you.'"
Coming from a family of preachers, Green says that "you can't have a belief system on Sunday and not live it the other six days".
He has spoken many times about the Christian belief underpinning his businesses, and told ChristiaNet: "All the things we do, all our behavior, should let others know that we are living by, and operating in, Biblical principles. Principle and character are the highest quality traits on our list."
2 He has absolute faith in the truth of the Bible
Part of the argument in the Supreme Court has stemmed from how "life" is defined in terms of contraception, with the Green family saying that only four of the 20 devices and drugs stipulated in Obamacare contravene their beliefs.
David Green's interpretation of the Bible is literal and evangelical – and he has grand plans to share spread those views to the rest of the nation.
He has already set up The Green Collection, a repository of tens of thousands of biblical antiquities that Green now plans to turn into a Bible Museum in Washington. According to Politico, the museum could cost the family upwards of $800 million.
The museum's initial mission statement was "to inspire confidence in the absolute authority and reliability of the Bible," which was later modified to read "to invite people to engage with the Bible."
3 He objects to Obamacare rules requiring businesses to provide a list of 20 different contraceptive methods to their employees
"People are saying that we're taking the rights from somebody, there's no way we are taking anybody's rights away – it's our rights that are being infringed upon by requiring us to do something that's against our conscience," Green said in a video produced by Hobby Lobby ahead of the case.
The challenges were brought jointly by Oklahoma-based Hobby Lobby and Conestoga Wood Specialties, a small Pennsylvania cabinet company.
Business owners said they have religious objections to providing the contraceptive methods Plan B, Ella and certain intrauterine devices – which they say effectively induce abortions.
They had the backing of the Catholic bishops, several Republican lawmakers and at least 50 other for-profit companies that have filed similar legal challenges.
Speaking in a rare oral evidence session at the Supreme Court, the companies argued that the Obama administration is forcing them and their owners to set aside deeply held religious beliefs by requiring them to provide contraception in their employee health plans.
4 He funds Christian education systems
Green has said he wants to be remembered more for his influence on people's religion than for his business empire, and this is no more evident than in his vast funding for evangelical education.
In 2004 he gave a former Ericsson plant worth $10.5 million to Jerry Falwell's Liberty University. He gave an entire campus to Zion Bible College in Haverhill, Mass. in 2007, and that same year bailed out the debt-ridden Oral Roberts University with a single cash gift of $70 million.
According to Forbes, he also put nearly 1.4 billion copies of gospel literature in homes in more than 100 countries, mostly in Africa and Asia.
He joined the Giving Pledge in 2010.
5 He gives millions to charity
Green joined the Gates-Buffett Giving Pledge in 2010, promising to donate half his wealth to good causes by the time he dies.
He told CBN News that his business was built on Biblical principles – including setting up "tithes".
"We try to do as much as we can, especially as we have rid ourselves of any debt," he said. "We've always tithed. That's something that we always have been taught, but we've also been taught that that's not giving. Giving is above what we owe God, and that is our tithes."
Green said he prefers to keep the total amount of his charitable contributions private, but Forbes has estimated that based on the information available his lifetime giving is upwards of $500 million.
6 He started from humble beginnings
As the son of a preacher, Green started out life in Oklahoma with a relatively poor background. He set up his company making frames to sell on in his family home, using a business loan of just $600 in 1970.
The first Hobby Lobby opened two years later, and the company now says it employs 28,000 people across 555 stores. It is one of the biggest overtly Christian companies in the US, with $3.3 billion in sales.
Now with a net worth of $5.1 billion, Green is ranked by Forbes as the 94th-wealthiest person in the US.
Among the world's billionaires he ranks one place behind Sir Richard Branson – also with a wealth of a little over $5.1 billion.
7 He believes in trying to convert employees
In 2010, Green said: "I would like to know that we have brought as many people to know Christ as we possibly can. We hope to continue to just grow our company. As long as there's someone on this earth that doesn't know Jesus Christ, we have a job to do."
The company stresses that the beliefs of its owners are not forced upon employees in any way, but says that it offers a path to religion for those who want it.
Hobby Lobby has three chaplains dedicated to ministers to workers, and Green said four years ago that "hundreds" of employees had been converted, including more than a dozen managers in a single year.
"We prayed a prayer with them, and we did have 15 managers come to know Christ in the business place," he said.
8 He runs a family business
This year, Hobby Lobby's official YouTube channel dedicated to the Supreme Court case published a video entitled Hobby Lobby: A Family Business.
A voice-over explains that: "Since the beginning, Hobby Lobby has remained a privately-owned, family-run company, dedicated to operating all aspects of business according to its faith."
The slick production starts with an interview with Green as CEO, but also includes input from his wife Barbara as co-owner and buyer, their sons Steve Green as president and Mart Green as board chair. Lauren Green McAfee is the Office Manager of the Green Collection, a vast compilation of biblical antiquities assembled by the family, while Steve and Jackie Green's daughter Danielle Green and Mart's wife Diana Green also appear.
9 He pays employees twice the minimum wage
According to Christian Post, Hobby Stores announced last year that it was increasing the wages paid to its full-time staff to $14 an hour, and the rate for part-time staff to $9.50.
It meant that full-time employees now receive almost twice the minimum wage, set in the US at $7.25 an hour.
Green said at the time: "We are very fortunate to be able to increase hourly wages for our employees, because we know our company would not be successful without the great work they do each day in our stores across the nation."
"We know that if we reward our employees for their hard work, we will be rewarded in turn with their loyalty and dedication to their job and to our customers."
Register for free to continue reading
Registration is a free and easy way to support our truly independent journalism
By registering, you will also enjoy limited access to Premium articles, exclusive newsletters, commenting, and virtual events with our leading journalists
Already have an account? sign in
Join our new commenting forum
Join thought-provoking conversations, follow other Independent readers and see their replies