US-born woman who joined Isis not a citizen and cannot return to America with her son, judge rules
Experts say US and Europe should let their citizens return and bear the cost of monitoring or charging and imprisoning them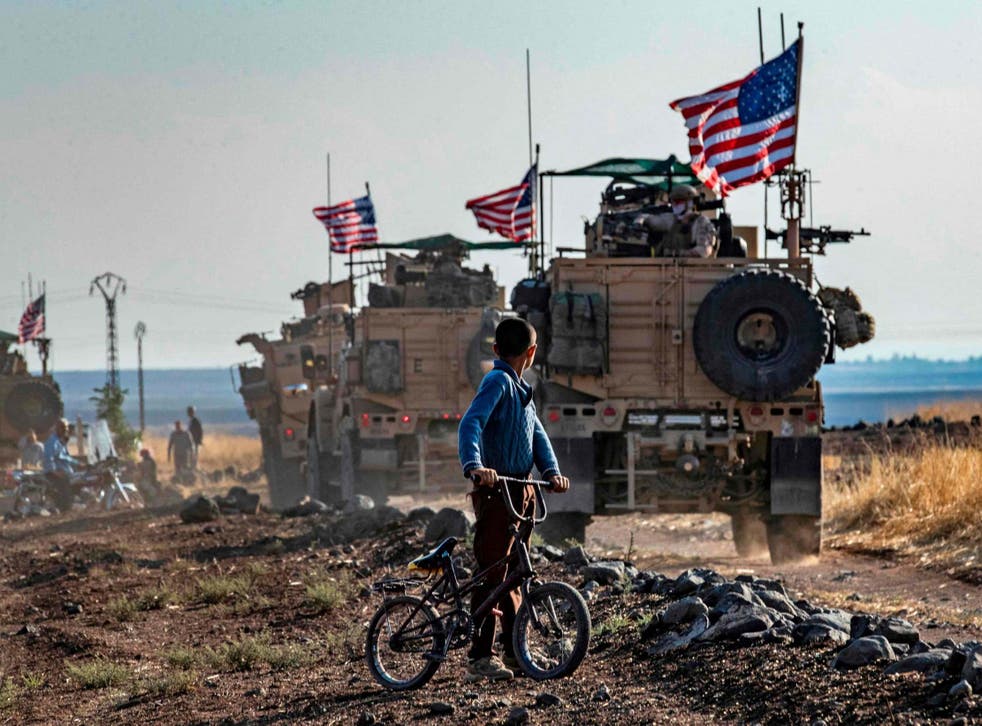 A US judge has ruled that a 25-year-old woman born in the United States who left to join the Islamic State in 2014 is no longer an American citizen.
Hoda Muthana, who was born in New Jersey, said she regrets "every single thing" and wants to return to the United States with her two-year-old son to face trial.
The District of Columbia's Federal Judge Reggie Walton dismissed the lawsuit brought by Muthana's family seeking to repatriate her and her son from a refugee camp in Syria.
The US government argues that Muthana should have never been considered a US citizen because she was born as the daughter of a Yemeni diplomat.
Her court case is a unique legal circumstance but her situation is similar to many other Isis fighters with American or European citizenships who are detained in the region.
Syria's children waiting in doorways

Show all 17
Benjamin Friedman, policy director at Defence Priorities and lecturer at the George Washington University, argued that the United States and Europe should let their citizens return. "If they are under suspicion of being a terrorist or criminal, then their home nations should bear the cost of monitoring them or charging and imprisoning them, if necessary," he told The Independent.
Mr Friedman said governments are responsible for their citizens, adding that "refusing to deal with problems in the hope that some other country will manage your citizens is irresponsible. Managing the legacy of Isis's misery – the refugees, the families of dead fighters, the Isis prisoners themselves – should be seen as part of the cost of war. Members of the 'global coalition to defeat Isis' should bear their fair share of the cost of its aftermath, not pass the buck."
Experts who believe Isis fighters and families should be repatriated to their countries of origin also consider the complicated consequences of such returns but argue that the continuation of the status quo could be even more dangerous.
Colin Clarke, a Senior Research Fellow at The Soufan Center focusing on terrorism, insurgency and criminal networks, said "I am not naive to all the legal and judicial challenges that these returns present.
"Even if these individuals are found guilty of crimes and convicted and put in prison, how long do you keep them? Or how do you avoid them being more radialised in prison?" he told The Independent, adding that "it is much easier for politicians to kick the can down the road and not deal with it at all".
US troops guard Syrian oil fields
Mr Clarke argued that keeping these families in refugee camps, especially in places like Al Hol, would feed directly into the propaganda of the Islamic State and could further fuel the radicalisation of other members of their communities.
A court in The Netherlands has ordered the Dutch government this week to repatriate dozens of children of Isis members who live in poor conditions in camps in northern Syria. Experts say this could be a good beginning to a more long-term solution.
Register for free to continue reading
Registration is a free and easy way to support our truly independent journalism
By registering, you will also enjoy limited access to Premium articles, exclusive newsletters, commenting, and virtual events with our leading journalists
Already have an account? sign in
Register for free to continue reading
Registration is a free and easy way to support our truly independent journalism
By registering, you will also enjoy limited access to Premium articles, exclusive newsletters, commenting, and virtual events with our leading journalists
Already have an account? sign in
Join our new commenting forum
Join thought-provoking conversations, follow other Independent readers and see their replies