Private landlord fights city council to keep campsite for homeless people on his property
Ohio officials object to zoning violation in landlord's attempt to combat homelessness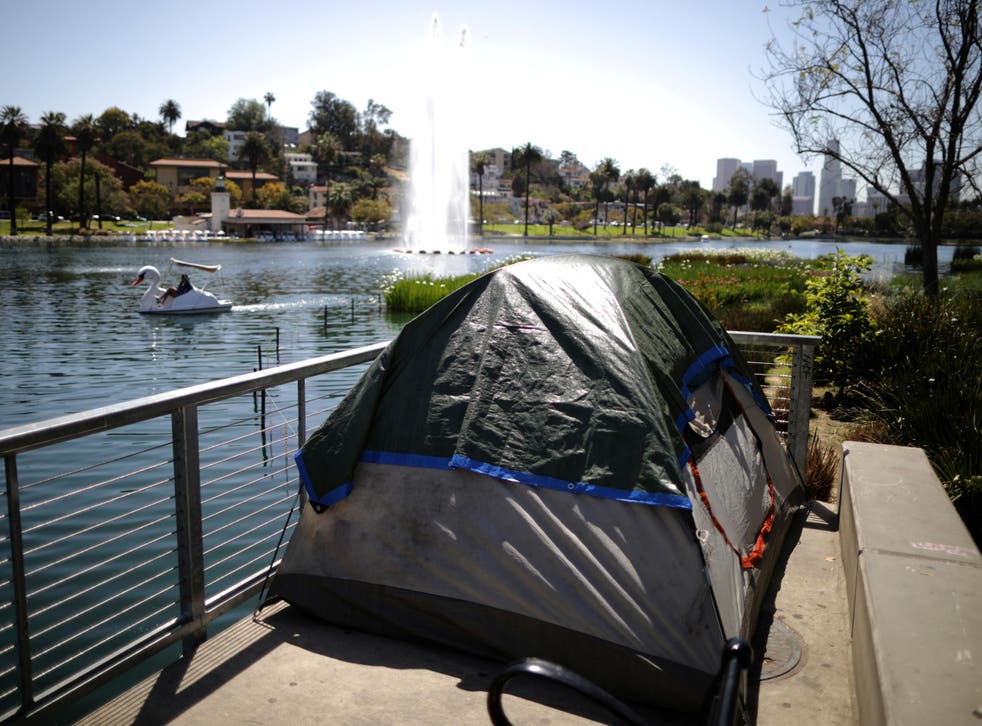 In the early days, Sage Lewis admits, the homeless encampment he allowed on his property was like "the wild, wild West." Residents drank alcohol, built campfires and argued loudly. It smelled bad. Neighbours complained.
As the months passed, and as the campsite grew from a few people to a few dozen, Mr Lewis said conditions improved. Drinking was banned, residents elected their own leaders and volunteers dropped off food and clothes.
Mr Lewis came to see the encampment as a model for using private land to help homeless people.
In city after city, homeless encampments have sprung up on sidewalks, in parks and under bridges, vexing local governments. In Akron the rows of battered tents, some patched with tarps and rope, were erected on private property and with the landowner's blessing. But where some see an altruistic effort to take a problem off the city's hands, Akron officials see something else: a blatant zoning violation. They want the tents and the residents gone by Thanksgiving.
"This has always been a private person with private money on private land helping the homeless," said Mr Lewis, who filed a lawsuit earlier this week appealing the city's refusal to exempt him from zoning rules, which ban camping. "I don't want anything from the government. I don't want any of that. We can take care of these people."
Mr Lewis, an auctioneer and the owner of a marketing business, has no experience in social work and never planned to be landlord to 40 or so homeless people.
But during an unsuccessful campaign for mayor, Mr Lewis befriended several homeless people in Akron, an industrial city that boasts of being the "rubber capital of the world" but has lost factories and residents over the past 50 years as part of a broad decline in manufacturing. Last year, when a few of Mr Lewis' homeless friends asked to pitch tents behind a commercial building he owns, he approved.
Mr Lewis' building, a large brick structure with rented office space, is off a busy street in a down-on-its-luck part of Akron that includes retail outlets and apartments but few houses.
At first, the campsite was informal and rowdy, a handful of tents in a semi-secluded patch of grass. As time passed, more tents sprung up and the camp became more structured. Homeless people washed their clothes, showered and socialised in the basement of Mr Lewis' building. Residents took turns picking up trash, conducting security patrols and vetting newcomers. And a question emerged: Was all this legal?
'You can't solve homelessness without homes': Charity leaders respond to Tory plans to 'eradicate homelessness'
"From the beginning, we've been agnostic about the best way to help the homeless. It's been the zoning issue we've been trying to navigate," said Jason Segedy, Akron's director of planning and urban development. "It's not about whether he should be helping them. We're all for that. It's should they be helped inside, where it's actually warm and safe, or in a tent?"
Mr Lewis, who wears a very un-Ohioan cowboy hat over his silver hair, has earned respect even from some who question the wisdom of the tent city.
Since the City Council rejected Mr Lewis' request for a zoning exception on an 8-to-4 vote last month, Akron officials and local social service agencies have promised to work with residents to find them housing by late November. But some tent residents said they were sceptical of the promises. And Mr Lewis and his lawyers say something bigger is at risk: a private citizen's right to do good on his or her own land.
"What Sage and his charity are is a low-cost alternative to building a giant traditional shelter," said Jeff Rowes, a lawyer at the Institute for Justice, a Virginia-based public interest law firm that represents Mr Lewis and takes a libertarian approach to property rights. "I think there are lots of people in the United States who have land and who could set this up and run it if it didn't cost a fortune."
World news in pictures

Show all 50
Unlike many densely populated West Coast cities that have long struggled with homelessness, Akron has an abundance of vacant buildings and relatively cheap housing. But poverty is widespread here and abuse of drugs, especially opioids and methamphetamine, is rampant. Mr Lewis said he recognises that living in a tent is not ideal, but he sees it as a necessary bridge back to society for people who had been living alone in Akron's wooded areas.
"I felt kind of nervous at the first," said Herman Wyatt, 67, who was living in the woods last year when he heard about the tent community and decided to give it a try. "I kept seeing how friendly everybody was here. And so I started to adapt more."
Amy McPeek, who now lives in a small apartment, said staying in the tents last winter allowed her to rest uninterrupted. The alternative — trying to find a secluded spot to sleep in her car — sometimes ended with stern warnings to move on.
Akron officials say they hope to avoid forced evictions and believe they are on track to offer alternate housing to all the tent residents. Mr Lewis said he plans to continue offering social services to the homeless after they leave. He would like to acquire vacant houses and offer them as temporary shelter for the homeless.
Though Mr Lewis hopes a court will allow the tent camp to reopen one day, he concedes there have been problems: nonfatal opioid overdoses, an axe attack, criminal fugitives trying to blend in, lots of loud arguments. Akron police officers have responded to the property more than 120 times this year, sometimes more than once on the same day, city records show. Managers of a neighbouring apartment complex for low-income seniors have complained about harassment, trespassing and discarded drug needles.
"Our elderly guests are unable to enjoy the outdoor amenities of our property due to the noise and stench coming from the site," wrote Amy Albery, a senior vice president for Wallick Communities, the apartment management company, in a May letter. "When outdoors, they are frequently solicited for money or food by 'residents' of the site."
In recent weeks, as it became clear that the tents would likely be coming down, Mr Lewis and the homeless residents have been able to look upward for reassurance. A billboard promoting the long-struggling Cleveland Browns football team was installed a few yards from the camp. Its message: "Hard Times Don't Last."
The New York Times
Register for free to continue reading
Registration is a free and easy way to support our truly independent journalism
By registering, you will also enjoy limited access to Premium articles, exclusive newsletters, commenting, and virtual events with our leading journalists
Already have an account? sign in
Register for free to continue reading
Registration is a free and easy way to support our truly independent journalism
By registering, you will also enjoy limited access to Premium articles, exclusive newsletters, commenting, and virtual events with our leading journalists
Already have an account? sign in
Join our new commenting forum
Join thought-provoking conversations, follow other Independent readers and see their replies