Honduras: Thousands take to streets to demand new elections
Protesters insist incumbent President Juan Orlando Hernandez stole the election in November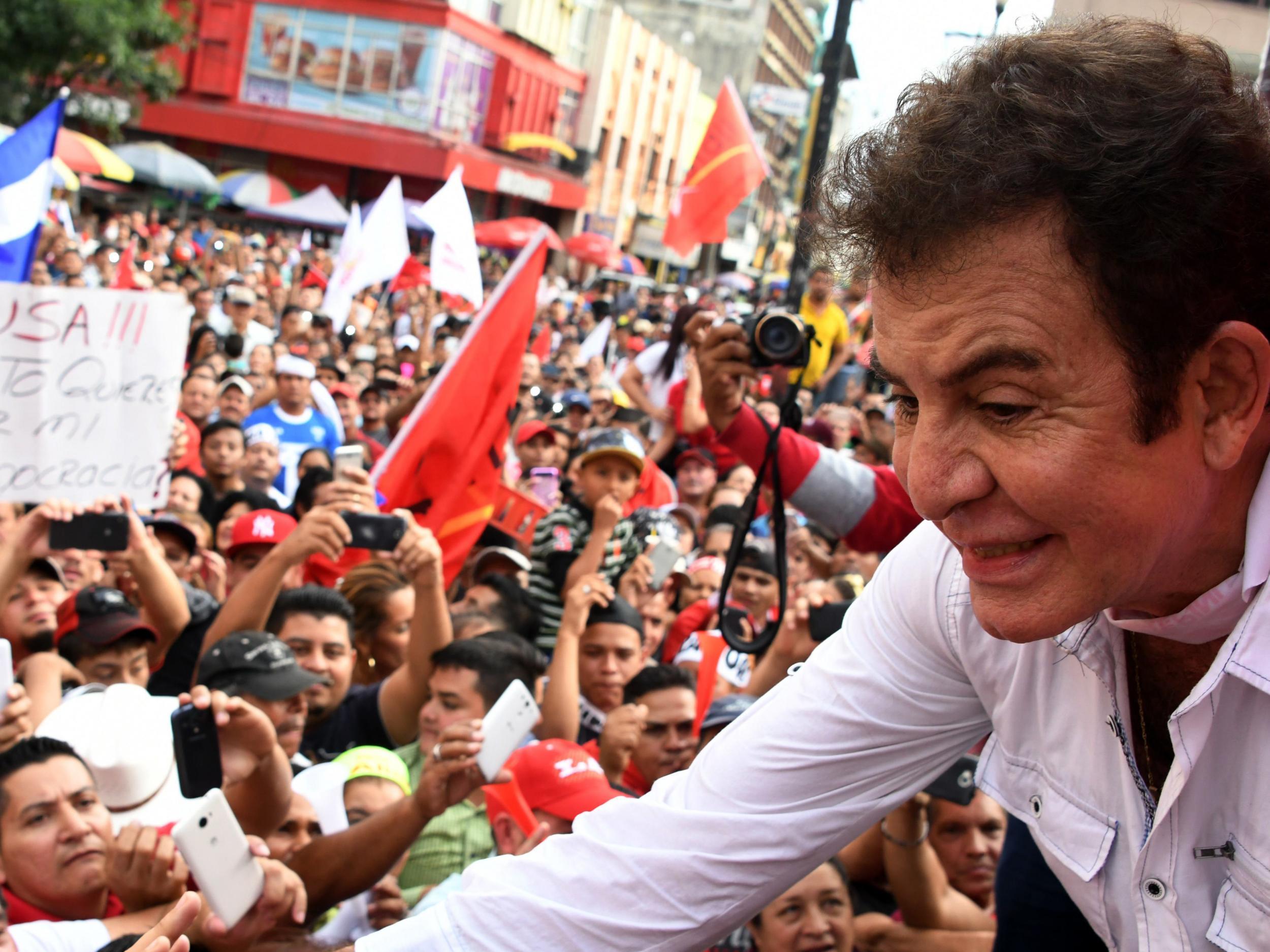 Thousands of protesters have staged a massive protest in Honduras' second city over the victory of President Juan Orlando Hernandez in an election the opposition claim was fraudulent.
Opposition leader Salvador Nasralla lead the protests in the city of San Pedro Sula.
Addressing the crowd, he said: "We will not stop until Hernandez says he's leaving".
It was the first march in the city since the 26 November election, and the losing candidate once again appealed to the Organisation of American States and the countries that have recognised Mr Hernandez's victory to listen to the protesters.
Former President Manuel Zelaya, who was ousted by a military coup in 2009, also joined the protest, Deutsche Welle reported.
Speaking to the crowd Mr Zelaya, who lost an election to Mr Hernandez in 2013, said: "We won the presidency and we are demanding the triumph of the people at the polls. We will not stop complaining until the government is handed over to the candidate of the Alliance, president-elect Salvador Nasralla".
According to the official count, Mr Hernandez won with 42.95 percent to 41.42 for Mr Nasralla.
But the OAS called for a repeat of the vote, saying the official version of the count included "extreme statistical improbability."
World news in pictures
Show all 50
An early lead by Mr Nasralla disappeared after the public vote count mysteriously stopped for more than a day then restarted.
Mr Hernandez denies the vote was fraudulent and has called on Hondurans to accept his re-election. Some countries, including the US, have recognised his victory.
Street protests in other parts of Honduras left at least 17 dead last month but Saturday's march went without incident.
Mr Hernandez was only able to stand for re-election after a controversial Supreme Court ruling in 2015 which annulled the one-term presidential limit in the Honduran Constitution.
Honduras is one of several Latin America countries where its leaders are trying to amend the constitution to allow them to run for multiple presidential terms.
Following the rise of dictatorships in the 1970s and 1980s many Latin American countries subsequently imposed strict term limits which either ban multiple terms in office outright or only allow presidents to return to office after waiting out at least one term.
Five countries, including Brazil and Argentina, now allow two consecutive terms while seven others allow non-consecutive re-election.
Meanwhile while in Venezuela, where President Nicolas Maduro has become increasingly autocratic as the country's economic crisis deepens, term limits have been abolished altogether.
Additional reporting by agencies
Join our commenting forum
Join thought-provoking conversations, follow other Independent readers and see their replies