Horses 'neglected for 15 years' found with 3ft-long hooves
One horse was put down, while two others are in a critical condition
Kashmira Gander
Wednesday 26 August 2015 16:33 Comments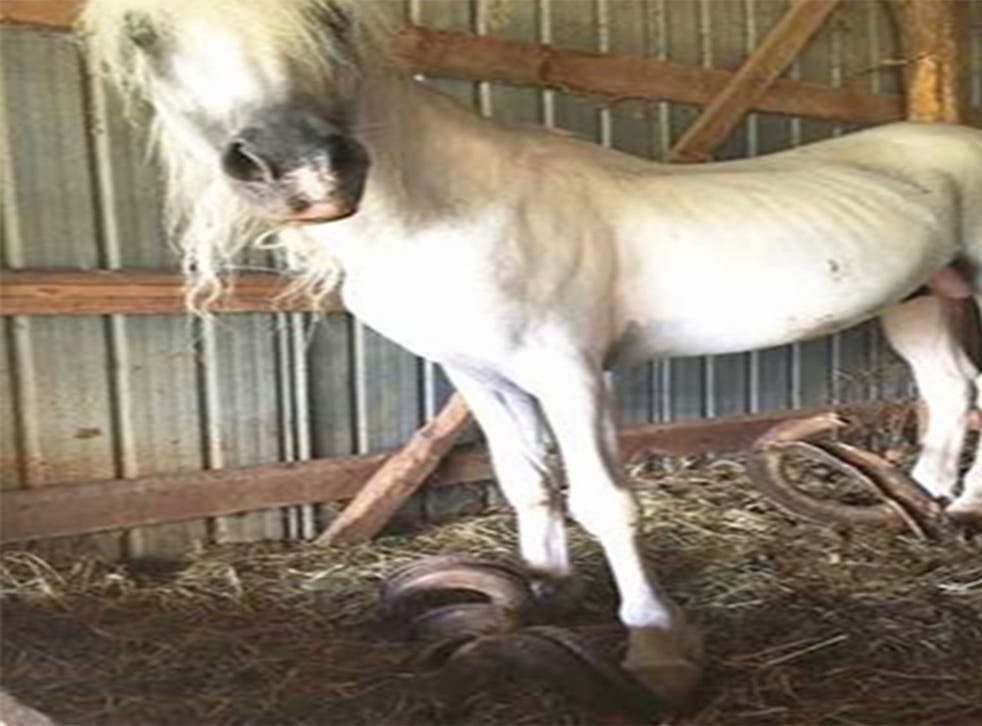 Emaciated horses believed to have been neglected for at least 15 years have been discovered in a manure-filled stable in Maryland, with curling, untrimmed hooves which have grown over 3ft long.
In scenes that are the worst an animal shelter has encountered in a quarter of century, rescuers removed three horses from the stall, where they had stood in manure piled 4ft high and struggled to move due to the length of their hooves.
The group consisted of a full-sized stallion, one miniature stallion, and a miniature mare.
The mare was euthanised on site because she had suffered from irreparable fetlock dislocation.
The stallions were sedated and taken to the Days End Farm Horse Rescue (DEFHR) where they are in a critical condition.
A vet and the farrier treating the animals have said the horses have the worst hoof neglect they have ever seen.
Warning: viewers may find this footage upsetting
The horses were discovered after a member of the public alerted the Humane Society of Washington County with concerns about the welfare of pet pigeons.
By following standard practice during welfare inspections and checking all animals on the property, members of the organisation discovered the neglected horses.
An investigation into the site is on-going.
The DEFHR is urging people to donate to the organisation, as critical care for horses can cost up to $2,400 (£1,548) per month.
Register for free to continue reading
Registration is a free and easy way to support our truly independent journalism
By registering, you will also enjoy limited access to Premium articles, exclusive newsletters, commenting, and virtual events with our leading journalists
Already have an account? sign in
Register for free to continue reading
Registration is a free and easy way to support our truly independent journalism
By registering, you will also enjoy limited access to Premium articles, exclusive newsletters, commenting, and virtual events with our leading journalists
Already have an account? sign in
Join our new commenting forum
Join thought-provoking conversations, follow other Independent readers and see their replies