How I joined the National Rifle Association – by accident
For Simon English, it started with an innocent trip to a shooting range – and ended with a frightening insight into the power of Obama's enemy within
Simon English
Friday 29 March 2013 21:10 Comments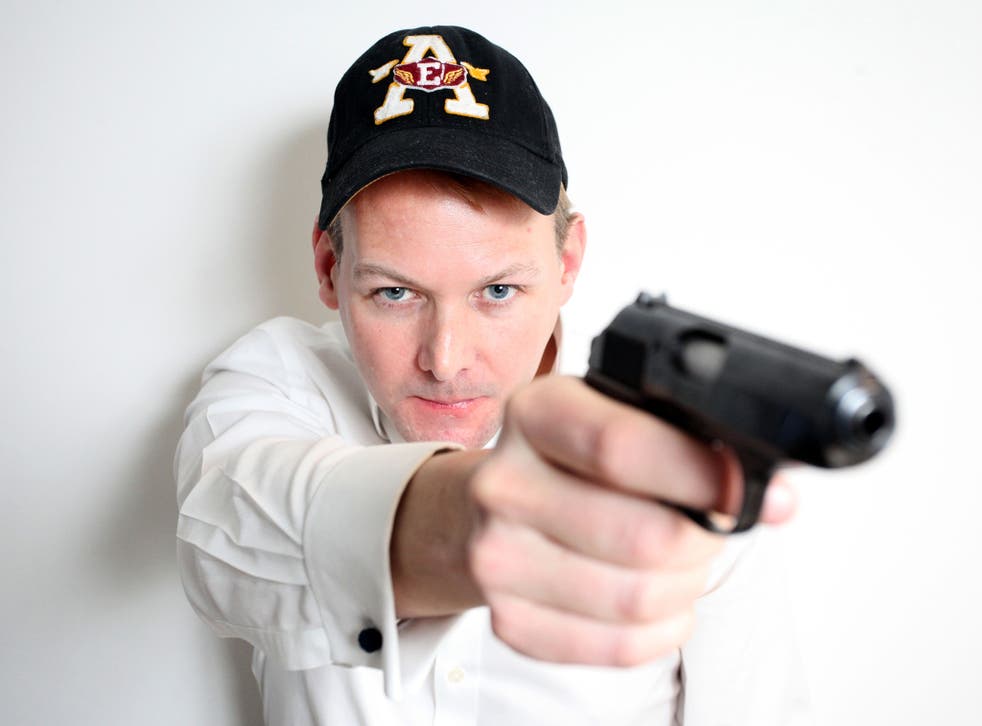 The rules for vodka gimlets are simple. Do not skimp on the vodka. Do not overdo the lime juice. Do not operate heavy machinery. And don't get goaded by your gun-totin' in-laws into becoming a member of the National Rifle Association.
I am in breach of the last rule. If that sounds trite, I can only say it happened in a blur. I've been visiting my wife's family in Kansas for years, having dinners in houses across town that are packed with guns and gun talk. Everyone has them, likes them, enthuses about them. My discomfort at this was something of a family joke, evidence of just how uptight all limeys must be. It's only a gun, son.
While it is hard to think of anywhere friendlier or more welcoming than Johnson County in Kansas City, there's a slight assumption that if you're an English male, you are almost certainly a communist and a nitwit and probably a homosexual.
So I cracked and said I'd go shooting. "Gotta join the NRA first son," I was told, two gimlets in, which turns out not to be true. Anyone can walk into a shooting range and do their worst.
Anyway, a few internet clicks and a few bucks later and I'm confirmed as a member and part of a strange, rather paranoid land. The emails start straight away. The gist of them is this: there is a liberal conspiracy to take over and ruin everything. This conspiracy starts with them stopping you from buying an automatic machine gun. I'm invited to join the NRA Wine Club (eh?) and am pre-approved for an NRA credit card. (I like the idea, but feel this gag is getting out of hand.)
The National Rifle Association was founded in 1871 to "promote and encourage rifle shooting on a scientific basis". It has long since become one of the most powerful political lobbying groups in the US, with four million members (four million and one now) proud to be the foremost defenders of Second Amendment rights.
Those are the rights to bear arms, arms that seem to include AK-47s (there are criminals on the loose and you can't be too careful). Any attempt to reduce these rights and the number of incredibly powerful weapons that are in common circulation is treated as an affront, as a sign that the government is taking over Just Everything.
When there's an awful gun disaster, the NRA are the guys on the news explaining why the solution is more guns rather than fewer.
Wayne LaPierre, the executive vice president of the NRA, likes to say: "The only thing that stops a bad guy with a gun is a good guy with a gun". If you suggest not letting the bad guy get a gun in the first place, that just confirms that you are a communist and a nitwit. In response to an appalling school shoot-up, LaPierre said: "I call on Congress to act immediately to appropriate whatever is necessary to put armed police officers in every single school in this nation."
Uh huh.
Anyway, now I'm in this club, it is time to go shooting.
CenterFire is in an industrial estate in a decent bit of town. There are five target alleys, like where cops in movies go to do shooting practice. The array of guns I can buy, more or less straight away, is alarming. Would I like to buy a silencer, asks my guide, Tommy? Why would anyone who isn't a hit man want a silencer? If I did order one, could I walk out with it today?
No, he says, the checks on that kind of thing are heavy. I leave money in escrow, then they do a background check that takes six months. That's reassuring, I guess, but it still seems that unless I have an official record of murdering people, I'll get that silencer.
They have a cursory look at my driving licence, then ask me to select my weapon. I've no idea. "A small one. For an idiot," I offer.
What I get is a 45 that shoots nine-millimetre bullets (mostly in the wrong direction, it turns out, but that's me not the gun). It's alarmingly heavy and complicated. Even loading the weapon requires thumb strength and dexterity I seem to lack. After the fourth time of showing me how it is done, my guide loses patience. "You left-handed?" he asks. "Or just retarded?"
Once I'm sorted, I'm sent to a range, strongly feeling I shouldn't have this gigantic death tool in my hands – that the correct thing to do would be to walk right out before anyone gets hurt.
I guess part of the point of firing a gun is to feel stronger. On me, it has the reverse effect. I enter CenterFire feeling fit and instantly feel fragile. My body, I become aware, is not much more than a balloon full of water.
And every single other person at the range could shoot me. That I could, assuming I cock the gun fast enough, shoot back is supposed to make me feel safer. It does not. If I'm scared of the others, why aren't they scared of me? I'm a sweating stranger from thousands of miles away in charge of a piece of equipment he plainly doesn't understand. Anything could happen.
I rattle off some rounds, hitting only thin air. The gun jolts alarmingly, the noise is horrible and when the shell leaves the top of the gun it leaps towards my head. All around me the same shelling is occurring. I am assuming the others are competent gun-users rather than maniacs, but the law is set up to make sure no one is really allowed to check.
At one point an instructor moves me to one side of my booth, noting that my shots are ending up in the lane of the guy next to me, who's rather pissed off that I'm bringing down his average. I clock this guy. He is not a man to upset.
After a while I sort of get the hang of it and the paper man 20ft away gets hosed. I get him in the heart and the liver. His head too.
Next it is the 50ft test, the one I'm told indicates competence with a pistol. When I hit the button to get the paper returned it is, I am pleased to see, entirely clear of bullet holes. Whoever that guy might have been, whatever he had done, I'm glad I didn't hit him. I come out of the range shaking and phone a friend from way back who now lives in New York. I say I suddenly miss the somewhat violent Nottingham village we both grew up in, where fists on the bus were common, but no one got shot at school. Ever.
He laughs and tells me that there are 300 million guns in America. That's one each. That's about 299.9 million too many.
There are many absurdities to all this, one of which is that Johnson County is one of the safest, politest and most well-to-do suburbs in America.
A disagreement about which wealthy person picks up the meal bill is possible. A gunfight over anything at all? Not in this bit of town.
As I leave the range, I notice a big poster of President Obama.
They hate the President around here – he's one of those nuts who thinks guns are bad.
The legend beneath the picture goes like this: Salesman of the Year.
Register for free to continue reading
Registration is a free and easy way to support our truly independent journalism
By registering, you will also enjoy limited access to Premium articles, exclusive newsletters, commenting, and virtual events with our leading journalists
Already have an account? sign in
Join our new commenting forum
Join thought-provoking conversations, follow other Independent readers and see their replies