Humpback whale narrowly misses fishing boat as it bursts from water
Photographer Douglas Croft captured moment animal leapt from sea through porthole of nearby boat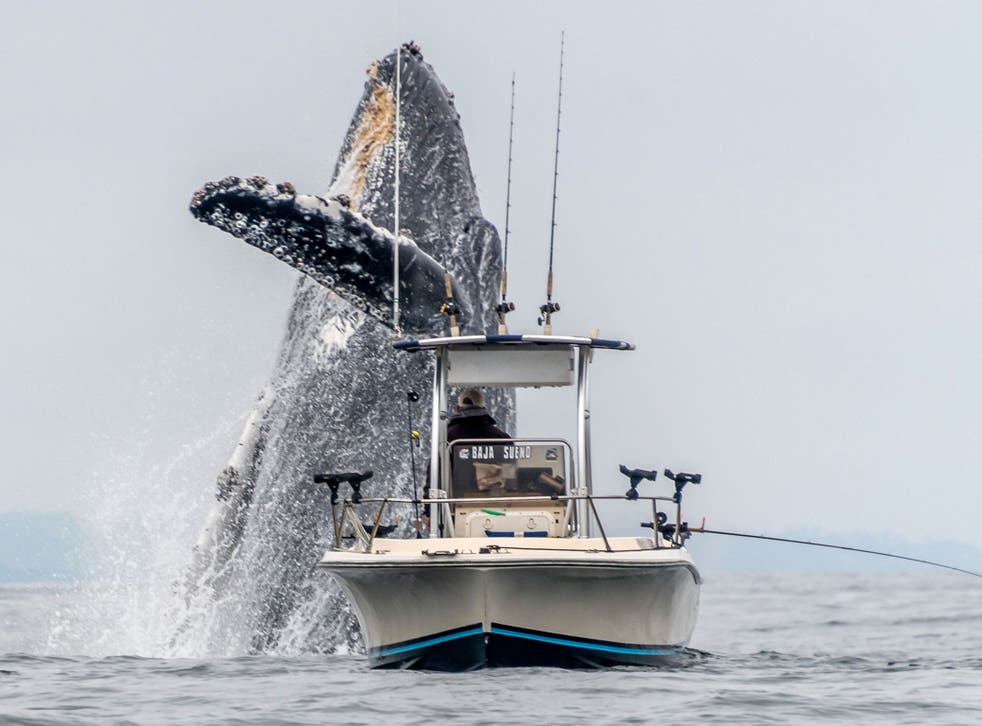 The moment a lone fisherman was confronted by a huge humpback whale bursting out of the water dangerously close to his boat has been captured on camera.
The whale only just missed hitting the small fishing boat before crashing back into the sea in Monterey Bay, California.
Photographer Douglas Croft and whale watcher Kate Cummings took the photo from the porthole of a nearby boat.
"It was quite exciting!" Mr Croft said. "Salmon season coincides with the time when humpbacks are returning to Monterey Bay to feed for the summer and there were hundreds of boats on the bay fishing."
"This whale had breached a couple of times before this and many times they'll just keep doing it."
Tragic photos show beached whales

Show all 15
Mr Croft said the angle at which he took the photo from a porthole close to the waterline made the whale look even bigger than it was.
"That's what gives this amazing perspective of looking up at the whale," he said.
He added: "Since the boat is closer, it should look bigger, but the whale is huge! If I'd been the fisherman, I'd probably need some new underwear."
Ms Cummings, who took the video, said she had noticed the whale breaching multiple times before it rose next to the fishing boat.
"Sometimes when whales breach multiple times, they're also heading a specific direction when they're underwater building momentum for the next breach," she said.
"I figured the next breach would be around the fisherman because the whale was heading that way and sure enough... Though I didn't expect the whale and the boat to line up so perfectly."
Humpback whales can reach up to 60 feet in length and are found in oceans around the world.
Although the species has seen its population increase in recent years after the introduction of commercial whaling bans, it is still considered endangered, according to the World Wildlife Fund.
Caters News Agency
Register for free to continue reading
Registration is a free and easy way to support our truly independent journalism
By registering, you will also enjoy limited access to Premium articles, exclusive newsletters, commenting, and virtual events with our leading journalists
Already have an account? sign in
Register for free to continue reading
Registration is a free and easy way to support our truly independent journalism
By registering, you will also enjoy limited access to Premium articles, exclusive newsletters, commenting, and virtual events with our leading journalists
Already have an account? sign in
Join our new commenting forum
Join thought-provoking conversations, follow other Independent readers and see their replies