Humpback whale almost swallows kayakers whole in California
' I'm thinking, 'I'm dead. I'm dead.' I thought it was gonna land on me'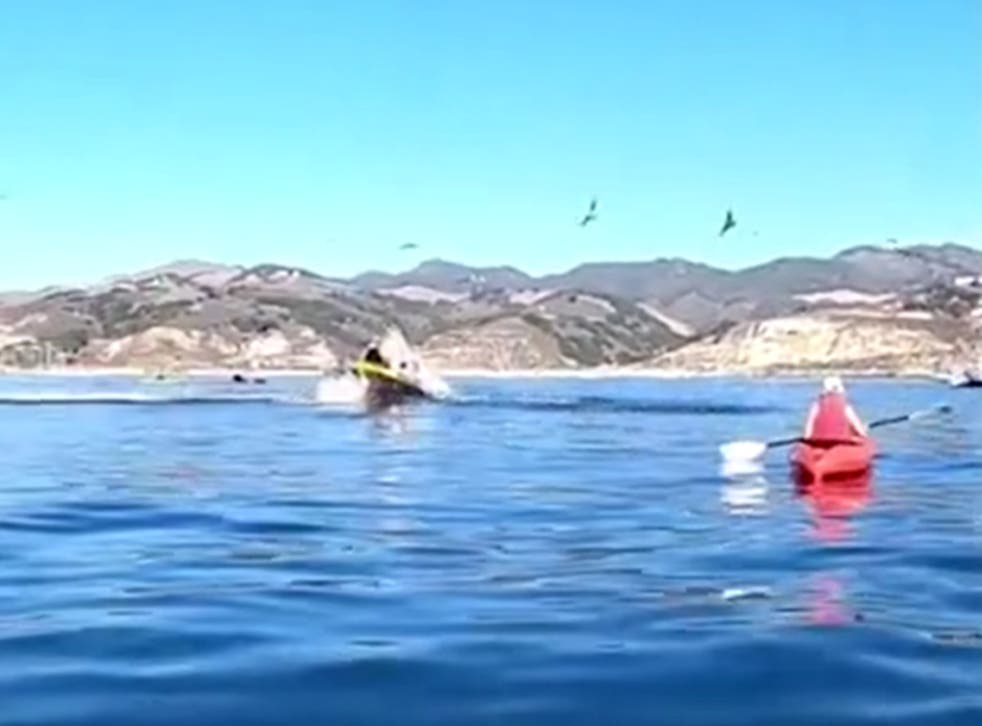 A humpback whale nearly swallowed two kayakers in California when it jumped out of the sea while chasing a group of fish.
Julie McSorley and her friend, Liz Cottriel of San Luis Obispo were whale watching while kayaking off the coast of Avila Beach alongside other paddleboarders on Monday, Fox 26 reported.
While the whales were initially around 30 feet away, Ms McSorley suddenly realised that one whale was much closer to their kayak than expected while chasing its dinner.
"I saw the big pool of fish, the big bait ball come up out of the water. I saw the whale come up," she said. "I thought, 'Oh no! It's too close."
Within moments the whale had jumped from the water and engulfed their kayak, nearly swallowing the two women whole in the process.
"The whale was right here in my face, literally," Ms Cottriel said.
"All of a sudden, I lifted up, and I was in the water," Ms McSorley, who managed to record the wild experience on her cell phone, added.
The women feared for their lives during the ordeal and other kayakers came to their rescue following the incident to make sure they hadn't been bitten.
"I'm thinking to myself, 'I'm gonna push. Like, I'm gonna push a whale out of the way! It was the weirdest thought. I'm thinking, 'I'm dead. I'm dead.' I thought it was gonna land on me," Ms Cottriel said. "Next thing I know, I'm under water."
Footage taken by another whale watcher shows the mammal momentarily consume the boat and the two friends to a chorus of shocked exclamations from other kayakers.
"We got back to the car, I was shaking my shirt and a bunch of fish came out of my shirt," Ms Cottriel said.
The women quickly surfaced one after the other and both women were unharmed, but Ms McSorley lost her car keys.
"I was infatuated by them and in awe," Ms Cottriel said. "But I never expected one to be right here, in my face!"
"I still have an adrenaline rush!" Ms McSorley said.
Join our new commenting forum
Join thought-provoking conversations, follow other Independent readers and see their replies