Hurricane Dorian victims fleeing devastation kicked off boat headed for US 'because they did not have visas'
'I have to take my baby off,' says one man. 'It's hurtful watching my daughters cry'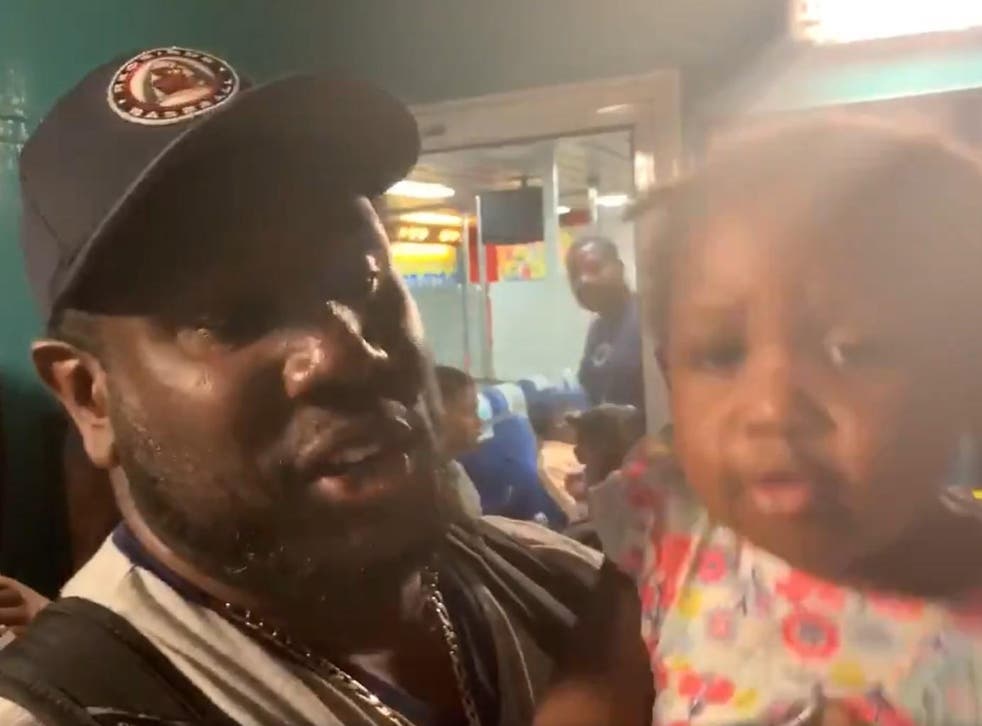 Bahamians attempting to flee the devastation wrought by Hurricane Dorian have been kicked off a boat headed to the US.
People from the Caribbean nation are normally allowed into the US without a visa as long as they fly there, have a passport and hold a clean police record.
This rule was extended to also include boat arrivals amid growing fears that a major humanitarian crisis could now kill thousands in the storm-battered country.
But desperate refugees who had boarded a ferry for Florida on Sunday were removed at the last minute, with crew members telling them they would not be allowed into the US without a visa.
An announcement told passengers without such paperwork to disembark. More than 130 people in total were kicked off board – including several children.
"Huge damage" as record Hurricane Dorian hits Bahamas: In pictures

Show all 15
"They originally said you can come with a police record and without a visa and now they're taking that back," one woman onboard told Miami's WSVN 7 News. "That's really ridiculous. That's awful."
Renard Oliver, a father forced off the ferry, held back tears as he said: "I have to take my baby off. At the last minute like this, is kind of disappointing. It's hurtful watching my daughters cry."
But suggestion that the US Customs and Border Protection had ordered the ship to remove people without visas was flatly denied by officials – who suggested the boat company, Balearia, had made a "business decision" not to allow such people to sail.
"It's important to note," an official told WSVN 7 News, "if those folks had stayed on the boat and arrived, we would have processed them, vetted them and worked without our laws and protocols and done what we had to do to facilitate them. I think it was a business decision by Balearia to remove them. They were not ordered off the boat by any US government agency."
Asked if they would have been allowed in the country, the official said: "Yes."
It was pointed out that other ships had already landed in Florida – including a boat with 1,000 people on board on Friday and one with 1,500 on Saturday – where arrivals had not needed visas.
Hurricane Dorian has killed at least 46 people after striking the Bahamas last Sunday as Category 5 storm with winds topping a record-breaking 185mph.
It is estimated some 76,000 people are now in immediate danger of disease and starvation, while the some 45 per cent of homes on the country's Abaco Islands and Grand Bahama have been either severely damaged or destroyed. Surveyors put the total cost of the catastrophe at £5.6 billion.
Support free-thinking journalism and attend Independent events
Aerial photos show miles of flattened and flooded communities. On the ground, local journalists reported that vast swathes of the islands were essentially uninhabitable with water and power supplies down and bodies piling up. Militias have been formed to prevent widespread looting, local media has reported.
The nephew of actor Sidney Poitier said that more than 23 members of his family are missing feared dead.
Join our new commenting forum
Join thought-provoking conversations, follow other Independent readers and see their replies