New storm threatens Bahamas with 1,300 people still missing after Hurricane Dorian
Potential tropical storm expected to lash islands with high winds and heavy rain over weekend before moving towards Florida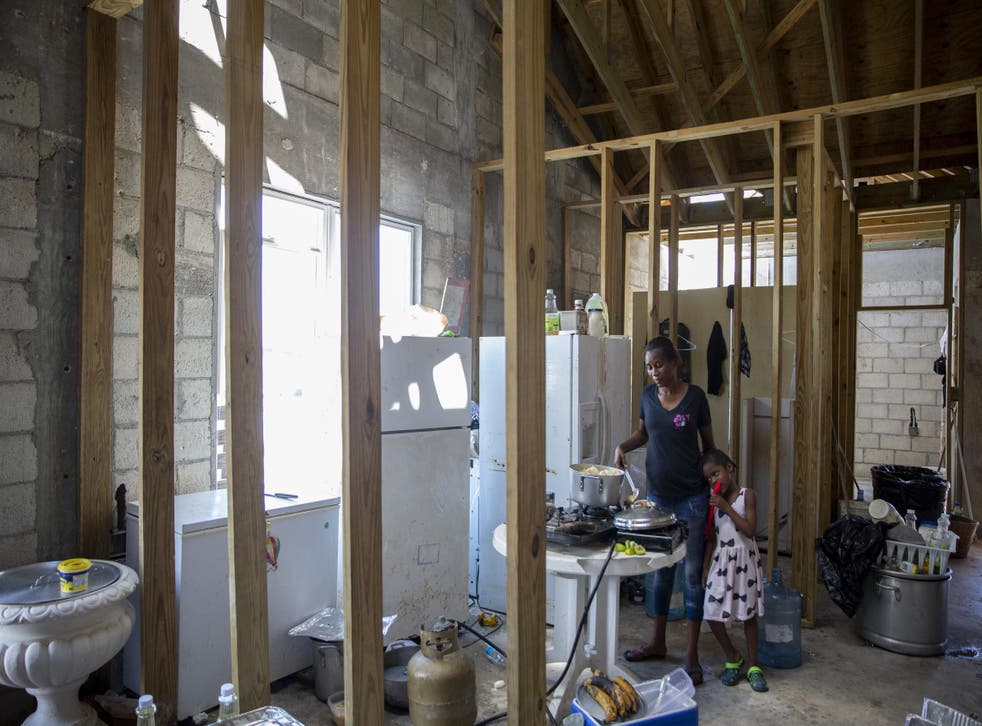 A new storm is threatening the Bahamas just days after Hurricane Dorian killed at least 50 people and left 1,300 missing.
Winds of 30mph were sweeping the islands while between two and four inches of rain were expected to fall over the weekend, caused by a tropical disturbance which forecasters predict has an 80 per cent chance of building into a tropical depression or even a tropical storm.
Should it become a tropical storm it will be named Humberto.
A warning was in effect for the Northwestern Bahamas, including the Abaco islands and Grand Bahama, which bore the brunt of Dorian. The storm was travelling at about 6mph on Friday but was expected to pick up speed over the weekend.
It was heading east towards Florida and was predicted to hit the US coast on Saturday, the Miami-based National Hurricane Centre said.
"Huge damage" as record Hurricane Dorian hits Bahamas: In pictures

Show all 15
Some 1,300 people are still missing in the Bahamas following Hurricane Dorian. On Wednesday the Bahamian government said that 2,500 were missing, but "after cross-referencing databases" officials gave the reduced number.
"The number of people registered missing with the Bahamas government is going down daily," said Carl Smith, a spokesman for the Bahamian National Emergency Management Agency.
Some names on the new tally have still not been confirmed against government records, Mr Smith added, meaning the number could change still.
He has urged people to continue submitting names to the nation's social services office, which is handling the missing people register. A hotline has also been established to report names.
"As we are able to cross-reference our data sets, we will be able to inform family members and reunite survivors with loved ones," he said.
Dorian killed at least 50 people when it hit the Bahamas on September 1, where it hovered for two days, wrecking homes and buildings in Grand Bahama and Abaco.
A Category 5 storm, it was the strongest hurricane to ever make landfall in the Bahamas.
An estimated 70,000 homes were devastated. The government is setting up temporary housing, said Prime Minister Hubert Minnis, who visited shelters in New Providence to assess the situation. He has asked citizens to refrain from circulating "false information", a problem especially on social media in the wake of disasters, to further relief efforts.
Support free-thinking journalism and attend Independent events
"We are a nation in mourning," Mr Minnis said in a statement announcing a national prayer service on September 18 to honour those lost.
"The grief is unbearable following the devastating impact of Hurricane Dorian, which has left behind death, destruction and despair on Grand Bahama and Abaco, our second and third most populous islands."
Register for free to continue reading
Registration is a free and easy way to support our truly independent journalism
By registering, you will also enjoy limited access to Premium articles, exclusive newsletters, commenting, and virtual events with our leading journalists
Already have an account? sign in
Register for free to continue reading
Registration is a free and easy way to support our truly independent journalism
By registering, you will also enjoy limited access to Premium articles, exclusive newsletters, commenting, and virtual events with our leading journalists
Already have an account? sign in
Join our new commenting forum
Join thought-provoking conversations, follow other Independent readers and see their replies