'Tropical storm Florence' set to strengthen into hurricane
The storm is expected to be named later today as it gains strength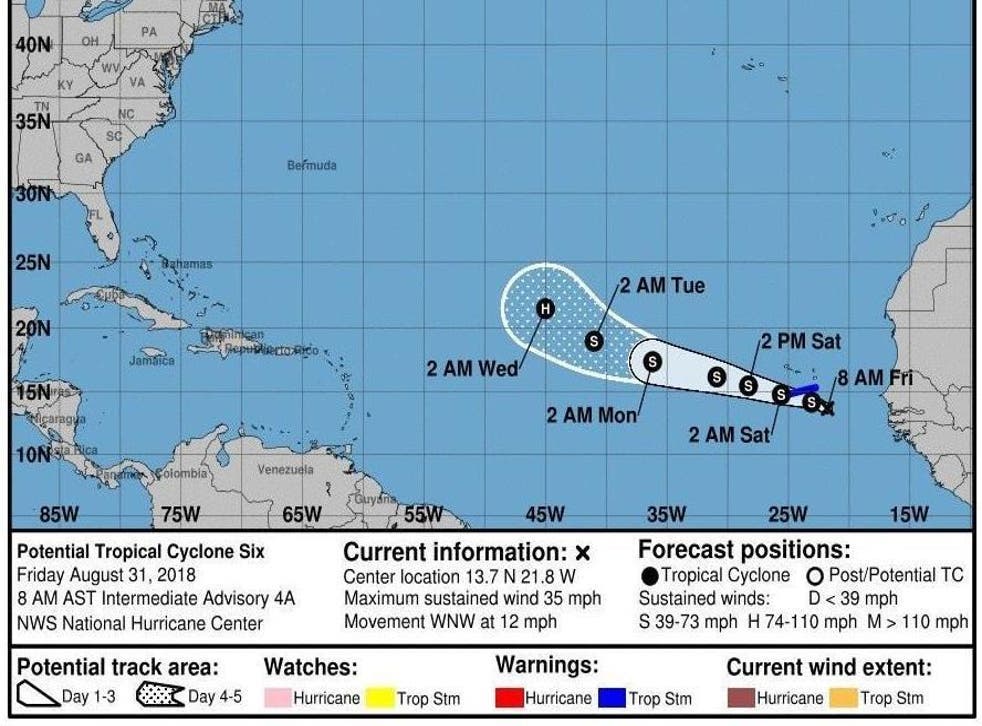 A storm called Potential Tropical Cyclone Six is expected is expected to bring rain and life-threatening flash flooding to the Cabo Verde Islands in the eastern Atlantic. The storm could strengthen into a hurricane by Sunday.
It has already been determined that it will be named Tropical Storm Florence as it gathers pace - becoming the seventh named storm of the Atlantic hurricane season.
The latest advisory for the storm — released at 7am Central time — said that the storm was 190 miles east-southeast of the southernmost point of those islands, and was moving at 12mph.
Compared to the types of major storms that have walloped American shores in the past, the as-of-yet-unnamed storm is relatively weak — clocking in with winds of 35 mph — but the system is expected to strengthen over the next week and may be classified as a hurricane in the coming days.
That said, tropical storm warnings remain in effect for Cabo Verde Islands Santiago, Fogo, and Brava, where residents can expect the potential for heavy rain and gusty winds later on in the day.
Where it goes from there is hard to predict — storms are fickle things and often change direction — but the hurricane centre's long-range tracker pegs it as moving on a west to northwest path in the coming days. Early next week, the storm is likely to be far from the United States mainland.
Animals take shelter from Hurricane Irma at Zoo Miami

Show all 8
If Potential Tropical Cyclone Six strengthens into a hurricane but still misses the United States, another storm is being watched with the potential to hit the US.
The hurricane center announced on Friday that it is watching a tropical wave in the Caribbean that could move into the Gulf of Mexico, and potentially strengthen.
Join our new commenting forum
Join thought-provoking conversations, follow other Independent readers and see their replies