Hurricane Florence: Medical professionals prepare for emergency treatment as storm wipes out power and leaves hundreds stranded
A makeshift command centre will be set up to jump start efforts to provide life saving dialysis treatments once Florence moves through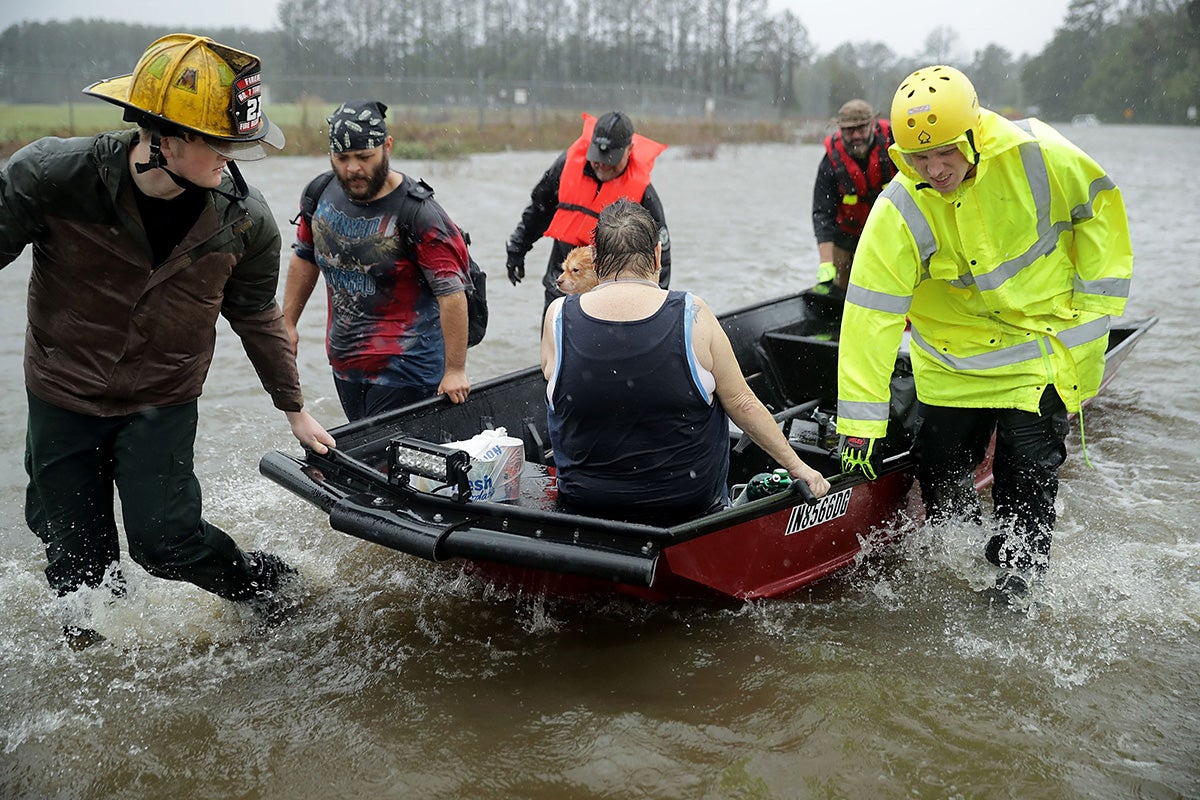 Electricity is out for more than a half million people along the US eastern seaboard now that Hurricane Florence has arrived with its devastating winds and heavy rains, but the storm is more than just a challenge of personal resolve and architecture for those in the path of the torrent — for many, it is a test of medical charity and hospitality, with potentially deadly consequences.
North Carolina's governor Roy Cooper said the hurricane was "wreaking havoc" on the coast and could wipe out entire communities as it makes its "violent grind across our state for days." He called the rain an event that comes along only once every 1,000 years.
"Hurricane Florence is powerful, slow and relentless," he said. "It's an uninvited brute who doesn't want to leave."
Hundreds of National Guardsmen have been deployed and hundreds of calls have already come in for assistance as a result of the storm. Flooding and storm surges have hit many areas of the Carolina coast, leading to a number of rescues – often in boats – to help those stranded.
As residents in the impact zone of Florence prepared for what could be weeks of isolation and loss of power, officials across the state this week implemented plans to continue caring for the most vulnerable in the area by evacuating hospitals, nursing homes and medical facilities up and down the 300 miles' worth of coastline where the storm was expected to leave its mark.
However, some workers from across the country are making their way towards the devastation.
One caravan travelling into Florence, South Carolina, operated by the healthcare company Fresenius Medical Care, plans on meeting the storm halfway, and then setting up a remote command centre that will jump-start dialysis clinics in the region that would be otherwise unable to care for the thousands of patients whose lives would be threatened without their treatment.
"Without water or power we can't dialyse our patients. It's a very vulnerable, susceptible patient population because they need to dialyse up to three times a week, and this is a life sustaining treatment," David Sweet, the regional vice president of Fresenius and a leader of the caravan, said on his way towards the hurricane from Alabama.
Hurricane Florence hits the US East Coast
Show all 20
Just days without treatment could be deadly for some, Mr Sweet said: "If they don't dialyse, they might end up in the hospital or end up in a mortality situation."
There are roughly 30,000 patients who rely on dialysis in the states where Florence is expected to impact and Fresenius operates more than 400 clinics in the area. Mr Sweet and his cohort plan on setting up a large camp at one of those clinics — complete with generators and even ice machines — and from there will fan out to clinics with deliveries of essentials like petrol and diesel that will help get treatment schedules for patients back on track as soon as possible.
The company stresses that all dialysis patients are welcome, not just their own.
Hurricane Florence made landfall in North Carolina on Friday morning as a Category 1 storm, hours after tropical storm-force winds began battering the coasts where as many as 1.7 million people are under evacuation orders.
The storm slowly lost its power as it made its way closer to the US — a relief for many on the ground worried about their homes but still a source of concern for government officials, with life-threatening storm surges and flooding expected
Mr Cooper was one of several governors to declare states of emergency and issue evacuation orders on the coast. Virtually every state from Georgia up to Maryland, and the District of Columbia, have declared states of emergency in anticipation of the storm. Mr Cooper had even asked President Donald Trump to declare a state of disaster in his state before the storm made landfall — a rare request for a disaster declaration to be made before the disaster had manifested.
Some in the evacuation zones — areas close to the shore that are particularly vulnerable to flooding and strong winds — elected to stay in spite of those warnings, or did so because they lack resources to travel to safer areas and free shelters.
For some, the decision to shelter in place in evacuation zones has already proven to be a disaster.
In New Bern, North Carolina, heavy flooding has already left hundreds in need of rescue, with around 100 people having been rescued overnight between Thursday and Friday. Rescue teams say they are working as hard as they can to bring those individuals to safety, but the deluge of calls for help has stacked up on the five swift water rescue teams operating in the area, assisted by the Cajun Navy volunteer rescue group.
"WE ARE COMING TO GET YOU," the city of New Bern tweeted around 2am on Friday. "You may need to move up to the second story, or to your attic, but WE ARE COMING TO GET YOU."
Hurricane Florence winds rip American flag to pieces
Cheri Parnell, a hospice nurse who lives in Hampstead, North Carolina, said that she plans on staying in part because she feels a need to help her patients she says she knows will not be able to make it out of the evacuation zone.
Ms Parnell said she does not necessarily think that she will be able to physically get to her patients — many of whom have just months to live — after Florence wreaks havoc on the area, but that she thinks being close and knowing what they are going through will help her to instruct family with patients on what to do.
All of her colleagues, she said, have evacuated to safer zones. She is the last one standing and able to help her patients — and in this case she is willing to risk her life to help them enjoy theirs.
"They're special people. I would not leave them," Ms Parnell said. "I've still got to make their lives as good as can be".
Join our commenting forum
Join thought-provoking conversations, follow other Independent readers and see their replies