Hurricane Gonzalo: Bermuda braces itself as 'dangerous' storm bears down on island
Hurricane strengthened overnight into Thursday to become a Category 4 storm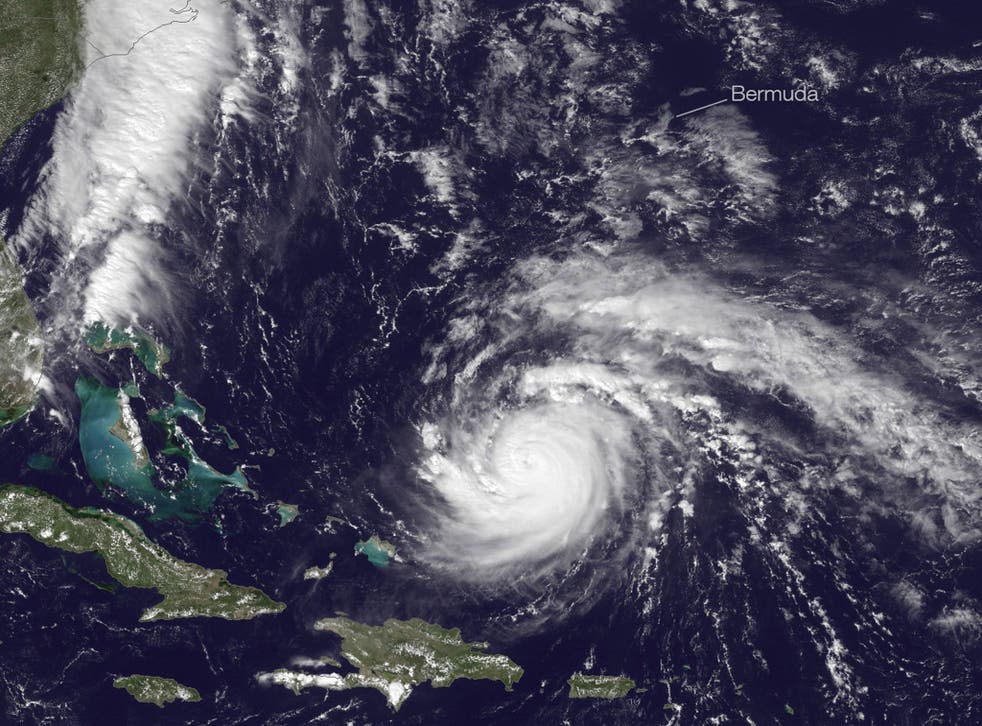 The small British island territory of Bermuda has been preparing itself for a 'dangerous' storm after weather forecasters warned Hurricane Gonzalo had strengthened overnight.
The US National Hurricane Centre in Miami said the hurricane had again become a dangerous Category 4 storm with maximum sustained winds of 140 mph.
It is the second time in two days the hurricane, centred about 540 miles south-south-west of Bermuda, had reached Category 4 strength.
Gonzalo is said to be moving north at 9mph toward Bermuda, where a hurricane warning is in effect.
The eye of the hurricane is expected to pass near the island on Friday, with a dangerous storm surge expected along with heavy rainfall, according to the hurricane centre.
Forecasters at the centre said: "Gonzalo is expected to be a dangerous hurricane when it moves near Bermuda" even though the storm was expected to weaken slowly on Thursday night and Friday.
Forecasters said a dangerous storm surge accompanied by large, destructive waves could cause significant flooding on the island, which has some 64 miles of shoreline. Some three to six inches of rain has also been predicted.
The government said it would close the island's international airport on Thursday night, when tropical storm conditions are first expected.
Several airlines have increased the number of flights departing from Bermuda ahead of the storm.
Bermuda's residents are already coping with the aftermath of Sunday's Tropical Storm Fay.
More than 1,000 homes remain without power as the government called out 200 soldiers of the Bermuda Regiment to help with clean-up efforts.
Gonzalo swept by the eastern Caribbean earlier this week, claiming at least one life in the Dutch territory of St Maarten. Two people are missing, one in St Martin and the other in St Barts.
In the UK, the Met Office has said there is "large uncertainty" over the path of the storm, with some models suggesting the remnants of the hurricane could move across the UK while others suggest it will stay away.
Weather in Britain: Stunning images show off beauty of British landscape

Show all 30
A blog on the Met Office website said: "If the ex-tropical storm does move across the country, some parts could see gales and heavy rain, but currently extreme conditions look unlikely."
Meanwhile, a large area of low pressure that has also developed across the Atlantic is expected to bring strong winds and rain to the UK over the weekend.
The Met Office said: "Tied up in the general Atlantic circulation is an area of warm air which was originally part of tropical storm Fay.
"This will bring very mild air across parts of the country, with daytime temperatures possibly reaching around 20C across southeastern areas by Saturday, well above the October average for the region of 15C."
It said the wind and the rain however may mean that it does not feel particularly warm.
Additional reporting by Press Association
Register for free to continue reading
Registration is a free and easy way to support our truly independent journalism
By registering, you will also enjoy limited access to Premium articles, exclusive newsletters, commenting, and virtual events with our leading journalists
Already have an account? sign in
Register for free to continue reading
Registration is a free and easy way to support our truly independent journalism
By registering, you will also enjoy limited access to Premium articles, exclusive newsletters, commenting, and virtual events with our leading journalists
Already have an account? sign in
Join our new commenting forum
Join thought-provoking conversations, follow other Independent readers and see their replies