Hurricane Gonzalo photographed from International Space Station as it starts to batter Bermuda
The storm has weakened but is still expected to devastate the islands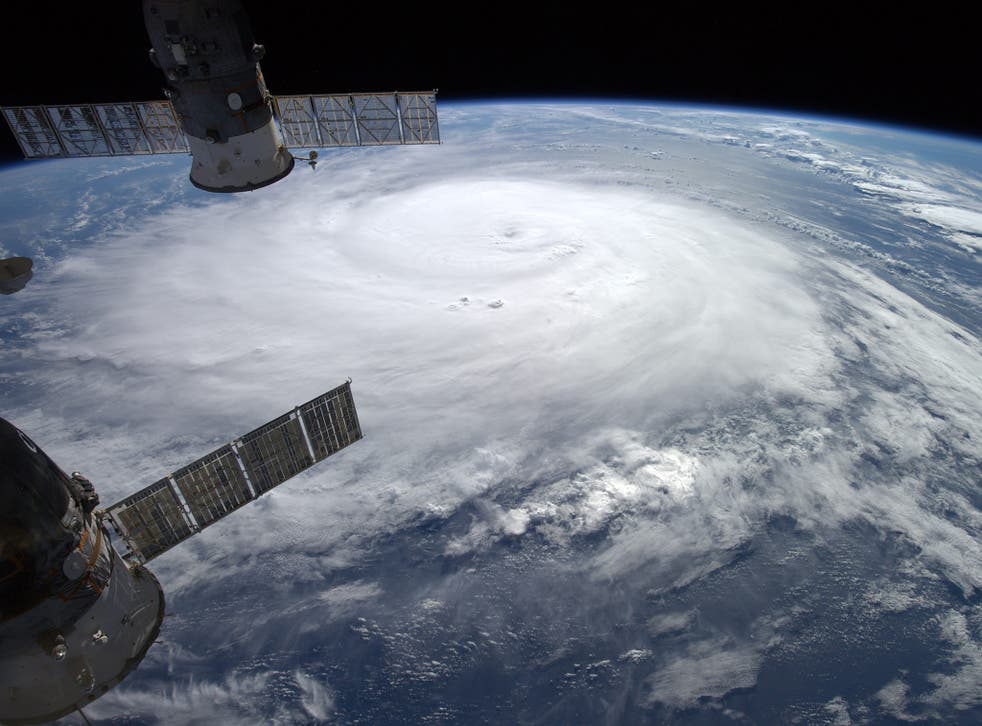 An astronaut has captured the huge scale of Hurricane Gonzalo from the International Space Station.
Alexander Gerst shared his incredible pictures of the storm as it hit Bermuda on Friday.
The coast is being pounded with high waves, driving rain and gusting winds as forecasters warned it would be one of the strongest storms to hit in a decade.
It had weakened during the day, with sustained winds of 115 mph, down from 140 mph hours hours before, as it approached Bermuda, according to the US National Hurricane Center.
The eye of the Category 3 storm was expected to pass within 30 miles of the island on Friday evening, with hurricane force winds extending up to 60 miles from the centre.
Streets emptied by the afternoon as winds increased, bending trees in palm-fringed resorts and causing a major bridge linking the main island to the east end to be closed.
Hurricane Gonzalo in pictures

Show all 5
Gonzalo had peaked on Thursday as a Category 4 hurricane with 145 mph winds but is expected to decrease in strength through the weekend.
"Gonzalo is not weakening fast enough to spare Bermuda from a devastating strike by a major hurricane," said Jeff Masters, a hurricane expert with Weather Underground.
The popular tourist destination is still recovering from Tropical Storm Fay, which swept over the islands early on Sunday with damaging winds of 70 mph.
The governor of Bermuda, George Ferguson, advised the territory's 65,000 residents on Friday to stay off the roads and listen to emergency bulletins.
"I wish everyone all the best for the next 24 hours. Good luck, and look after each other," he said in an emergency broadcast.
A British Royal Navy warship, HMS Argyll, was heading for Bermuda to help with post-Gonzalo relief efforts, the government said.
Linda Cook, 40, from Warwick in Bermuda, said debris left by Fay could be thrown around.
"We have trees down from the first storm. We've been trying to get rid of those and trying to get wood to board up," she said.
The hurricane centre said it expected "significant coastal flooding," noting that Fabian produced an estimated 10 feet of storm surge when it moved over Bermuda.
It forced Nasa to delay its next cargo run to the International Space Station for at least three days because key tracking equipment is on Bermuda.
Gonzalo has already wrought destruction in the Caribbean, killing an elderly sailor and damaging some three dozen vessels in St. Maarten, the Dutch portion of Saint Martin island, local media reported.
Additional reporting by Reuters
Register for free to continue reading
Registration is a free and easy way to support our truly independent journalism
By registering, you will also enjoy limited access to Premium articles, exclusive newsletters, commenting, and virtual events with our leading journalists
Already have an account? sign in
Register for free to continue reading
Registration is a free and easy way to support our truly independent journalism
By registering, you will also enjoy limited access to Premium articles, exclusive newsletters, commenting, and virtual events with our leading journalists
Already have an account? sign in
Join our new commenting forum
Join thought-provoking conversations, follow other Independent readers and see their replies