Hurricane Harvey caused up to $180bn-worth of damage, more than Katrina or Sandy, say Texas governor
Congress may need to raise the US government's debt limit to pay for rebuilding work, Treasury Secretary says
Marianna Parraga
Houston
,
Gary McWilliams
Monday 04 September 2017 00:19 Comments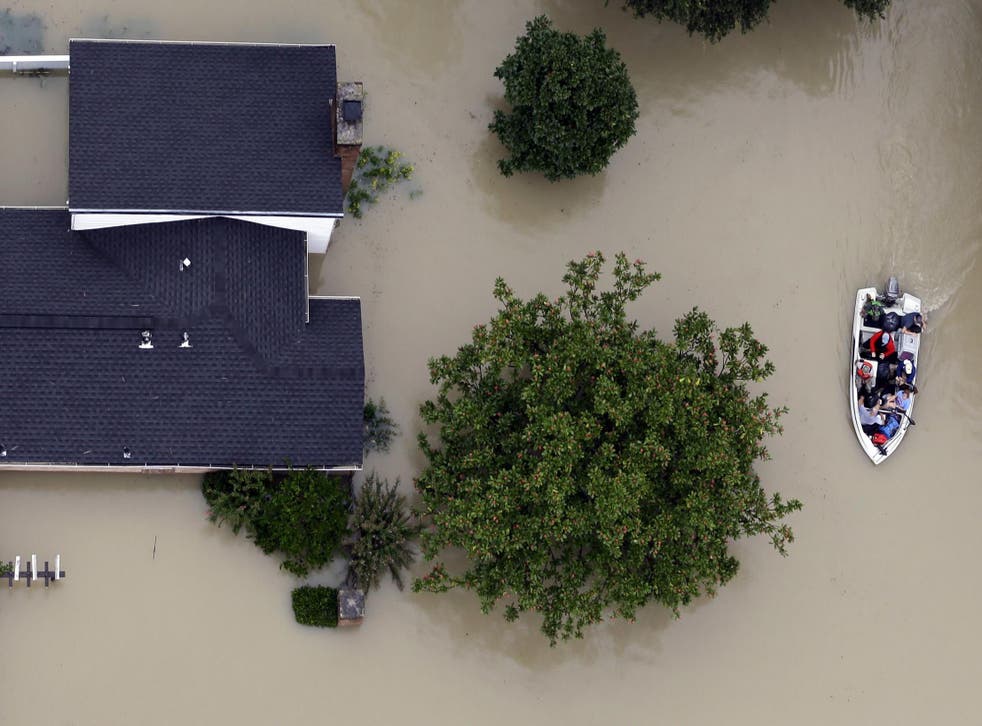 The governor of Texas, Greg Abbott, has estimated the cost of the damage from Hurricane Harvey at between $150bn to $180bn, calling it more costly than previous megastorms Katrina or Sandy and fuelling a debate over how to pay for the disaster.
Harvey, which first came ashore on 25 August as the most powerful hurricane to hit Texas in 50 years, has killed an estimated 47 people, displaced more than a million and damaged some 200,000 homes in a path of destruction stretching for more than 300 miles.
Mr Abbott, who is calling for US government aid for his state's recovery, said the damage would exceed that of Katrina, the storm that devastated New Orleans and surrounding areas in 2005, and Sandy, which overwhelmed New York city and the US Northeast in 2012.
"Katrina caused if I recall more than $120 billion but when you look at the number of homes and business affected by this I think this will cost well over $120bn, probably $150bn to $180bn," Mr Abbott told Fox News, adding, "this is far larger than Hurricane Sandy."
The administration of US President Donald Trump has asked Congress for an initial $7.85bn for recovery efforts, which Abbott called a "down payment".
Even that amount could be delayed unless Congress quickly increases the government's debt limit, US Treasury Secretary Steven Mnuchin said. The United States is on track to hit its mandated debt limit by the end of the month unless Congress increases it.
"Without raising the debt limit, I am not comfortable that we will get money to Texas this month to rebuild," Mr Mnuchin told Fox News.
The aftermath of Hurricane Harvey

Show all 19
Beyond the immediate funding, any massive aid package faces budget pressures at a time when Mr Trump is pushing for tax reform or tax cuts, leading some on Capitol Hill to suggest aid may be released in a series of smaller appropriations.
The head of the US Federal Emergency Management Agency (Fema) called federal aid a "ray of hope" but said state and local officials also needed to do their part.
"They can't depend only on federal emergency management," Fema Administrator Brook Long told CBS News.
Houston was still struggling to recover. The city forced the evacuation of thousands of people on the western side of town to accommodate the release of water from a pair of reservoirs that otherwise might sustain damage.
The storm stalled over Houston, dumping more than 50 inches (127 cm) on the region in a matter of days.
The city cut off power to homes on Sunday morning to encourage evacuations, but conflicting information about who must leave angered some residents.
The area was barricaded and military vehicles were stationed on the periphery to assist in the evacuation. Some living near the reservoirs were told their homes were in danger of new flooding and would not be allowed to return if they left.
"It's hard to get the real story. We're having to make decisions on what we do day by day. Do we stay or go?" said Todd Kellenbenz, who lives in the affected area.
About 37,000 refugees stayed overnight in 270 shelters in Texas plus another 2,000 in seven Louisiana shelters, the highest number reported so far by the American Red Cross.
Some 84,700 homes and businesses were without power on Sunday, down from a peak of around 300,000, according to the region's major electric companies.
But Houston Mayor Sylvester Turner said his city was making progress on several fronts, resuming city services and helping get people into housing and out of emergency shelters.
"This is a can-do city. We're not going to engage in a pity party," Mr Turner told CBS News.
Reuters
Register for free to continue reading
Registration is a free and easy way to support our truly independent journalism
By registering, you will also enjoy limited access to Premium articles, exclusive newsletters, commenting, and virtual events with our leading journalists
Already have an account? sign in
Join our new commenting forum
Join thought-provoking conversations, follow other Independent readers and see their replies