Hurricane Harvey death toll rises to 15 as family of six are feared drowned
Four children are believed to have been among those swept away by torrential flood waters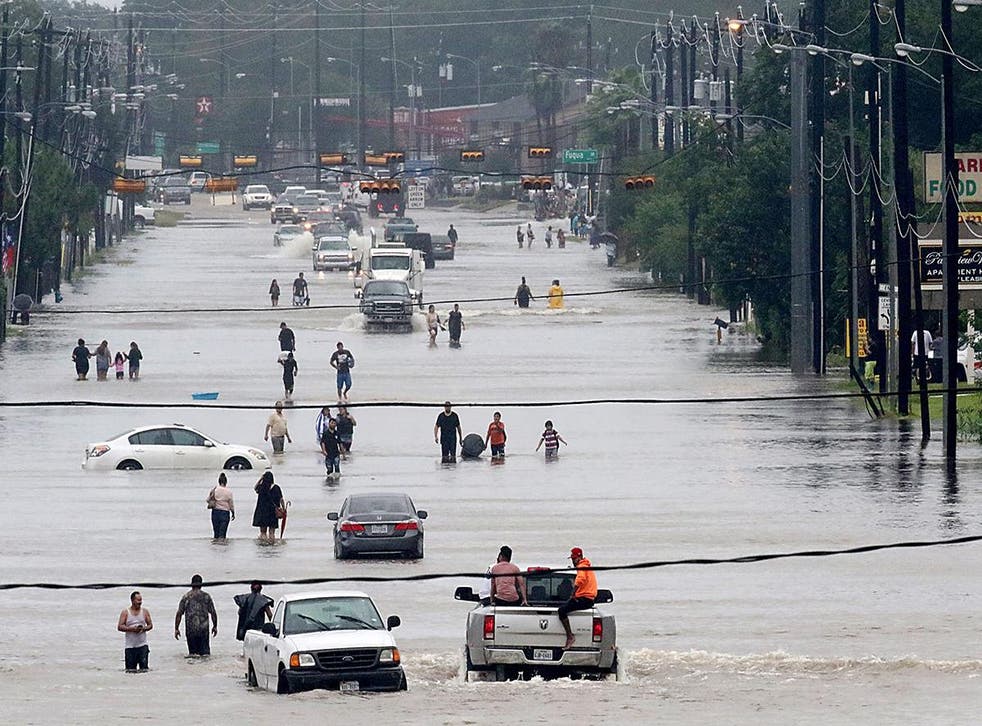 The death toll from Hurricane Harvey has risen to 15, as a family of six are believed to have been killed as they tried to escape unprecedented flooding in the Texan city of Houston.
Relatives said four children and their two great-grandparents are presumed dead after the van they were trying to flee in was swept into a river and sank.
Samuel Saldivar, the children's great-uncle who was driving the van, managed to escape but Manuel Saldivar, 84, his wife Belia, 81, Devy Saldivar, 16, Dominic Saldivar, 14, Xavier Saldivar, 8, Daisy Saldivar, 6, are all believed to have died.
The driver's sister-in-law, Virginia Saldivar, said Samuel had phoned her husband to tell them the van had been swept away by the flood waters while crossing a bridge.
"Sam calls my husband and tells him: 'They're gone'," she said. "That's when my husband dropped the phone and started screaming.
"I'm just hoping we find the bodies."
Samuel is believed to have told the children to open the back door of the van in order to escape but they were unable to do so before it sank.
The Pasadena Independent School District paid tribute to the children on its Facebook page.
It said: "Pasadena ISD's heart is heavy as we have learned that four Pasadena ISD students and two of their great-grand parents were swept away by the floodwaters of Greens Bayou while trying to escape the floodwaters of Harvey.
"Our thoughts and prayers are with the family, the Pasadena High School and Williams Elementary Communities during this most difficult time. Our deepest sympathy for the family."
A Houston police officer also drowned in his patrol car after becoming trapped.
Officials expect the number to rise once waters recede and further searches are conducted.
Around 6,200 people are currently staying in shelters, having been evacuated from their homes as floods devastated the area and it is thought that a further 30,000 people could need to be given emergency accommodation.
The aftermath of Hurricane Harvey

Show all 19
Rescue shelters are reportedly overflowing and officials are desperately seeking alternative venues to house people who have been displaced.
The region received 30 inches of rain in just two days and had a year's worth of precipitation dumped on it in the space of one week.
Harvey is the most powerful storm to hit Texas in 50 years. Officials warned the extreme weather is set to continue, although the worst is expected to move eastwards towards the state of Louisiana.
Donald Trump is due to visit Texas to survey the damage.
The US President has promised the area will be given the money it needs to recover, but he was criticised for scrapping flood defence measures just says before the hurricane hit.
Join our new commenting forum
Join thought-provoking conversations, follow other Independent readers and see their replies