Dog placed on death row because he is 'too energetic' now saving flooding victims
Rocket the border collie is helping with search and rescue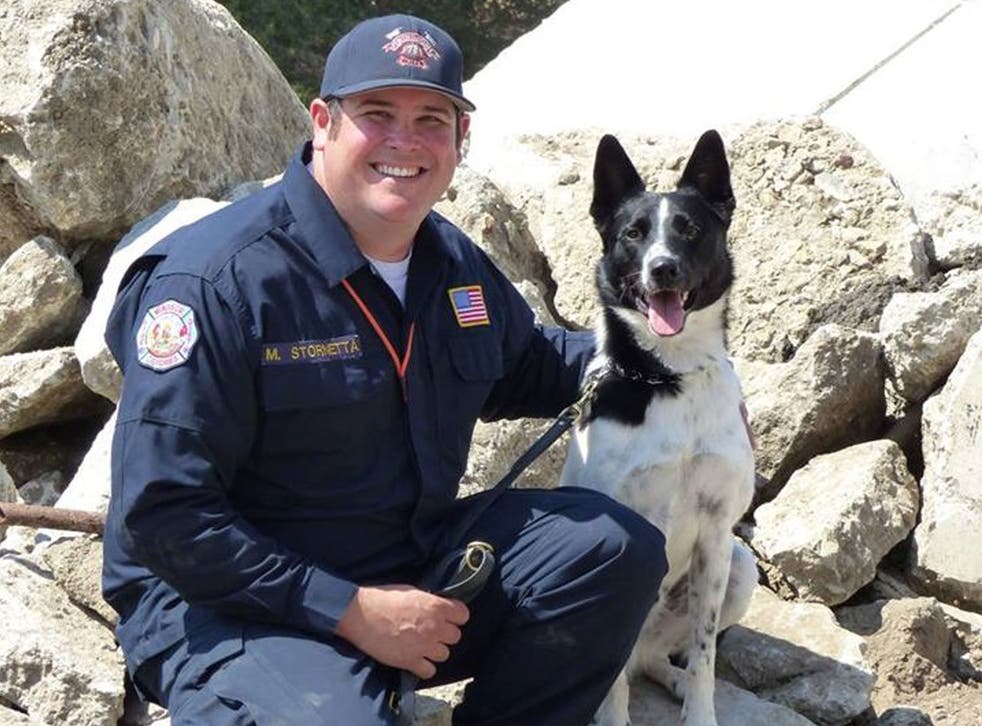 A rescue dog who faced being put down for being too energetic is now helping rescue flood victims in Texas.
Rocket the border collie is assisting with search and rescue missions with California's Windsor Fire Protection District, which is supporting relief efforts in the aftermath of Hurricane Harvey.
The dog was taken to Texas by his handler Mike Stornetta.
The fire service posted on Facebook: "Mike and Rocket are trained in finding live victims during disasters.
"They have trained together for several years in order to be prepared for just such a disaster, they are ready and willing and we know they will do an awesome job! Stay safe Mike and Rocket."
In 2012, officials at the Sacramento Society for the Prevention of Cruelty to Animals (SPCA) scheduled Rocket to be put down, after the dog was taken to one of their shelters.
Yet staff and volunteers believed the animal could have a future as a rescuer and contacted the National Disaster Search Dog Foundation.
The foundation posted on Facebook: "Due to his high energy, Rocket was considered unadoptable and placed on the euthanasia list, but the SPCA staff knew he had promising search dog characteristics and contacted Andrea (a volunteer) to evaluate him for our programme."
The aftermath of Hurricane Harvey

Show all 19
The dog was partnered with Mr Stornetta in August 2014 and the pair were deployed to deal with the aftermath of an aircraft crash last year.
"Please join us in thanking Andrea and the Sacramento SPCA! Without their efforts, Rocket would not have been able to transition from Rescued to Rescuer!" the foundation said in the post.
Register for free to continue reading
Registration is a free and easy way to support our truly independent journalism
By registering, you will also enjoy limited access to Premium articles, exclusive newsletters, commenting, and virtual events with our leading journalists
Already have an account? sign in
Register for free to continue reading
Registration is a free and easy way to support our truly independent journalism
By registering, you will also enjoy limited access to Premium articles, exclusive newsletters, commenting, and virtual events with our leading journalists
Already have an account? sign in
Join our new commenting forum
Join thought-provoking conversations, follow other Independent readers and see their replies