Hurricane Harvey: Donald Trump's stance on Mexico may prevent troops repeating heroic Katrina response
Neighbour sent naval vessels laden with aid to Louisiana and Mississippi during 2005 flooding, a helping hand unlikely to be offered again due to new President's antagonism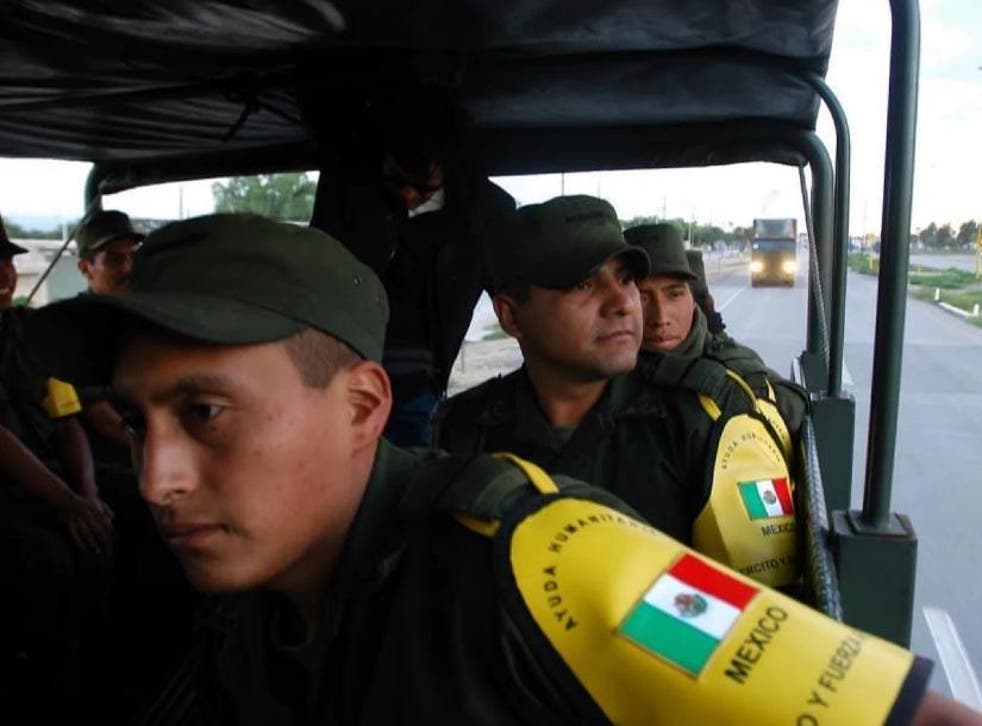 The devastation wrought by Hurricane Harvey is already apparent, even though forecasters say the storm may be only half done dumping rainfall totals measured in feet over the Texas and Louisiana coasts. In possibly the most starkly worded National Weather Service announcement imaginable, the agency said on Sunday that "this event is unprecedented" and "beyond anything experienced."
For many Americans, Harvey is bringing back memories of Hurricane Katrina in 2005. Nearly 2,000 people died in the aftermath of that storm. The US government and Federal Emergency Management Agency's response to Katrina was widely criticised, but Americans came together to offer housing, clothing, meals and monetary help to the affected. President George W. Bush even accepted a huge offer of aid from Mexico.
The aid Mexico sent was no small thing - it was an extraordinary gesture, and it may have saved many lives. Marking the first time that Mexican troops had set foot on US soil since the Mexican-American War in 1846, President Vicente Fox sent an army convoy and a naval vessel laden with food, water and medicine. By the end of their three-week operation in Louisiana and Mississippi, the Mexicans had served 170,000 meals, helped distribute more than 184,000 tonnes of supplies and conducted more than 500 medical consultations.
"Mexico and the United States are nations which are neighbours and friends which should always have solidarity in moments of difficulty," Fox told NBC News at the time.
Fast forward to now, as deadly Hurricane Harvey pummels the greater Houston area. The United States now has a president who kicked off his election campaign with a speech that denigrated Mexicans. A president who has been vociferously assailed by Fox. And, as his tweets on Sunday revealed, a president who will take time to bully and belittle Mexicans while a catastrophe unfolds in his own country.
Here are Trump's tweets from Sunday morning, as Texas woke up to calamity.
The way things are looking with Harvey, Texans are going to be reeling for a long time. FEMA's director said Harvey could be the worst storm in Texas's history. With the long border and historic ties between Texas and Mexico, one might expect a similar offer of aid from Mexico this time around. But would Trump ever accept Mexican aid? Would Mexico even want to offer it?
The Mexican government has not directly addressed the situation in Texas - with the storm underway, US allies around the world may be waiting for the full extent of the disaster to be known before offering help. The Mexican Embassy in Washington was unable to comment for this report.
World news in pictures

Show all 50
With Trump portraying Mexicans as criminals and their government as cheating Americans through the North American Free Trade Agreement, or Nafta, a trade deal many in both countries support, it is hard to imagine that we'd see a replay of Mexico's post-Katrina compassion. But if Harvey ultimately displaces tens or hundreds of thousands of people, FEMA may need help.
If Mexico does offer aid, it will have an opportunity to "be the bigger man." And such an offer would put Trump in a bind. Should he accept the generosity, which, to some of his supporters, might ring of hypocrisy and weakness? Or should he deny it, while Texans cope with a nightmare?
The Washington Post
Register for free to continue reading
Registration is a free and easy way to support our truly independent journalism
By registering, you will also enjoy limited access to Premium articles, exclusive newsletters, commenting, and virtual events with our leading journalists
Already have an account? sign in
Register for free to continue reading
Registration is a free and easy way to support our truly independent journalism
By registering, you will also enjoy limited access to Premium articles, exclusive newsletters, commenting, and virtual events with our leading journalists
Already have an account? sign in
Join our new commenting forum
Join thought-provoking conversations, follow other Independent readers and see their replies