Hurricane Harvey: Mexican volunteers cross Texas border to bring aid to victims of Houston flooding
Red Cross workers deliver food and supplies to residents hit by devastating tropical storm in act of generosity that shames Donald Trump's plan to build wall between the two nations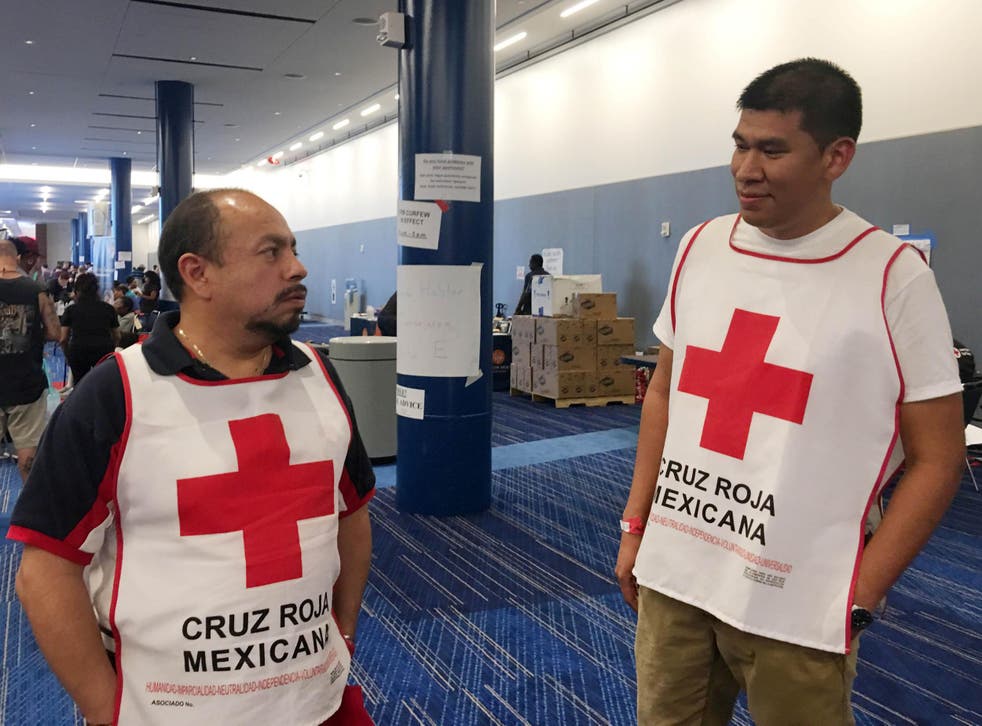 Mexico has come to the aid of the United States following Hurricane Harvey, sending Red Cross volunteers, food and supplies to a country whose President has proposed building a wall to keep the two neighbours apart.
Mexican volunteers wearing white vests labelled "Cruz Roja Mexicana" are distributing food and lending a sympathetic ear to some of the 1,800 storm refugees at the George R. Brown Convention Center in Houston, Texas, a temporary shelter.
A caravan of Mexican storm relief was due to be shipped north for victims of a storm that has killed some 60 people and left tens of thousands homeless since first coming ashore 25 August.
"We all know that there are some agreements and disagreements between governments, but for the Mexican Red Cross and the volunteers from the Mexican Red Cross, we are more than glad to be helpful and do some stuff to help people," said Gustavo Santillan, one of the Mexican Red Cross volunteers.
Mexico was assembling relief for Harvey but the United States had not yet defined what help was required, a senior Mexican government official told Reuters.
Some 25 trailers were being prepared with rice, beans, coffee and chocolate along with 300 beds, nine generators, mobile kitchens, telecommunications equipment and personnel including paramedics and doctors, Mexico's foreign ministry said.
"Mexico is ready to help those affected by Harvey," Carlos Sada, Mexico's deputy foreign minister for North America, told reporters in Mexico City on Tuesday. "It's a demonstration of our neighbourliness, a show of solidarity."
One teary-eyed storm refugee in Houston said she was moved by the Mexican aid, especially considering the difference in wealth between the two countries, and it was wrong to try to shut out Mexicans.
"We don't have time right now to put up borders and block Mexico, we need to come all of us together and work together," said Bertha Navarette, 63, an evacuee from Pasadena, Texas.
US President Donald Trump made building a border wall a central theme of his campaign, saying Mexico was sending "rapists" and drug dealers into the United States.
On Monday Trump scrapped a programme that protects from deportation 800,000 people brought to the United States illegally as children, largely by parents who were Mexican nationals.
Thomas Oney, a homeless man at the George R. Brown Convention Center, said Harvey had shown that neighbours had to work together.
"I would hope that the talk about the border wall will stop," said Oney, 41.
Mexico previously came to the aid of its northern neighbour in 2005, sending supplies and 195 people including medical staff following Hurricane Katrina. It marked the first time Mexican armed forces had been deployed in Texas since 1846.
The aftermath of Hurricane Harvey

Show all 19
The 33 Red Cross volunteers now in Texas are working in Houston, Corpus Christi and Beaumont at the request of the American Red Cross, said Marco Franco, deputy director for Mexican Red Cross Disaster Relief.
Reuters
Register for free to continue reading
Registration is a free and easy way to support our truly independent journalism
By registering, you will also enjoy limited access to Premium articles, exclusive newsletters, commenting, and virtual events with our leading journalists
Already have an account? sign in
Register for free to continue reading
Registration is a free and easy way to support our truly independent journalism
By registering, you will also enjoy limited access to Premium articles, exclusive newsletters, commenting, and virtual events with our leading journalists
Already have an account? sign in
Join our new commenting forum
Join thought-provoking conversations, follow other Independent readers and see their replies