Hurricane Harvey: Viral picture of elderly women waist-high in Texas flood water questioned over authenticity
Residents of La Vita Bella retirement home in Dickinson photographed bobbing in stagnant rainwater as writer tweets image calling for help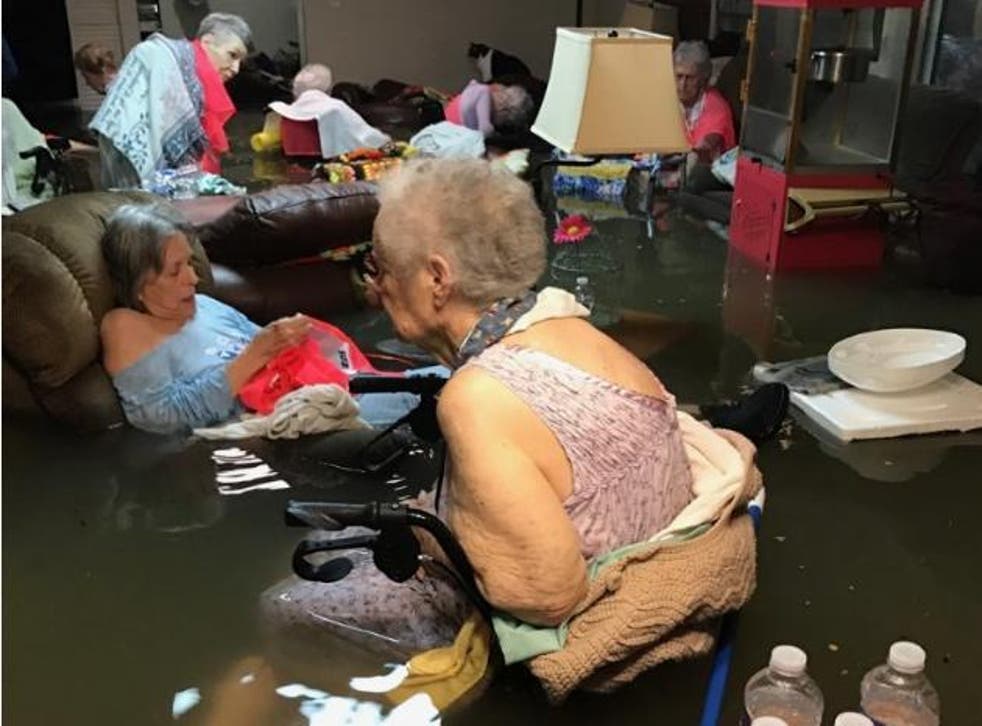 Almost as soon as the water began seeping into the assisted-living centre in Dickinson, Texas, Susan Bobrick knew about it.
Bobrick, of Houston, has a sister who lives there, and an employee of the centre, La Vita Bella, called residents' relatives to alert them that water was reaching into the single-storey building.
That was a couple of hours before dawn on Sunday, when the water inside was less than one inch deep. Bobrick, 68, said she was told that emergency responders had instructed staff members and residents to stay put. But as the day went on, the water continued to rise.
Bobrick said she wanted to help but felt trapped in her home in Houston. A storm was surging around her, and anyway, she couldn't get to Dickinson — a city in the southern reaches of the Houston metropolitan area — even if she tried.
"Because the roads are flooded, they're like lakes," she said. "So it was just, literally, sit here and worry and worry: How high is this water?"
​Bobrick got a glimpse inside La Vita Bella after an image was posted on social media.
The photo offered a disconcerting tableau that at first glance was hard to believe: It appeared to show a room inside the centre, with an old popcorn machine, a black-and-white cat, a lamp and a table with bottles of water. Several residents appeared calm in their wheelchairs and armchairs.
But all of them were waist-high in murky water.
A Twitter user, Timothy J. McIntosh, posted the image on Sunday morning. Other Twitter users expressed shock, and some said the image was fake.
McIntosh insisted it was real.
He wrote on Twitter that he was in Florida and that the image involved his family. He did not respond to requests for comment Sunday, but he told The Daily News, a Galveston County newspaper, that his wife's mother owned La Vita Bella and had taken the picture.
The image gained widespread attention on social media, where thousands of people shared it, and many sought help from emergency responders and local news outlets.
Bobrick first saw it in a text message from her daughter. There in the background, she recognised her sister, Ruth, whose family declined to share her last name to protect her privacy.
Bobrick said Ruth, 64, had a blanket draped over her shoulder.
"That is my sister," she said. "And she has a long-term head injury from a drunk driver, who hit her when she was 19-years-old."
​Bobrick said she had no doubts about the photo's authenticity; she recognised the centre and the level of flooding matched what she had already learned.
"They did look sort of calm in that photo," she said. "But at this point in time they had been in that water for several hours. When you get people that are in wheelchairs, or cannot get around, or they have walkers, if the water kept coming up, what were they going to do?"
On Sunday afternoon, Bobrick said, a centre employee called with good news: An evacuation was underway and the residents — more than a dozen — were being relocated.
Ken Clark, a Galveston County commissioner, confirmed Sunday that the residents had been rescued, although he could not say for sure how many.
He said the furore over the photo was not what brought emergency responders to the scene.
"We knew about it before it hit social media," he said. "We were working on a solution for the nursing home, and it was in progress, so social media can sometimes leave one with the wrong impression."
The aftermath of Hurricane Harvey

Show all 19
Bobrick said she was glad that the photo was posted online because it might have prompted a quicker response. She added that she was saddened by the other desperate situations she had seen on social media — photographs of people trapped on roofs or struggling with small children.
"It's tough here right now," she said.
The New York Times
Register for free to continue reading
Registration is a free and easy way to support our truly independent journalism
By registering, you will also enjoy limited access to Premium articles, exclusive newsletters, commenting, and virtual events with our leading journalists
Already have an account? sign in
Register for free to continue reading
Registration is a free and easy way to support our truly independent journalism
By registering, you will also enjoy limited access to Premium articles, exclusive newsletters, commenting, and virtual events with our leading journalists
Already have an account? sign in
Join our new commenting forum
Join thought-provoking conversations, follow other Independent readers and see their replies