Hurricane Harvey: Monster truck fleet helps rescue Houston flooding victims
'When people need help and I can help, I'm out there,' says Josh James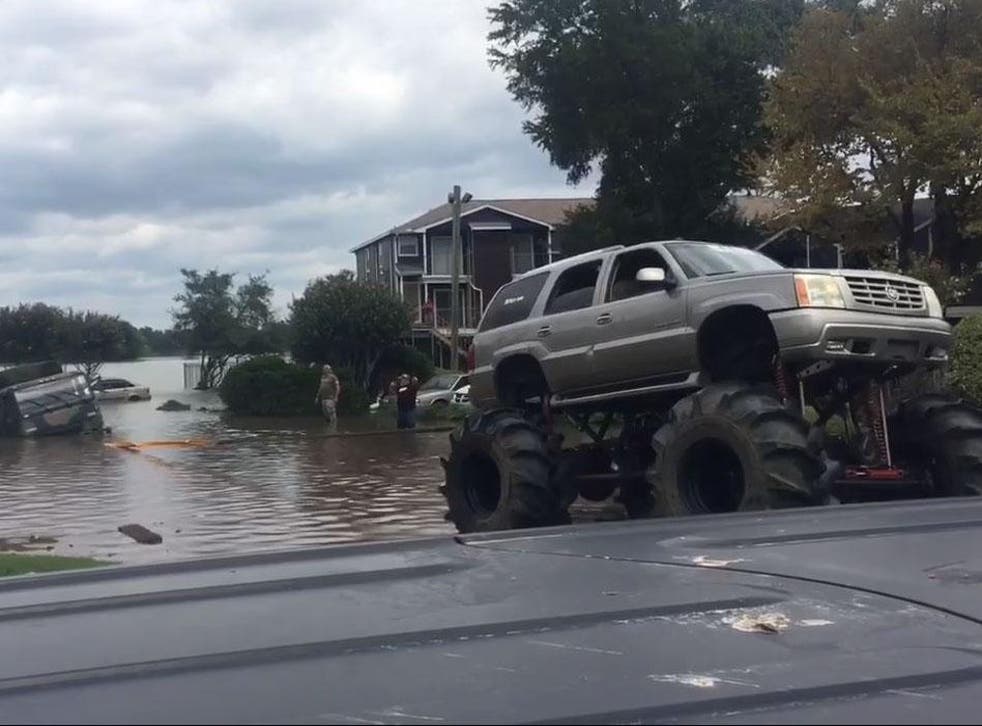 A fleet of monster trucks has been helping rescue efforts in Texan cities hit by Hurricane Harvey.
Volunteer Josh James recruited his friends from Dallas racetrack, Rednecks with Paychecks, to drive five monster trucks to flooded areas.
One large-wheeled vehicle was filmed pulling an army truck from the flood waters in Copperfield, northwest Houston, in front of a cheering crowd.
Mr James, a mechanic, said that along with other volunteers, he had to swim up to second stories of buildings to rescue people trapped in their homes.
"When people need help and I can help, I'm out there," he told ABC News.
The monster trucks have also helped to get emergency services personell into areas where the flooding is most severe.
At least 31 people have died after the most powerful storm to hit Texas in more than half a century years brought record levels of flooding to Houston and the surrounding areas.
The fleet of modified vehicles was part of a larger response to the disaster, involving 200 boats, 300 lorries and 600 people.
Local news broadcasts and social media posts are helping coordinate the response.
The aftermath of Hurricane Harvey

Show all 19
An estimated 24.5 trillion gallons of rain have fallen on the US Gulf Coast since the hurricane hit. Harvey has since been downgraded to a tropical storm.
Tens of thousands of people have been evacuated from their homes after Houston and the surrounding areas were hit by unprecedented levels of flooding.
The White House was preparing to make a request for an initial $5.9bn (£4.6bn) aid package - a first instalment to ensure initial recovery efforts were adequately funded.
Join our new commenting forum
Join thought-provoking conversations, follow other Independent readers and see their replies