As Irma looms, many Florida hospitals turn off the lights
Most patients are being evacuated, but heavily pregnant women are encouraged into hospital in case of 'spontaneous delivery'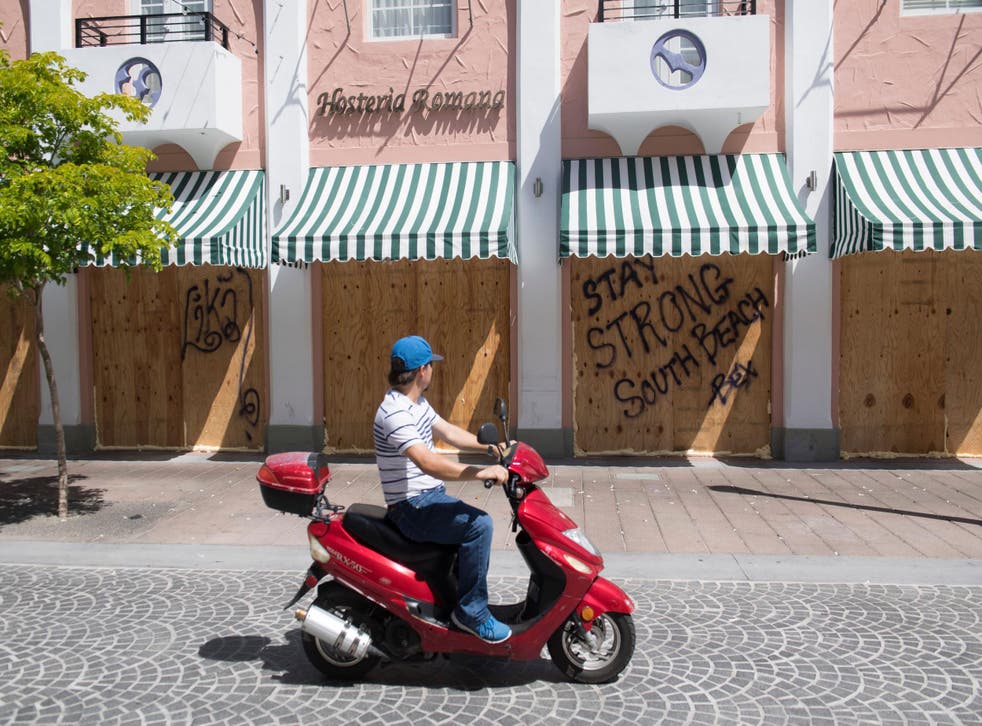 One by one, up and down Florida's southeastern coast, hospitals are going dark. With the approach of what many meteorologists think will be a historic storm, most hospital administrators and staff have been scrambling in the last day to evacuate patients.
But in advance of Hurricane Irma, several facilities are hunkering down instead. One of them is Mount Sinai Medical Center in Miami Beach, which has a sprawling campus of more than 1 million square feet. Though it already has canceled elective surgeries and soon will be turning off electricity in its ancillary buildings, it is bringing in homebound patients so their care is not endangered once Irma hits early Sunday.
Those newcomers will have company. Women who are 35 weeks or more into a pregnancy are being encouraged to come to the hospital "because spontaneous deliveries can happen when the barometric pressure plummets," noted Mount Sinai CEO Steven Sonenreich. Other than a potentially busy maternity ward, the hospital will be open for emergencies only.
"We want as few people here as possible," he said. Doctors, nurses and other staff have been reduced to two small teams that will spell each other for the duration "to make sure they're safe and rested."
Irma will be arriving less than two weeks after Hurricane Harvey devastated large swaths of the Texas Gulf Coast. Flooding from Harvey's torrential rains created a moat around Houston's Ben Taub Hospital and invaded its basement. The facility initially tried to transfer all of its 350 patients, then 80 of the sickest and finally just five critically ill people. Only three ambulances ultimately made it to their destinations.
Florida is taking no chances.
Mercy Hospital in Coconut Grove is now closed, having started the evacuations of more than 200 patients on Wednesday, and Sister Emmanuel, a long-term-care facility near Biscayne Bay, was in the process of doing the same on Friday. The University of Miami Hospital will remain open, according to its website, though all of its 30 outpatient facilities will be shuttered and services, including chemotherapy, radiation and dialysis, discontinued.
Hurricane Irma – devastation caused in pictures

Show all 45
Further up the coast, Cape Canaveral Hospital, located in Cocoa Beach and on a barrier island, shut down on Friday. Facilities on the state's western side also were in motion. Palms of Pasadena Hospital in St. Petersburg began moving patients out Friday morning.
Sonenreich said Mount Sinai has weathered past hurricanes, including Andrew in 1992. But Katrina and a series of disastrous weather events caused administrators to re-evaluate their preparedness. The hospital created hurricane-resistant entryways and vestibules, he said, converted its windows to hurricane-resistant glass and added new generators raised many feet above the flood plain.
More remote health-care centres, especially in the Florida Keys, are emptied and shuttered.
"We've never closed a facility in the face of a storm before, in probably 50-plus years," said Wayne Brackin, CEO for Baptist Health South Florida, which comprises eight hospitals and 50 outpatient centers from Coral Gables down to Marathon. Irma's size and ferocity convinced him to do the unthinkable.
"The Keys are so vulnerable, and the storm is such a monster," he said. "It's too dangerous to leave people down there."
Things were eerily quiet by Thursday. "I've been here since Hurricane Andrew," Brackin said. "Over the years, it's been difficult to evacuate the Keys. A lot of people believed they could ride out the storm [back then] or they didn't realize what they were facing, but because of Harvey and because this is predicted to be such a monster, people are getting out."
By the evening, the Keys' three main health-care facilities, Lower Keys Medical Center in Key West, Fishermen's Hospital in Marathon and Mariners Hospital in Key Largo, had moved all of their patients. A C-130 aircraft from the North Carolina National Guard flew many to the Gadsden Regional Medical Center in Alabama.
Gov. Rick Scott (R) held a conference call with many of the hospitals' top officials, and Brackin said he even gave all of them his cellphone number, as well as contacts for his chief of staff and the head of state emergency management.
And even days before Irma's arrival, the hurricane already had exacted casualties, according to local media reports. As they prepared for the havoc ahead, homeowners had been tumbling off ladders and free-falling from roofs.
Washington Post
Register for free to continue reading
Registration is a free and easy way to support our truly independent journalism
By registering, you will also enjoy limited access to Premium articles, exclusive newsletters, commenting, and virtual events with our leading journalists
Already have an account? sign in
Register for free to continue reading
Registration is a free and easy way to support our truly independent journalism
By registering, you will also enjoy limited access to Premium articles, exclusive newsletters, commenting, and virtual events with our leading journalists
Already have an account? sign in
Join our new commenting forum
Join thought-provoking conversations, follow other Independent readers and see their replies