Irma: Florida sheriff urges people not to shoot at hurricane, saying 'you won't turn it around'
'It will have devastating consequences'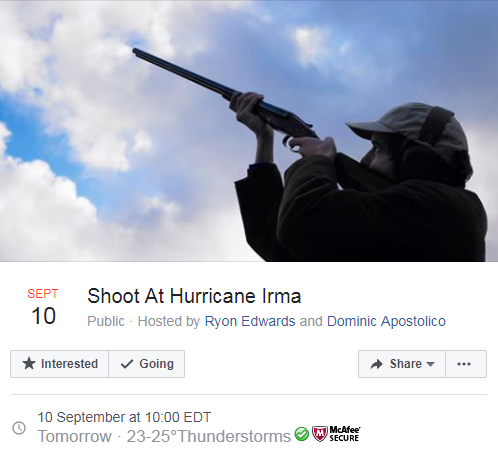 A Florida sheriff has pleaded with citizens not to shoot at Hurricane Irma, saying they "won't turn it around".
The Pasco County Sheriff's Office warned that shooting weapons at the most dangerous Atlantic hurricane to hit the US since records began "will have very dangerous side effects".
As many as 53,000 people said they were interested in a Facebook event called "Shoot At Hurricane Irma", and 25,000 people said they would participate on Saturday evening.
It was set up by 22-year-old Ryon Edwards.
A description of the event read: "YO SO THIS GOOFY LOOKING WINDY HEADA** NAMED IRMA SAID THEY PULLING UP ON US, LETS SHOW IRMA THAT WE SHOOT FIRST".
The Sheriff's office tweeted on Saturday evening: "To clarify, DO NOT shoot weapons @ #Irma. You won't make it turn around & it will have very dangerous side effects."
Mr Edwards told the BBC he created the event out of boredom and stress, and was surprised by the reaction.
Animals take shelter from Hurricane Irma at Zoo Miami
Show all 8
"The response is a complete and total surprise to me," he said.
"I never envisioned this event becoming some kind of crazy idea larger than myself. It has become something a little out of my control."
Irma relief operation 'well under way' as nearly 500 UK troops sent to Caribbean
Graphics appeared online, suggesting how people could "fire correctly" at the hurricane to ensure the bullets did not come back and kill you.
Several other events quickly appeared on Facebook to combat the storm, including scaring it with flamethrowers, "Spinning your arms really fast to push away Hurricane Irma" and "Destroy Hurricane Irma By Cooling The Atlantic With Ice Cubes".
The Category 5 storm ripped through the Caribbean, causing devastation to the islands and killing at least 24 people, before moving west to the US.
Six million people were asked to evacuate the Sunshine State.
Many people said evacuation became difficult or impossible due to the high cost of flights, petrol stations running out of gas and traffic jams.
Join our commenting forum
Join thought-provoking conversations, follow other Independent readers and see their replies