Hurricane Irma: 90% of buildings on Caribbean island Barbuda destroyed by storm
Prime Minister Gaston Browne said tiny island nation left 'barely habitable'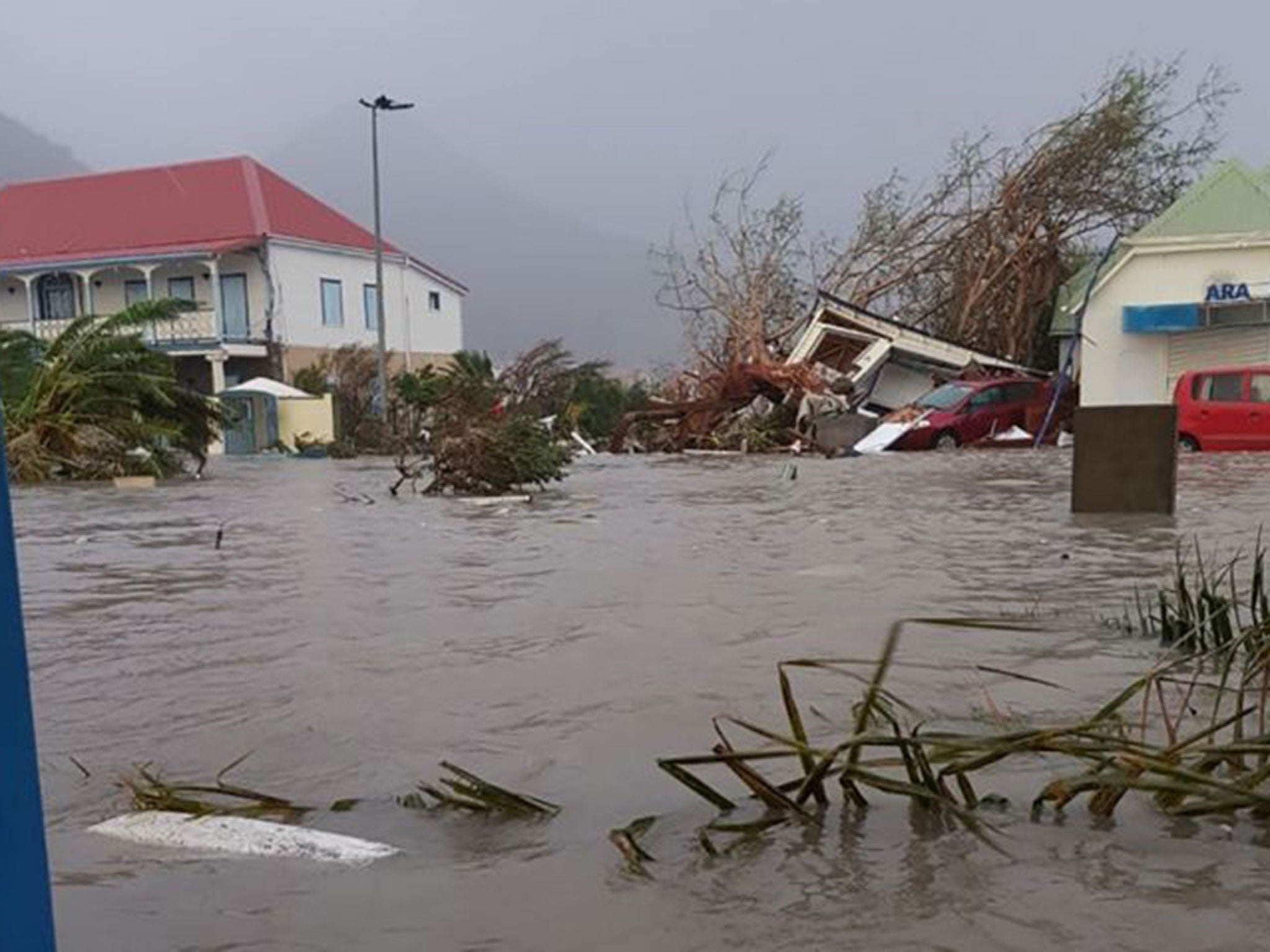 The tiny Caribbean island of Barbuda has been devastated by Hurricane Irma, the most powerful Atlantic Ocean storm recorded in history.
Around 90% of the nation's structures and vehicles have been destroyed, killing at least one person, Barbuda Prime Minister Gaston Browne said.
Irma passed over Barbuda early on Wednesday as a Category 5 hurricane.
The storm has left a trail of destruction across the eastern Caribbean, leaving at least eight people dead in total.
"Barbuda is literally rubble. The entire housing stock was damaged. It is just a total devastation," Mr Browne told local news station ABS.
He said the island was "barely habitable" and the damage caused by the 185mph winds was "unprecedented".
Around 60% of Barbuda's 1,600 residents have been left homeless, Mr Browne said.
A two-year-old child was killed as a family tried to escape a damaged home during the storm.
Barbuda is situated between the Atlantic Ocean and the Caribbean Sea and forms part of the state of Antigua and Barbuda.
Mr Browne said Antigua - the largest of the two islands - had been spared the worst of Irma, but many private homes have been destroyed by the storm.
Another hurricane, Jose, has formed in the Atlantic, spreading fears it could head towards Caribbean islands already ravaged by Irma.
The US National Hurricane Center has said there is no immediate threat from Jose, which is currently far east of Irma, but meteorologists have warned the storm's path could change.
Hurricane Jose is currently a category 1 hurricane with winds of 75mph.
Mr Browne said his government is considering moving the entire population of Barbuda to Antigua if Jose threatens the island.
Hurricane Irma – devastation caused in pictures
Show all 45
Hurricane Irma has caused widespread damage across many Caribbean islands.
Local officials warned the French part of the island St Martin has been 95% destroyed.
A state of emergency has been declared for Florida, the US Virgin Islands and Puerto Rico, where huge areas have been left without power.
Mayors in Florida's Miami-Dade and Broward counties issued mandatory evacuation orders starting on Thursday morning.
There are concerns for the 80,000 residents of the southern Florida Keys area, a tourist hotspot lying in the hurricane's direct path.
Florida Governor Rick Scott strongly urges people to evacuate if asked to do so by local officials.
Join our commenting forum
Join thought-provoking conversations, follow other Independent readers and see their replies