Hurricane Laura topples Confederate statue in Lake Charles days after vote to keep it in place
'Southern Defenders' monument stood outside courthouse in Lake Charles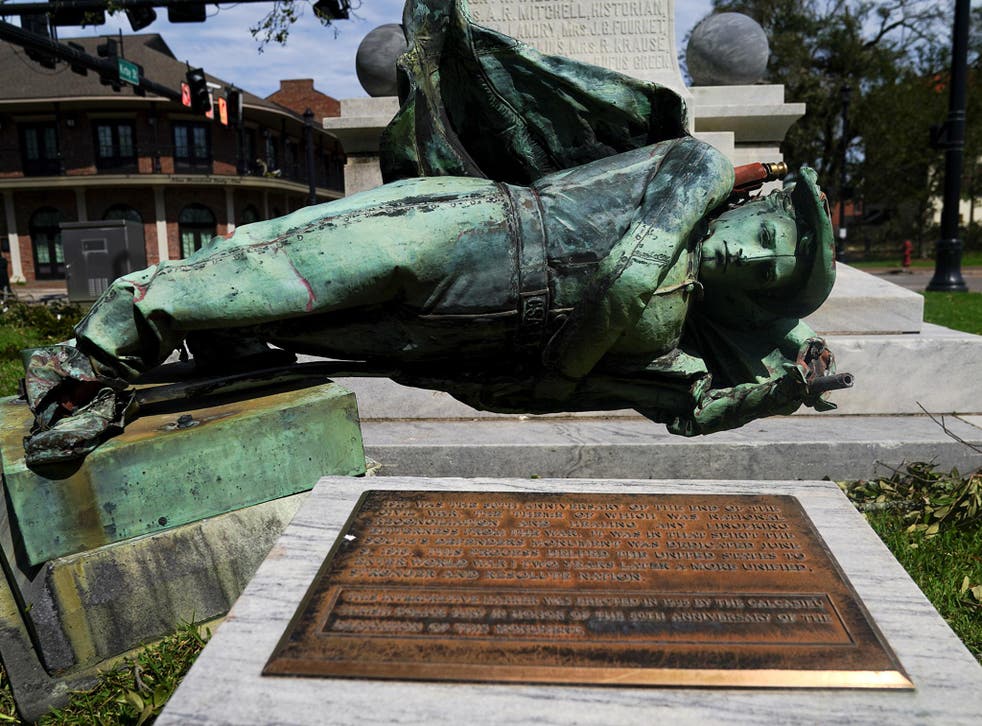 Hurricane Laura has toppled a longstanding monument to the Confederacy in Louisiana, just days after local officials had voted to keep the statue in place.
The monument, erected in 1915 in memory of Confederate soldiers in the US Civil War, stood outside the courthouse in Lake Charles, the city which has faced the most damage from the category 4 storm.
Protesters had called for the removal of the "Southern Defenders" statue but the local parish voted 10-4 in favour of it remaining in place.
Many Confederate monuments across the US have been removed by way of vote or force in recent months as the Black Lives Matter movement caused a reckoning with the country's racist past.
Governors and local mayors in former Confederate states such as Virginia and Alabama have approved the removal of various statues, while in Mississippi a vote was passed to remove the Confederate emblem from the state flag.
Within days of the decision to keep the Southern Defenders statue, Hurricane Laura made landfall on America's Gulf Coast and soon reached Lake Charles, knocking down the statue along with much else in the city of 80,000 people.
Many buildings partially collapsed and thousands of people lost power as the storm tore through the city. The 22-storey Capital One Bank Tower lost most of its windows and the Isle of Capri floating casino was unmoored and flung into a nearby bridge.
Ten people have died so far across the state of Louisiana, which bore the brunt of the storm that went on to reach eastern parts of neighbouring Texas, where four people were killed. More than 850,000 people were left without power, with outages affecting people as far north as Arkansas.
Register for free to continue reading
Registration is a free and easy way to support our truly independent journalism
By registering, you will also enjoy limited access to Premium articles, exclusive newsletters, commenting, and virtual events with our leading journalists
Already have an account? sign in
Register for free to continue reading
Registration is a free and easy way to support our truly independent journalism
By registering, you will also enjoy limited access to Premium articles, exclusive newsletters, commenting, and virtual events with our leading journalists
Already have an account? sign in
Join our new commenting forum
Join thought-provoking conversations, follow other Independent readers and see their replies